After the success of The SimGrid x VCO World Cup back in 2021, we're once again teaming up with VCO to reach new heights with competitive racing on Assetto Corsa Competizione.
12 hours of action at Kyalami
Since the end of the Coach Dave 1000 back in August, we've been eager to get another endurance race on our calendar, and this Winter, that's exactly what we'll do. On December 17th, up to 49 of the strongest Esports teams on ACC will be heading to Kyalami for 12 hours of racing, all in the hunt for part of a $10,000 prize pool.
With a Custom BoP developed in-house, free choice of ACC's GT3 grid, and teams of 3-4 drivers, expect racing of the high level you've come to know from The SimGrid x VCO World Cup this December.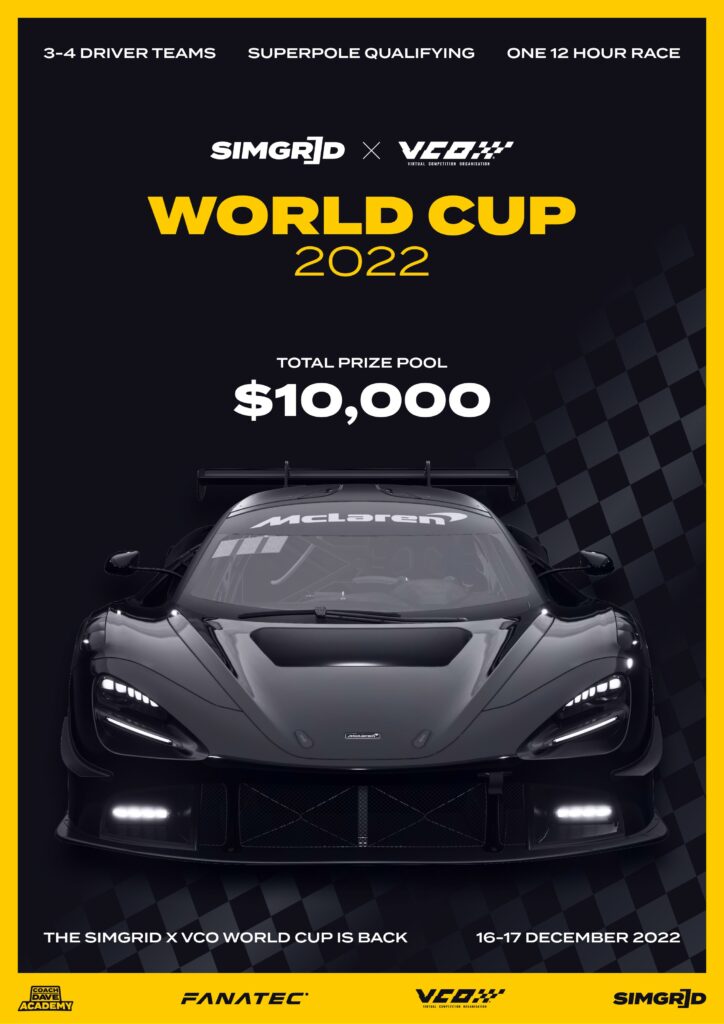 Qualifying day
Before we get to those all-important 12 hours, Friday the 16th of December will be the date of Qualifying, taking place in sessions almost mirroring the format of the Coach Dave Time Attack. 4 seasons down, it's a formula proven to deliver.
Entering 3 knockout stages that converge at a high-pressured 5-driver Superpole, we'll be reducing the numbers F1-style to find the fastest before Saturday's race. Here's how the tweaked Coach Dave Time Attack format will go:
Q1: 49 cars – 15 minutes – Top 20 advance
Q2: 20 cars – 12 minutes – Top 10 advance
Q3: 10 cars – 8 minutes – Top 5 advance to Superpole
Superpole: 2 runs, 2 flying laps
Which teams should you expect to see?
With 49 slots available, we're going to make The SimGrid x VCO World Cup return this winter better than ever, with a super-grid of the best teams on Assetto Corsa Competizione.
Teams of 3-4 drivers will be entered into the event in the typical endurance race style. With big names such as Veloce, Williams Esports, Unicorns of Love and Team Redline already confirmed to be taking part, expect to see teams and drivers that have been victorious in events from SRO Esports to VCO ERWC and the Coach Dave 1000. Fighting it out for a share of the $10,000 prize pool, they'll have all the motivation they need to push each other to the limits.
How you can get in on the action
Whilst the 12 hours of Kyalami is invitation only, we're also getting some of SimGrid's Hosts onboard. Three of our biggest Communities, Symphony of Pistons (SOP), Quantum Racing (QRT), and Formula Racing League (FRL), were all offered a spot in the World Cup event. You can watch out for SOP and QRT's driver lineups in the coming weeks, but Formula Racing League have decided to do something a little different and it means there are a few extra slots available for you to get involved.
On the 27th of November, Formula Racing League will be holding FRL's Road to the World Cup – an 8-hour endurance race at the legendary Mount Panorama. In GT3 teams of 2-4, you can battle it out for victory and an elusive prize: a spot in The SimGrid x VCO World Cup 2022. Those who finish in the Top 3 will be offered a place on the starting roster, granting you entry to one of the most competitive events on ACC this year.
If you think you and you're team have got what it takes, then make sure you fill in our World Cup application form where you can outline why you should receive an invitation and your team's standout Sim Racing accolades.
You can find out more about the Formula Racing League event and how to get signed up below:
What's to play for?
As we mentioned earlier, prizes are going to be a big point of interest for those out on track. Competing with the ultimate goal of victory, we've upped the stakes for those coming out on top.
The SimGrid x VCO World Cup 2022's prize pool will sit at $10,000, split between the Top 20 teams come to the end of the race – the eventual winner collecting $3,000. Second place will earn teams $1,750, whilst those who round out the podium will win $1,000 – even if you're not in the top 10, teams down to P20 will still leave the event with part of the prize pool.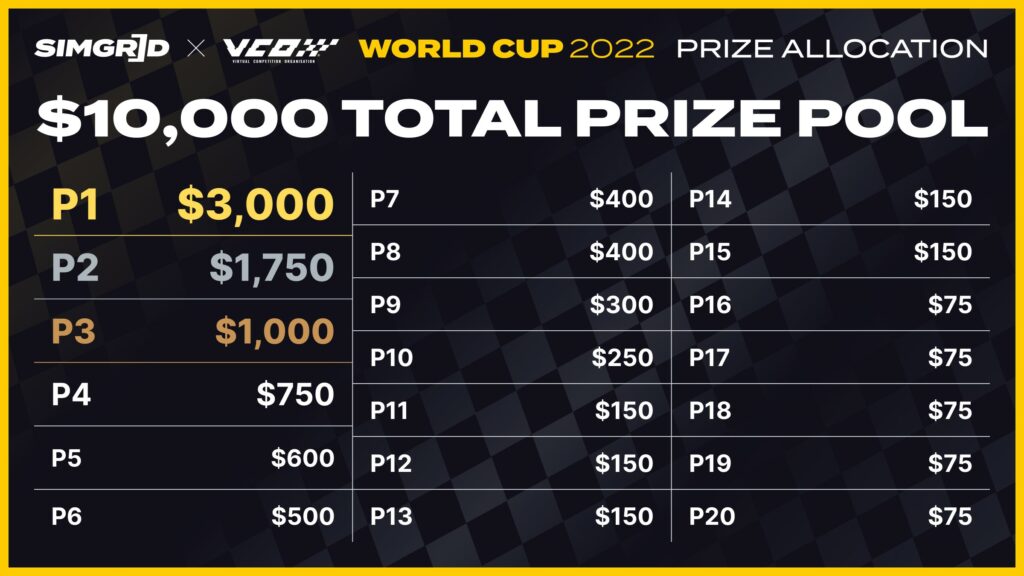 If you want to know more about the prize pool allocation or any other details surrounding The SimGrid x VCO World Cup 2022, you can find more information below: