Another month and another fantastic new feature is being rolled out at SimGrid. We are on fire this year!
We are proud and excited to release the brand new overall scoring feature. This has been the most requested feature for many communities in the last several months and we can now say it has come to fruition.
Alongside the overall scoring update, we do roll out a new quality-of-life update on the scoring UI, giving SimGrid communities more points scoring options when creating championships and events.
We also have an update for SimGrid Pro users to include overall standings in the analysis, so drivers and teams can now analyse themselves against all, instead of just the drivers and teams in their class.
Overall Scoring Feature
Overall standings come to SimGrid as an extra feature communities can access via community boosts. Communities will need to have three active boosts to access this feature.
Once those are active, communities will need to head over to their scoring tabs page from a championship or event from the past, present or future and the 'Overall' heading will appear.
This now brings a new dynamic to championships and events for the drivers competing because they now have added incentive to race. Not only do they fight for top honours in their respective classes, they will be racing for top honours overall. If you are a Silver driver and you hit the front, no longer do you think about letting those Pro drivers pass! You are racing for victory and overall championships.
Overall Standings
Please note: For overall standings to work, communities will need to have two or more classes present in a championship or event. It won't be active on singular class championships as that is already an overall score.
On the overall standings page, you give the overall points standings system a name and then hit create! It is that simple.
From this point, you can add as many classes to your overall points scoring as you like, so if you have 3 classes running in the same championship, but only want two of the classes to count in an overall championship scoring, you tick two and leave the third class empty.
Separate Points System
You then have the option to add a new and separate points-scoring system which you can apply to your overall standings.
You can choose to run overall points in conjunction with the class championship points or have an entirely separate points system from the individual class scoring to give the overall standings some identity.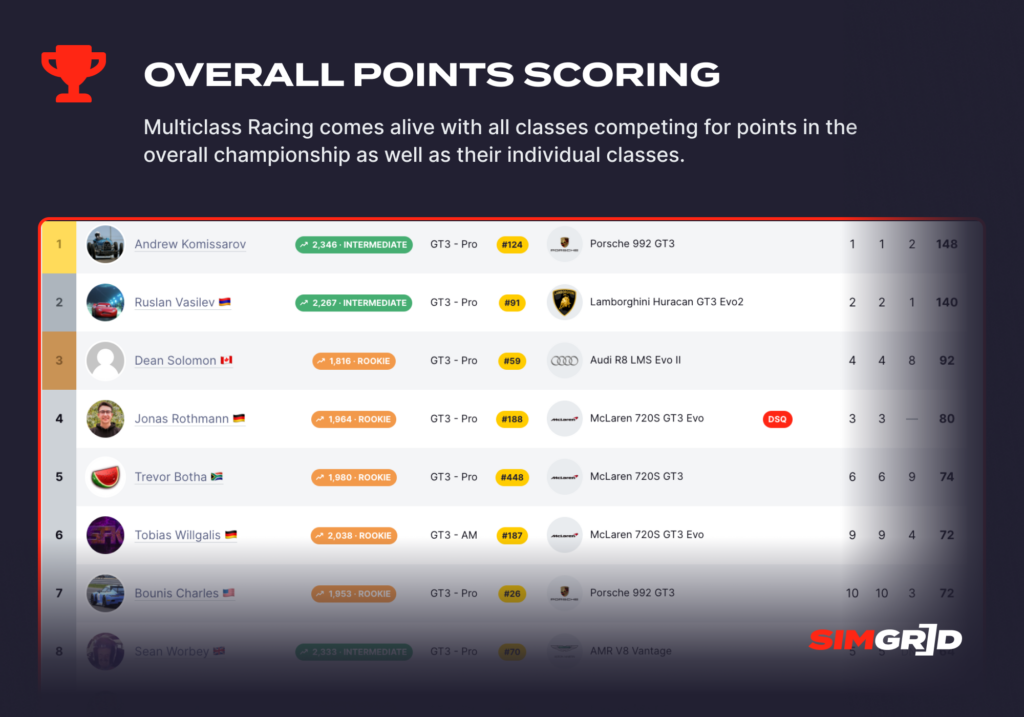 New Scoring UI
On the scoring tabs page, you will now see options for 'Championships' and 'Races' alongside 'Overall' with everything having a much smoother and cleaner interface.
Championship Scoring
Starting with championships scoring you will now have the options to enable team and manufacturer scoring before being presented with the fastest lap scoring. All features communities will be accustomed to, but just moved into a more prominent position.
You then come across the main championship points table and you can still manually decide the championship points by filling out all positions with your desired scoring system, or you can revert back to our well-known and used linear or progressive auto-apply points system.
Common Scoring Systems
SimGrid has added more options for you to use under 'Common Scoring Systems' however, including well-known and used scoring systems from various real-life series;
FIA sprint scoring points system
FIA endurance scoring points system
Le Mans scoring points system
These are ready to go as auto-fill options with a click of a button.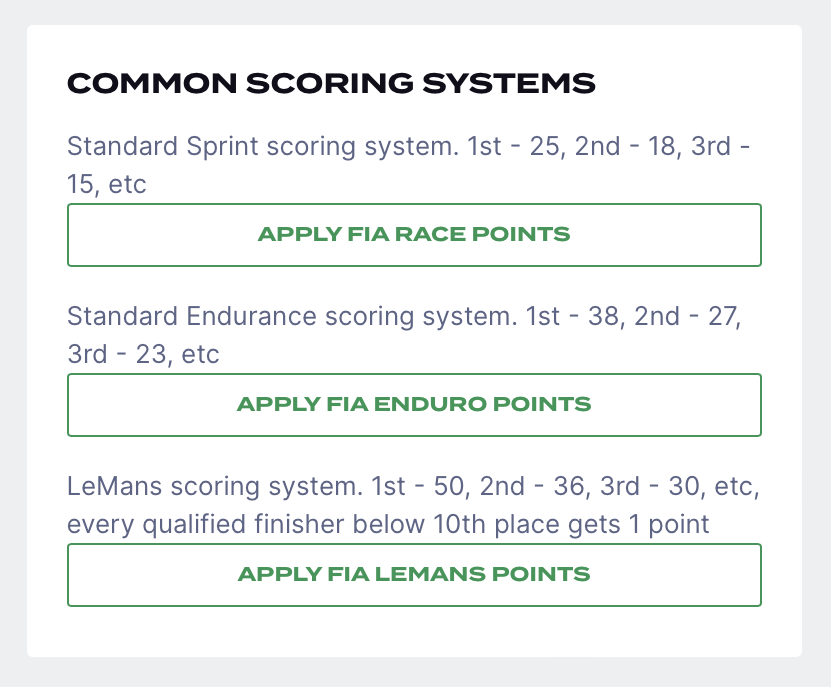 Individual Race Scoring
This option in your scoring tab page comes in the form of races. Here you will get a listicle view of all your rounds within a championship and you now have extra options available to you should you need them.
Here you can apply individual event scoring within a championship. So if you want rounds 1, 3 & 5 to have a different scoring structure to rounds 2, 4 & 6 you can change that with all the same options from the championship tab including manual input, linear or progressive points systems.
New Double & Half Points System
You now also have the option to apply double-point scoring or half-point scoring.
The double-point feature is great if you have a longer endurance race mixed in with some sprint races on the calendar and you want to award teams for finishing that longer event, for example.
The half-point feature is great if a race is to not see a chequered flag due to technical issues, meaning you can still award points if a certain length of the race has been completed, for example.

Post Race Result Process Updated
With the introduction of the overall points system, we have had to change how post-race results can be added or amended.
When you want to adjust results because someone has changed cars midway through a season and you need to deduct points, for example, you will now be greeted with a new tab that includes both the class scoring and overall scoring.
This is because you can have two separate scoring options and changing points can affect both of these separately.
Here you action the point adjustments in class and overall, you decide on how many points a driver will lose, action it on both points systems, type in your reason and hit save. This means they could reset a driver to zero in a class championship but still retain points in the overall championship.
This new option allows you to decide.
SimGrid Pro
Those of you with SimGrid Pro and access to performance analysis will also have a new update that should be visible to you now.
Performance Analysis will now let you see not only the class results but the overall results too. This is very useful if you are in a multi-class championship and want to see how yourself as a driver compares to the entire grid or how your team stacks up against a grid filled with pro, silver and am teams.
When you open up performance analysis you will see the overall tab and this is available for both leaderboard analysis and grouped analysis. You get all the same great features that you know and love from SimGrid Pro, but now with an overall overview of your data as well.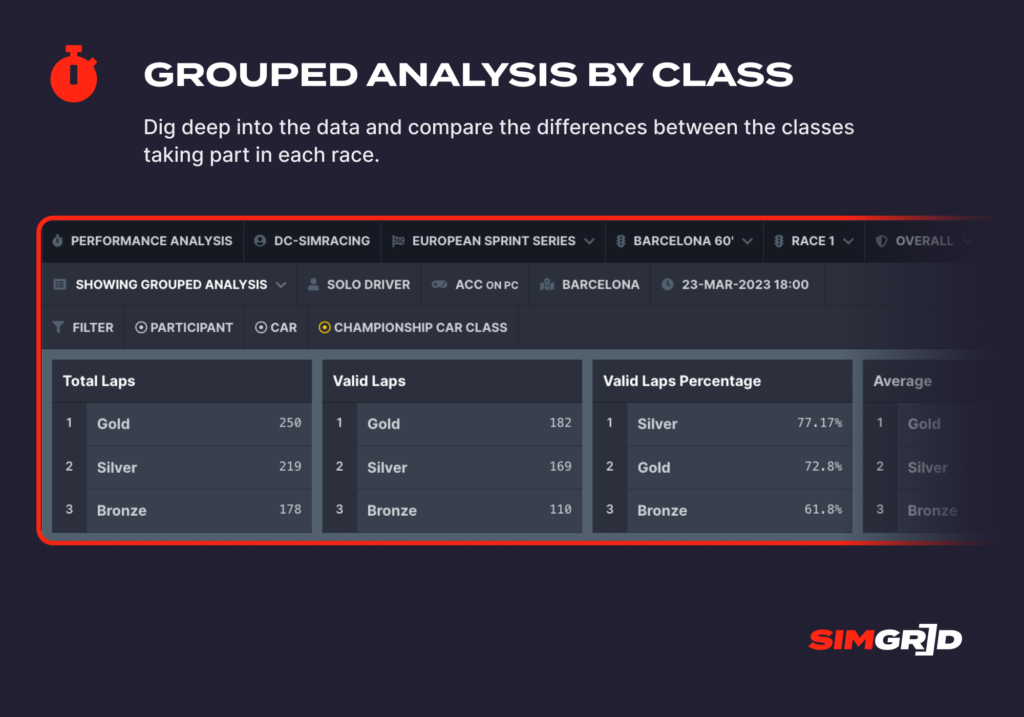 Summary
So a whole range of new features and options are being rolled out under the Overall Standings umbrella.
We really hope all our communities, drivers, teams and SimGrid pro users enjoy these features.
We can't wait for them to be used by you all and we welcome any feedback that you may have.