I'm thrilled to announce the launch of Boost to Earn, our new feature that gives Hosts the opportunity to earn a commission on every boost purchased by members of their community. With Boost to Earn, Hosts can now earn a steady stream of income from their community's boosts, with no limit on how many boosts they can receive.
I know hosting events can get expensive. Between broadcasting, commentary, stewards, and servers, the bills can add up quickly. That's why we're doing more to support Hosts. With Boost to Earn, Hosts can now cover your expenses and even more! Want to hire that broadcaster you've always wanted or award physical prizes? With a steady flow of Boosts, Hosts can do just that without going out of pocket.
Unlocking and Commission Rates

Hosts can earn up to 80% per boost that their community contributes to you. By hitting specified follower and event counts, Hosts can qualify for Boost to Earn relatively easily:
Have 100+ followers
Organised 3+ events/championships
Have an Attendance Ratio above 60%
Have 4 active boosts
Once Hosts unlock those four requirements they will begin to earn commission on boosts from their community.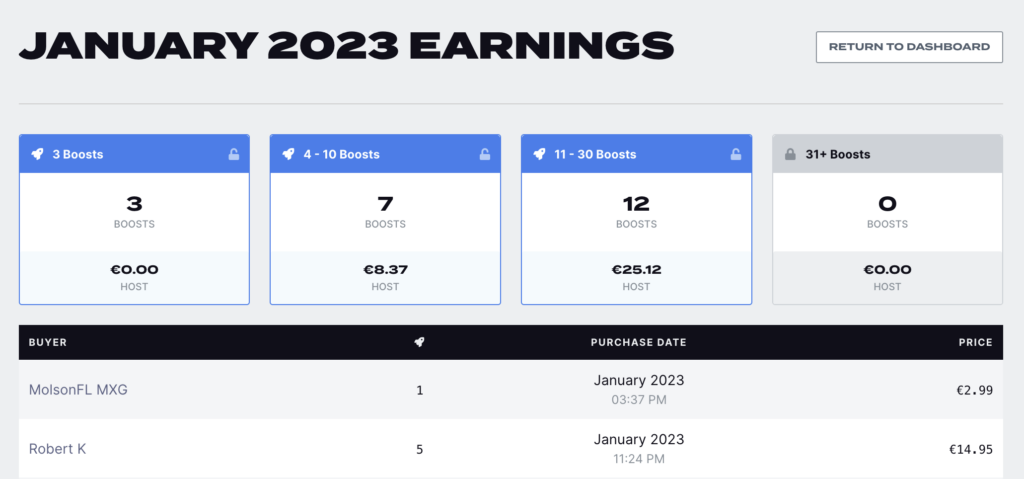 Boost commission is designed around a progression system, once a host reaches 4 boosts, the commission scales up from 40% per boost all the way up to 80%. Progression is determined by the number of boosts a Host receives per month, and payouts are made 30 days after month's end.
I'm thrilled to be able to offer this new feature to our Hosts and their communities. Since the inception of SimGrid, Hosts and communities have been at the heart of our operation and Boost to Earn is the next step on our journey to improve sim racing for all.
We look forward to continuing to add new features and tools that will give you even more control over your events and revenue streams in future.
For more information on Boost to Earn, visit our website. And if you're interested in becoming a host, visit our hosting page.