This weekend, The SimGrid x VCO World Cup returns for the first time since Simware.Pro by VDES was crowned Champions of the 5-race season back in 2021, and what better place is there to do it than Kyalami? The South African circuit has hosted many an exciting showdown at SimGrid and that's set to continue as we make the trip back to the venue for 12 hours of racing.
Ahead of Friday's knockout Qualifying session and Saturday's race, we spoke to some of the event's favourites, sitting down with Seb Hawkins from Williams Esports, Marc Prinzing from Team Redline, James Baldwin from Veloce and Alberto De Miguel López-Pacios from TDG Racing Team to get their insight into what lies ahead.
A reminder of what's to come
Qualifying is first on teams' menus this week, taking a form similar to that of the Coach Dave Time Attack, a favourite at The SimGrid. The format will see the number of drivers left on track whittled down across 3 sessions to just 5, before it's all eyes on Superpole to ultimately dictate the polesitter. Here's a reminder as to how the format will work:
Q1: 49 cars – 15 minutes – Top 20 advance
Q2: 20 cars – 12 minutes – Top 10 advance
Q3: 10 cars – 8 minutes – Top 5 advance to Superpole
Superpole: 2 runs, 2 flying laps
Once Qualifying is complete, the focus shifts to the race, where our superstar teams prepare to fight it out for a portion of the $10,000 prize pool that will be split across the top 20 finishers – huge stakes for just a single race.
Make sure to join us for all of the action live on the SimGrid YouTube Channel when Qualifying kicks off on Friday evening at 20:00 CET, and for the race, just a day later at 12:00 CET.
Seb Hawkins shows his confidence in Williams Esports
Williams Esports has become a name you'll find pretty often at the top of our events here at The SimGrid. Consistent challengers at the top of our most recent large-scale endurance racing series, the Coach Dave 1000, seeing Tinko van der Velde, Daire McCormack and Igor Rodrigues in the top handful of places won't shock anyone. Speaking to Williams Esports Team Manager Seb Hawkins, he gave an insight into what he expects from the trio at Kyalami.
Firstly, the team have had a hugely successful 2022, and Hawkins was keen to acknowledge that. "We have been really impressed with the performance of our roster throughout this season of competition. Recently we had a chance to display the team's ability to perform at the ADAC Sim Racing Expo where Daire, Igor and Tinko secured the SimRacing.GP Trophy Championship," he said.
"I am confident that both cars will be competing at the top of the field this weekend at Kyalami."
Victory is really the only goal for Williams Esports this weekend, as in their Audi R8 LMS GT3 EVO II, which Hawkins believes "is fundamentally the quickest and suits our drivers", they aim to end what has been an incredibly successful year with a P1, despite the strong competition that will be joining them on track.
"We always enter competitions with the desire to win, and this weekend will be no different. The World Cup will be the last competition of the year for our roster, and we want to secure a result that will end the season on a high."
James Baldwin and Veloce aim to get among the top
Like Williams Esports, Veloce has been one of the most highly decorated Sim Racing teams this year. James Baldwin has been a big part of that success, winning the GT World Challenge Europe Esports series and the Intercontinental GT Challenge Esports series as part of the wider team that he'll be a part of this weekend.
The 12 hours of Kyalami is another endurance race in a busy year for both Veloce and Baldwin, but as Baldwin explained to The SimGrid, this one comes with uniquely higher stakes. "This is a very different challenge though as it literally comes down to one race, so there's more luck involved. We'll prepare like we always do & hopefully it's enough to get the win."
Whether luck goes their way or not, he feels Veloce can once again get amongst the action at the top, despite the likes of rivalling BMW G2, Unicorns of Love and Team Redline. "Well, the whole grid is going to be strong, of course there are the top, top elite teams that will be always be up there," said Baldwin, "but I feel like we are one of those teams as well."
What he hopes is going to aid their performance is their car choice. Veloce and the McLaren 720s GT3 have become an iconic pairing over the past year, but Kyalami hasn't been so kind to them whilst behind the wheel of the British-made machine.
Instead, Veloce is opting to take the Ferrari 488 GT3 Evo, despite Baldwin's inexperience with the Prancing Horse, in the hope it can push him, George Boothby and Eamonn Murphy towards a better result. "This time round though we're in the Ferrari, a car I personally have never driven, so it should be a lot of fun, we're definitely looking forward to it."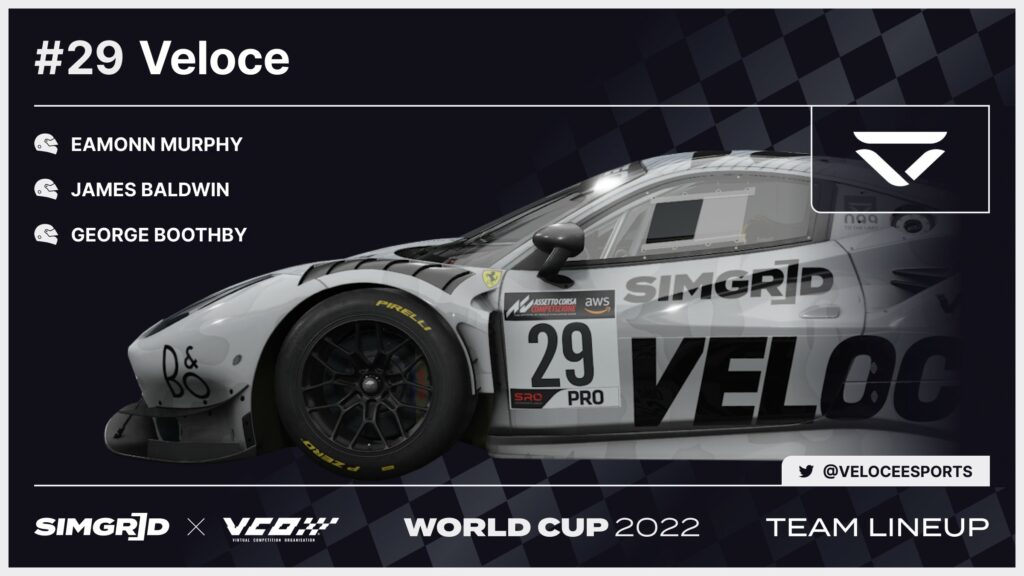 Marc Prinzing shares Team Redline's goals for the 12h
Team Redline has been successful pretty much everywhere within the Sim Racing world over their 22 years in Esports, taking race victories in series' such as the Le Mans Virtual Series on rFactor 2, recently winning the inaugural VCO ProSIM INFINITY event on iRacing and even being awarded the 2022 Autosport Esports Team of the Year Award. However, Assetto Corsa Competizione is a platform they aren't quite so familiar with.
We spoke to Marc Prinzing, Team Manager at Team Redline, to get his view of what will be one of their first large-scale events on ACC.
Their squad of Kevin Siggy, Enzo Bonito and Chris Lulham – a trio we've seen be hugely successful elsewhere – is "mainly trying" to get their "feet wet" with ACC endurance racing this weekend, as Team Redline looks to create a strong foundation on yet another Sim Racing title. Due to that fact, the run-up to The SimGrid x VCO World Cup 12 hours of Kyalami has looked a little bit different, as they've "mainly had to cover a couple of the more basic aspects with regards to ACC," explained Prinzing.
"That being said, we will of course aim to win, otherwise, we wouldn't compete."
Unlike Williams Esports or Veloce though, Team Redline will be taking a different route when it comes to their choice of car. In reality, Prinzing's team is actually in the overall majority, choosing to take the Aston Martin V8 Vantage GT3, joining 20 other teams on the 49-strong grid. He has faith in the team's choice, stating simply, "It's fast."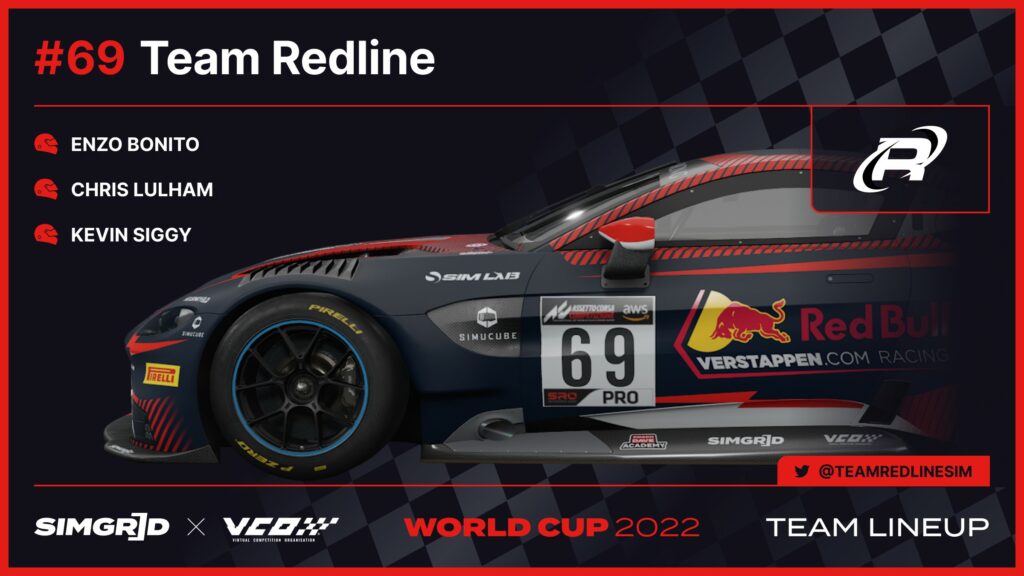 TDG Racing Team look to make their ACC debut
Topes De Gama Racing Team, better known as TDG Racing Team, are no stranger to top-flight Esports. An Official Porsche Iberica Team, they've made a name for themselves as one the most successful Gran Turismo teams, but when it comes to Assetto Corsa Competizione, The SimGrid x VCO World Cup 12 hours of Kyalami will be their first outing on the platform.
Ahead of the race, we spoke to TDG Racing Team Manager Alberto De Miguel López-Pacios.
"We know we are going up against the best ACC teams for the first time and we have no experience competing professionally here in ACC, but we are probably one of the best GT7 teams in the world and this gives us a push when it comes to competing and adapting to new competitions," said López-Pacios.
What's for sure is that TDG Racing Team has the experience that any team needs in the Esports world. Whilst only one of their three GT7 World Tour drivers, Manuel Rodriguez, has spent lots of time on the ACC platform prior to the 12h, the team as a whole will be carrying the momentum they've gained from their successes on GT7 into the event.
"Victory is always in our sights, we are the only official Porsche sim racing team, so we have to aim to win everything, but this is the first time we compete here and we have to learn and improve every year.
"For TDG Racing Team this year has been very important in terms of results and content, a year of consolidation of the project and winning here would be the absolute confirmation that we are one of the best teams in the world".