Luke Whitehead takes victory at SimGrid Anniversary Party
This Thursday, as the calendar moved on into July, SimGrid turned a year old. The past twelve months will be held dear in the memories of everyone working behind the scenes to make this idea blossom into the sim racing hub that it has become today. In such a short amount of time, there has been plenty for us to celebrate, but none of it could ever have been possible without you – the Assetto Corsa Competizione community.
So, when we decided to put on a party, we knew we couldn't have one without inviting you all along. We were delighted with just how many of you wanted to join us, with three splits of nearly one hundred cars each taking to the track at Suzuka. In typical SimGrid style, the racing certainly didn't disappoint, so without further ado, here's a round-up of all the main action from Split 1.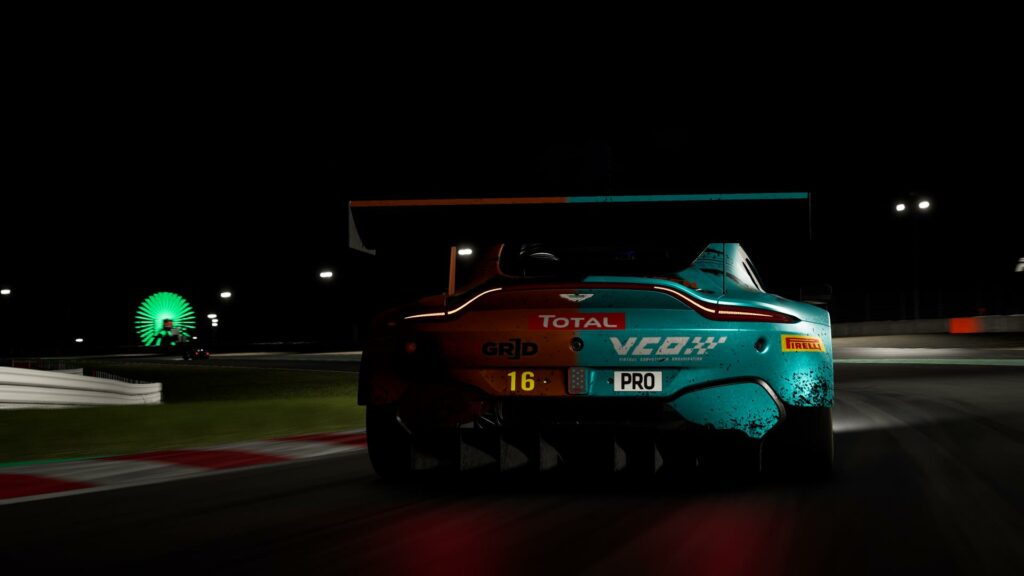 Whitehead fends off the charging Pryde
There was only ever one venue where SimGrid's Anniversary Party could take place, and that circuit was Suzuka – the site of our first-ever event. So, as one hundred GT cars roared into turn one, it was Harry Spiers who retained the lead of the GT3 category after bagging pole position in qualifying. However, further behind in the vast midfield, Alexis Piralli was caught up in an incident at the head of the GT4 pack.
Spiers' pace looked good for the first handful of laps, but then disaster struck as he spun out of the lead at the high-speed 130R corner. He miraculously managed to keep going in third position though, but this had handed the race over to Tinko van der Velde and Luke Whitehead. Eventually, it was the latter of the two who would emerge in front, but van der Velde wasn't about to concede without a fight. A few laps later, he dived to the inside line of the first of the two Degner corners, resulting in slight front-to-rear contact. Thankfully, Whitehead's car was unhindered by the hit to its rear quarter, and van der Velde was also able to arrest the sudden slide of oversteer that he experienced as a result of the impact. With that, the status quo at the front remained.
However, behind the pair of them, Cody Pryde had been charging his way up the order from his tenth-placed grid slot. In the #1 Happy Birthday entry, Pryde had now closed up to the two leading Mercedes in his BMW M6, having dealt with Spiers earlier on. An attempted move on the inside through turns three and four was blocked by GT4 traffic, but in the end, van der Velde would do all of Pryde's work for him. Upon entry to Spoon curve, the Dutchman lost grip as he put a wheel on the grass, which sent him flying through the gravel trap.
From then on, it was a case of Pryde simply trying to hunt down the leading car of Whitehead. There was a heart-in-mouth moment as the GT4 car of Ventsislav Raychinov hit the side of Pryde's M6 while spinning out, but luckily the ACC gods were on his side and very little damage was done. In the end though, there wasn't quite enough pace in the BMW to catch up to the race leader, ensuring that Whitehead was able to convert his impressively consistent pace into victory.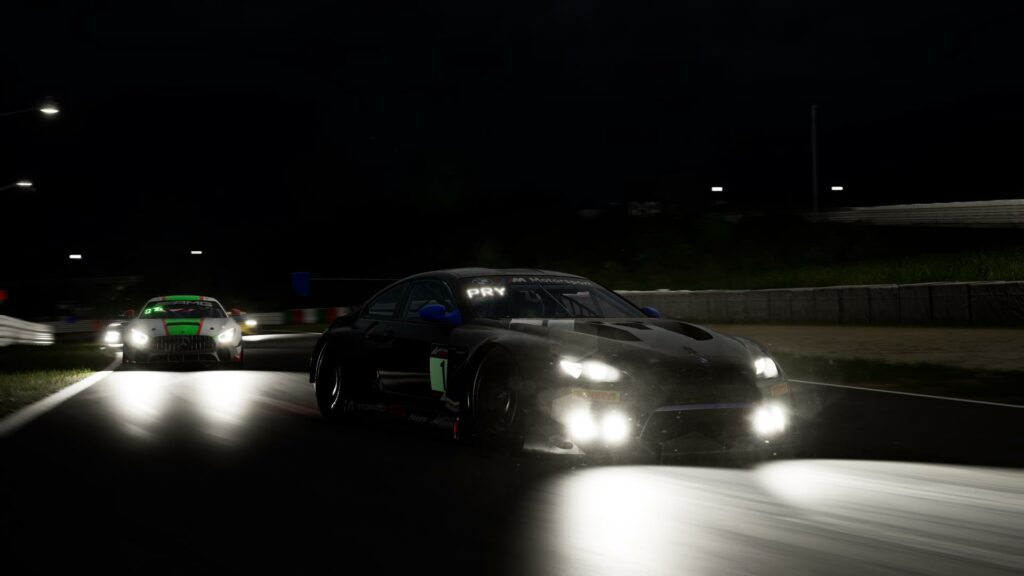 The battle for the GT3 podium
Behind the leaders, there was plenty of fun and games going on elsewhere. After misfortune for Spiers, the battle for the final step on the podium ended up being between the recovering van der Velde, and the #16 Excel Racing by Rennwelten entry of Maximilian Wohlmuth. Wohlmuth had been able to pass van der Velde in the late stages, but there didn't quite seem to be the pace in his Aston Martin to leave the Mercedes behind. As such, van der Velde was able to attempt an overtake on the inside of the Spoon Curve but misjudged timing resulted in contact that sent Wohlmuth spinning off the track. As a sign of good sportsmanship, however, van der Velde waited for his rival to recover, ensuring that nothing but time was lost.
Nevertheless, the pair of them would be at it again with just two minutes left on the clock. Running bumper-to-bumper through the traffic, van der Velde took to the outside of Wohlmuth on the exit of 130R, but narrowly avoided a race-ending crash of his own when Wohlmuth veered to the right and brushed against the side of the Mercedes. At the following corner, van der Velde then ended up hitting the rear of Wohlmuth's Vantage amidst heavy traffic, causing the third-placed driver to spin out of contention. This also handed fourth position to Wohlmuth's Rennwelten stablemate, Félix Ruppert.
Spiers would eventually come home in sixth place behind Wohlmuth after starting on pole, just ahead of a titanic battle that had been going on for seventh between George Brabner and Cormac Ryan-Meenan. In the end, it was Brabner who came out on top of that particular tussle, while Ryan-Meenan also lost out to Egor Ogorodnikov who had put on a remarkable display to climb from 45th on the grid to eighth.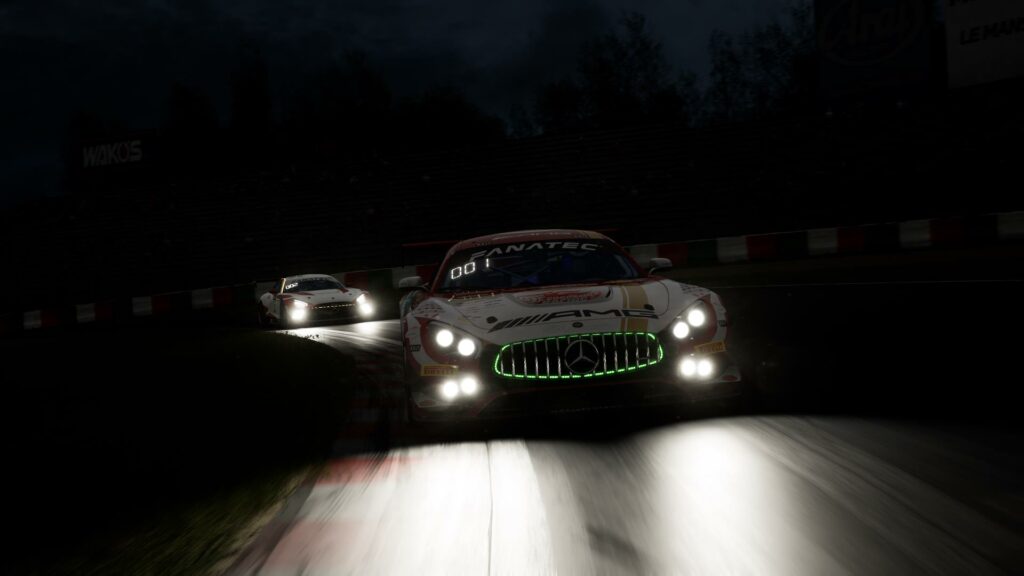 Malinowski dominates in GT4
Although the main focus was on the leading GT3 category, our GT4 contenders certainly put on a great show of their own as well. From the get-go, Marcell Fuzy and Patrick Nagy entertained us with a ding-dong battle for second place until the chequered flag was waved. In the end, it was Fuzy who claimed that spot after a drive-through penalty for Nagy, though the Hungarian still managed to cross the line in third.
Behind them, there were plenty of other great battles going. For example, Harry Phillips, James Spiby, Kristiyan Lozanov and Cristian Berindea were at one point all engaged in a four-car battle just outside the podium positions through the fastest section of the track. On this occasion, Lozanov managed to overtake Spiby at Spoon curve, before Berindea then also capitalised on Spiby's compromised pace at 130R – all while having to duck out of the way of oncoming GT3 cars.
In truth though, it was never in doubt who would go on to win in the GT4 category. Malinowski put on an imperious display of form and even managed to beat a selection of the GT3 runners outright. Piralli may feel he could have challenged for victory had he not lost out at the very first corner, though with a lead of around 45 seconds, Malinowski was far ahead of the rest.
Behind Fuzy and Nagy, it was Lozanov who claimed fourth. Timo Bürkle, meanwhile, put on a heroic drive to finish fifth in the GT4 class after qualifying outside of the top twenty.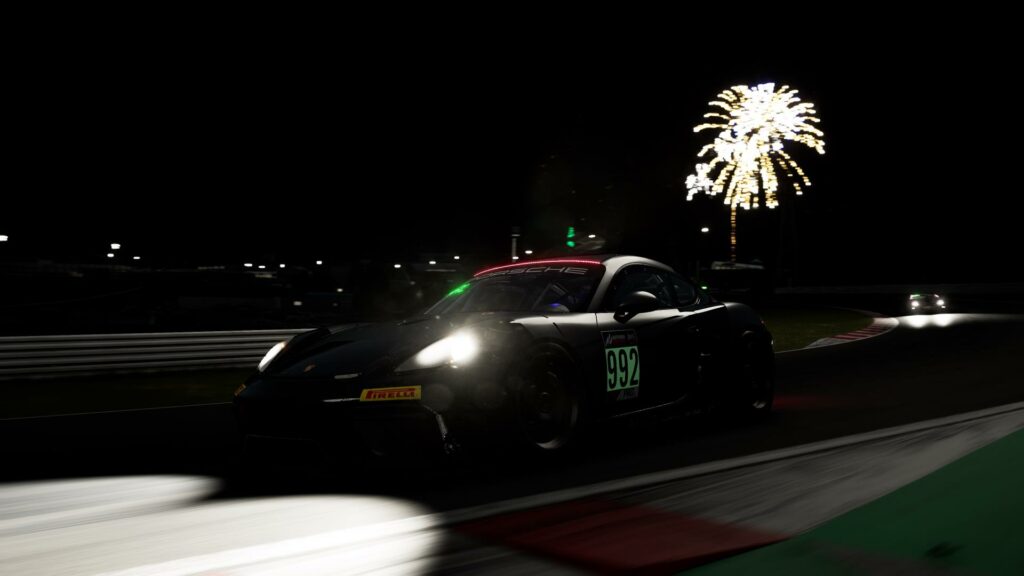 What the winners had to say
After the race, we caught up with our two class victors, Luke Whitehead and Maciej Malinowski to see what it was like being behind the wheel in such a busy event.
Having qualified in third place with two drivers in equal machinery ahead of him, Whitehead knew that he would have to work hard for this one. Overtaking is nothing new to him, but when he hit trouble in the early stages, thoughts of victory began to slip away.
"I know that going through traffic has always sort of been my specialty, I enjoy overtaking," he said. "Obviously I've done SimGrid Sprint Cup where I had to come through the grid there around the same track, so I had a bit of experience and knew where all the key spots were, but I didn't really expect it to go as it did.
"I made a mistake in the first stint about ten minutes in, and then dropped back. So I was like, 'okay, that's put me on the back foot a little bit'.
"But, you know I think Harry [Spiers] had an incident with a backmarker and I think Tinko [van der Velde] did as well, and that really helped me out.
"Those two I think were quicker than me on race pace or at least very, very close. I think we were a little bit quicker than Cody [Pryde] on the measure of things, but he caught up with us at the end and was really fast."
Indeed, Pryde pushed Whitehead all the way, making victory taste that little bit sweeter for Luke at the end of the race.
"I couldn't really be happier with the outcome!" he beamed. "I got stuck behind some backmarkers at the end, but I just kept out of trouble and I think that's what a lot of other people didn't do today."
GT4 winner Malinowski also managed to stay far away out of trouble – an impressive feat given the size of the grid. In fact, it proved to be quite a lonely race for the Polish driver, whose pace was unmatchable.
"I enjoyed driving very, very much today. The race was awesome." he said. "The GT4 race up front for me was a bit lonely, but I just enjoy driving the car and the event itself, being overtaken by GT3s and managing traffic. It was super fun!
"Races like those are great for practice, so I really enjoyed it. From time to time there is a moment where some car will do something that you don't expect but it's nothing personal, that's part of the game."
Looking forward, both drivers are eager to return to SimGrid for our latest championship tournaments, with the pair of them set to go wheel to wheel in Season 4 of the Sprint Cup.
"I'm participating in SimGrid Sprint Cup season 4, with Hamada Erquizi once again like last season," said Whitehead. "We're choosing a different car, so we're going a little bit into the unknown, but it's all part of the challenge. We're trying to find that extra bit of edge every single time we go out."
Malinowski, meanwhile, will be sticking to a more familiar brand, having won with the Stuttgart-based manufacturer at this week's Anniversary Party:
"Here on SimGrid, I and Michael Tauscher have signed up for Sprint Cup season 4, so we're gonna be driving car #992 – also a Porsche." he revealed.
Overall, this was a wonderful first birthday party for all of us here at SimGrid, so thanks to everyone who has taken part, not only at our Anniversary Party but all throughout the past year.
As Luke Whitehead puts it, "SimGrid have got some stuff in the works, and I'm really excited to see what they come up with, because I really enjoy racing with them, it's brilliant. The driving standards for the majority are really, really good – the best in the business really."
So, if you're new to SimGrid and want to get involved, keep an eye out on our Events Page, or get stuck in straight away with our Daily Racing portal. See you all on the track!