Coming off the back of an eventful May here at SimGrid, we have plenty more in store for you this month. Whether it be short championships or top-tier endurance racing, we have it all, this month a SimGrid.
Kyalami Series
Throughout June, the Kyalami Series will be hitting your screens. The five-round championship will take place at the legendary Kyalami Circuit and consist of various cars and race formats, varying from round to round. Not only that but it will be one of our first series' to be offering prize money, so you better start practicing if you want to get your hands on some!
Rounds 1 and 2
The first two rounds of the Kyalami Series will take place just as the month kicks off on the third of June. These two races will be sprint races, coming in at just thirty minutes, making it an all-out battle to see what the drivers can do without time on their side. The two rounds will also be single make, with the first of which being held in the Lamborghini Super Trofeo, and the second in the Lamborghini Huracan GT3 Evo.
Rounds 3 and 4
The second day of racing for the Kyalami Series will take place a week later, on the 10th of June. This event will take the same race format as the first two rounds, consisting of two thirty-minute sprints, but this time, in different cars. Round three will take place in the challenging 991 II GT3 Cup, and the second in the Porsche 718 Cayman GT4, making it an all-Porsche evening.
Round 5
The final round of the Kyalami Series will take place on the 17th of June. The race will be a 75-minute open GT3 race to close off the championship, with one mandatory stop and a custom BoP to level the playing field – much like you'd see in the Endurance Cup S3 by Thrustmaster. This race is set to be a great way to end the series and will be one you.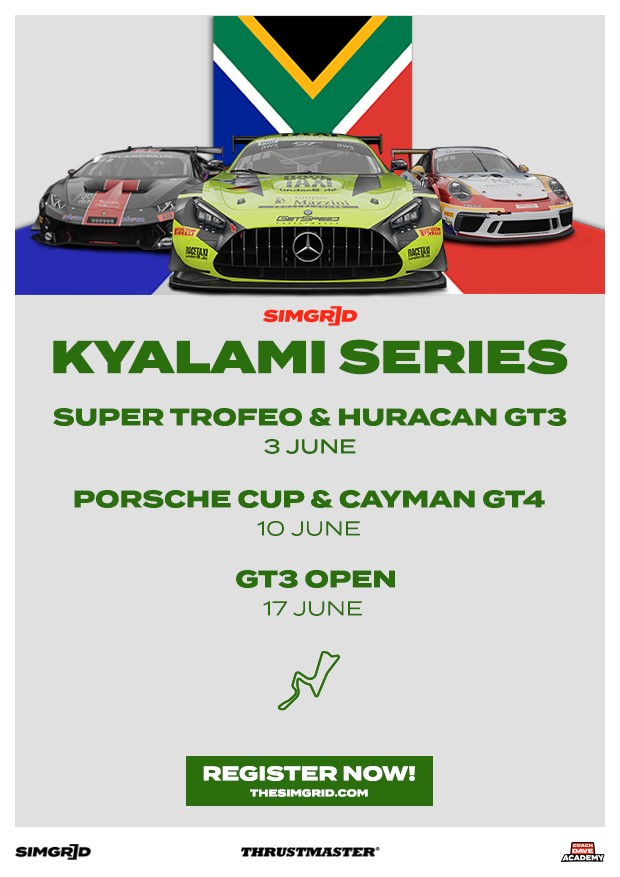 More Female Racers by Thrustmaster Rockets
So far, the More Female Racers by Thrustmaster Rockets season has been thrilling, giving us drama, battles and a whole host of teams growing and improving together. In June, the staple series will continue at Kyalami and Brands Hatch for rounds four and five on the 7th and 21st respectively.
At the top of the Pro Class championship, Arnage Competition x Imperium are leading the way, but season two champions, Jean Alesi Esports Academy, are hot on their heels, despite the previous two rounds really not going their way. This fight is set to continue and will be one you should certainly keep up with over on the SimGrid YouTube channel. Meanwhile, Silver Class is no less fierce in their mirrors, as NSN x Wild Things Racing and Turn1 meets BSKIT battle it out for the class lead. 
Remember, as part of the More Female Racers by Thrustmaster Rockets series, you can use the code "TMRockets10" for 10% off when purchasing products on the Thrustmaster store.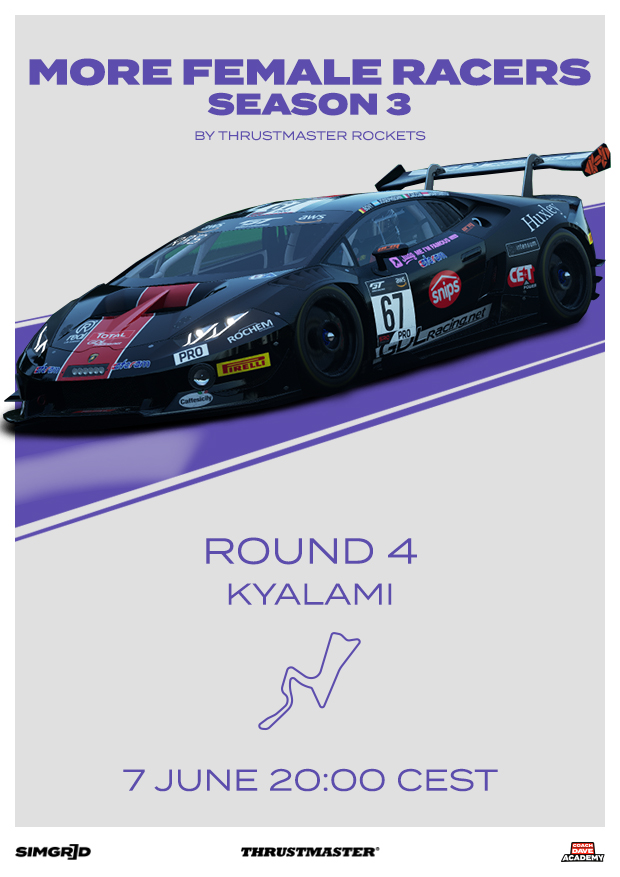 Endurance Cup S3 by Thrustmaster
On the 12th of June, round three of Endurance Cup S3 by Thrustmaster will be taking place, this time, at Laguna Seca. Laguna Seca is one of the most challenging circuits in Assetto Corsa Competizione, due to its tight nature and unforgiving runoff areas – making it the perfect venue for a highly competitive grid to take to!
After an eventful first two rounds at the Hungaroring and Monza, the series has seen two different winners, those being Odox Motorsport and LADA Sport ROSNEFT. However, the even more exciting part of this is that that puts them equal on points, with YAS HEAT Richard Mille just two points behind after trading wins for third places. This is easily one of the closest championship fights we have ever seen at SimGrid, which only gives you more and more reason to tune in and see who comes out on top.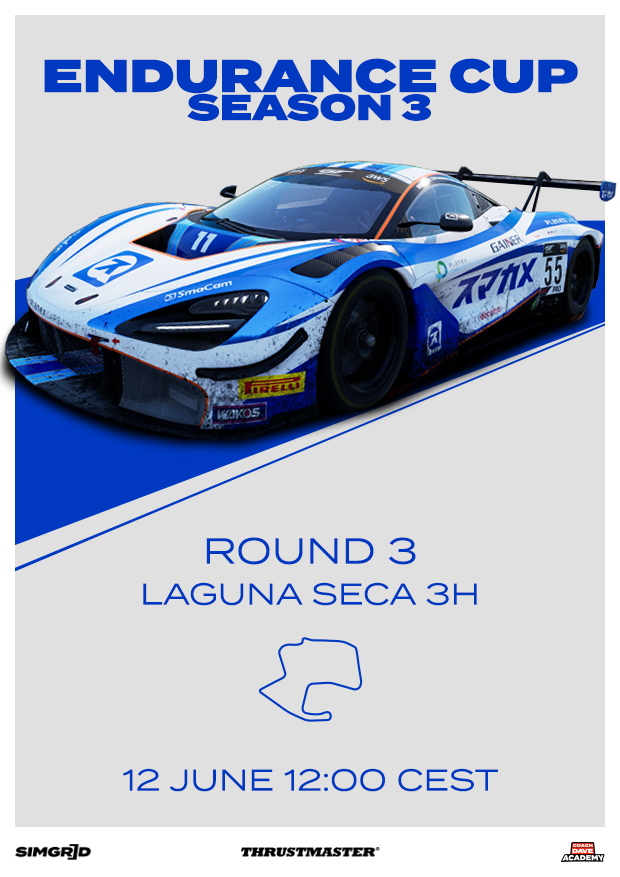 Monster Energy Suzuka 24hrs by BUSR in support of SpecialEffect
Come the 19th of June and drivers will be taking to Suzuka for the most challenging race format possible – non-stop racing for an entire twenty-four hours. This mammoth race will be a multiclass, 60 car event, making it readily accessible no matter the car you enjoy.
Although we may not be hosting directly, BUSR is one of the many communities that we support behind the scenes. They are an ever-flourishing community that is about to put on one of the biggest events possible and to even further sweeten the deal, it is all in support of the charity, SpecialEffect. SpecialEffect is all about helping disabled children get into gaming, so they can enjoy the same hobby that we do! The race will be an amazing one to participate in, but if you can't we strongly encourage you to come along for the ride via their live stream.
The Sim Grid x VCO World Cup
SimGrid's most popular, high-class endurance championship, The Sim Grid x VCO World Cup, is back for the third round of racing, this time, at the famous British Circuit, Donington Park, for a 12-hour race.
On the 24th, a twenty-minute qualifying session will take place for both Split 1 and Split 2, with a high-pressure Superpole session to follow to set the grid for Saturday's main event. As we tick over to Saturday the 26th, starting at 1 PM CEST, the lights will go green and we will be underway for 12 hours of gripping action at a high-speed, full attack circuit.
After such a competitive race at Spa for the first 24-hour race of the series, LADA Sport ROSNEFT took victory, and with it, the championship lead. However, with success ballast in place, the odds will be against them, and their competitors will be hot on their gearbox.