Hello, Sim Racers! A brand new month brings us some more racing action, and we cannot wait to get started. This article will look at some of the upcoming races and events held across The Sim Grid in February 2021. We have a few one-off events such as; the 90mins of Snetterton and some fun with a few British Classics while 20th February 2021 promises to be a massive day for all sim racers!
One of our earlier one-off events, the 90mins of Snetterton is an event exclusive to GT3 cars. The event is to be held on February 11th 2021 at 20:30 CET and is an open-for-all race! Make sure to reserve your seat ASAP as registrations are on a first-come, first-serve basis. Registration window opens on February 8th at 17:00 CET.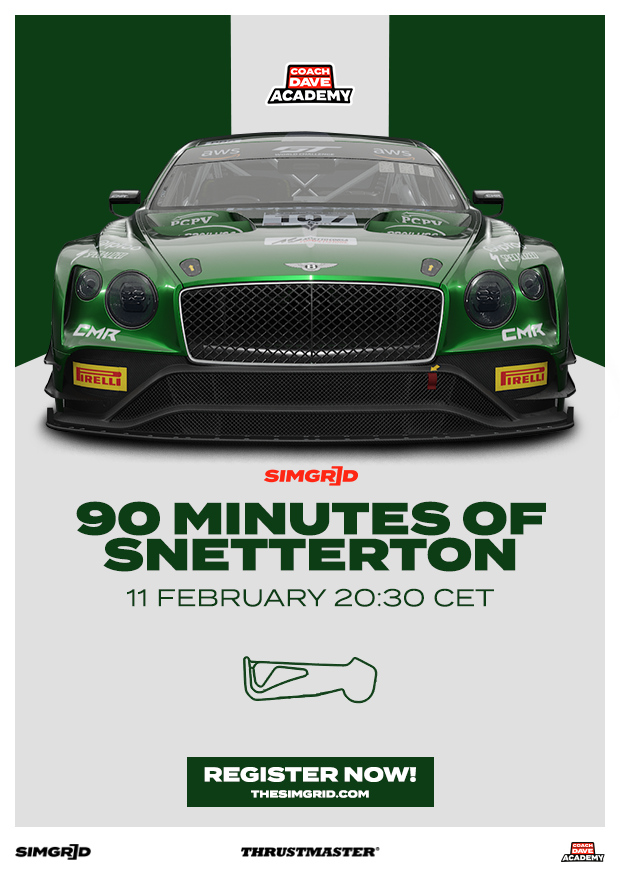 Another one-off event crossed off our checklist! This particular event is strictly for GT4 cars running circles (kind of) at Oulton Park. The race will take place on February 18th 2021 at 20:30 CET. Hurry, seats are limited! Registration begins on February 10th at 17:00 CET.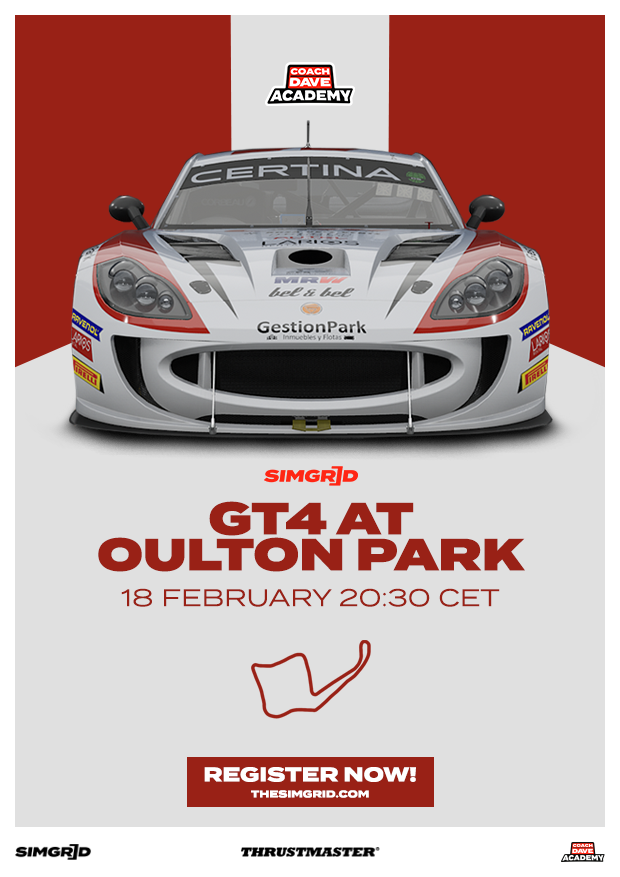 Join us on February 25th 2021 as we take to Donington for some serious (and fun) racing. But there's a twist. Sim racers are only allowed to use the old British GT3 cars and nothing else. The event will start at 20:30 CET so go, mark your name down for this banger! Registrations start February 17th from 17:00 CET.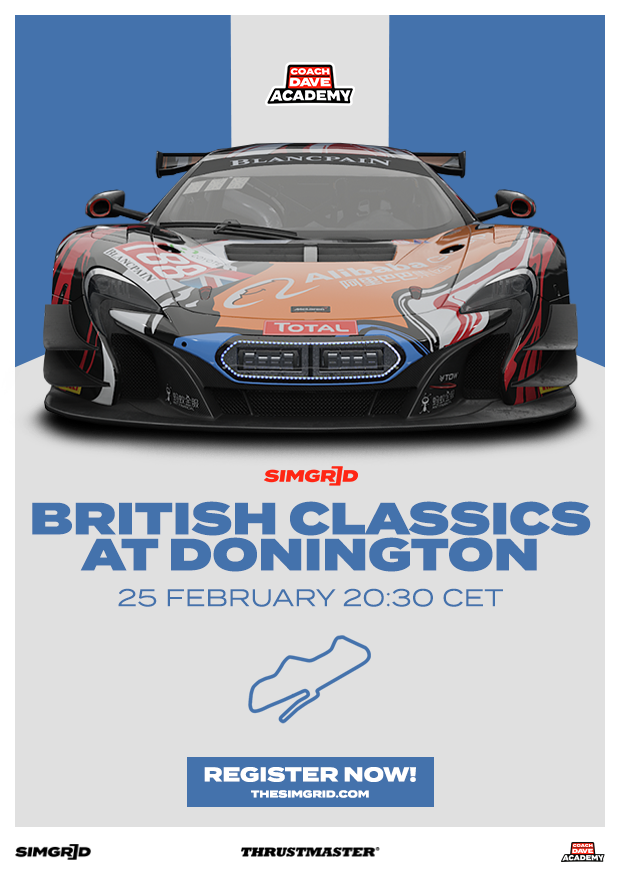 Our feature event this month is the NXTGEN Charity Race to be held at Silverstone. The one-off race will be held on February 27th at 15:30 CET and will have a single split. The 12-hour race is to raise awareness for Brain Tumour and to raise funds for the charity.
We have some big names taking part in this like Michael O'Brien, James Baldwin and Carlos Ocelote, founder of G2 esports. We've also got Jardier, Dalking, G2, Rennwelten, the Jean Alesi Academy (with MFR champions Mia & Aenore Rose), Racing Line Motorsport, GTWR (Sim Grid World Cup champions), the GWTR Female Team and YAS HEAT. A star-studded line-up for sure!
Another fiery championship that is taking place during February, The SOP Motorsport Evo Challenge is a 4-part series that will be held every Tuesday at 21:30 CET and is only restricted to using the Ferrari 488 EVO and Mercedes AMG EVO cars only. The competition takes to the tracks of Misano, Monza, Nurburgring and Imola in that particular order.
Super Saturday
As a part of the racing calendar for February 2021, we have a mega compilation of races planned for February 20th 2021. We have four events scheduled to occur on the same day, all at Donington, with loads of racing content for everyone.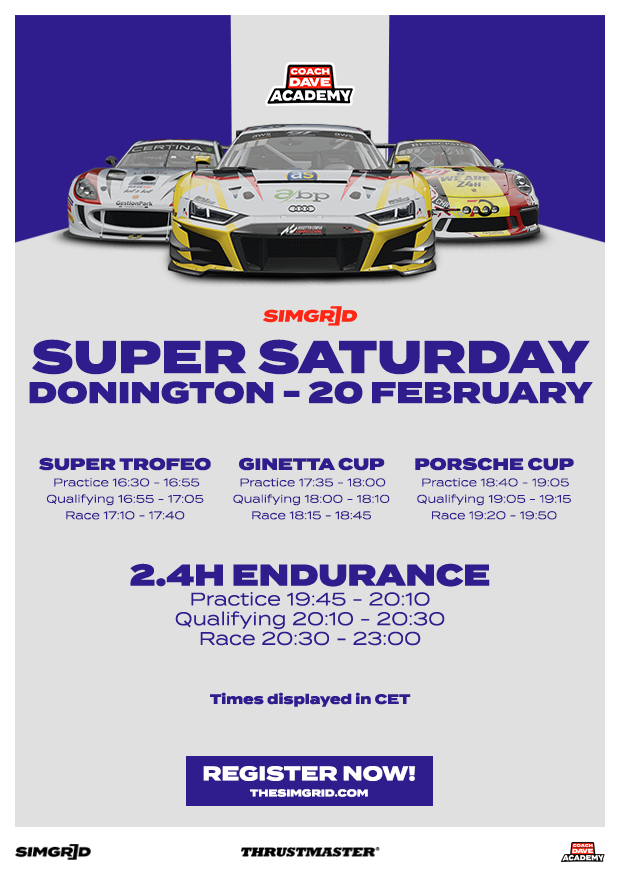 The Super Trofeo event is the first in line on February 20th. The Practice session will begin at 16:30 CET and end at 16:55 CET. Qualifying will be held immediately after it from 16:55 to 17:05 CET. Finally, we will have the main Race event from 17:10 to 17:40 CET. Registrations open on February 12th from 17:00 CET.
The Ginetta Cup is next in line with the Practice starting at 17:35 CET and ending at 18:00 CET. Qualifying will follow and will take place from 18:00 to 18:10 CET. The Race session will be held between 18:15 CET and 18:45 CET. Registrations open on February 12th from 17:00 CET.
After the first two events, we will be entering the Porsche Cup with the Practice session starting at 18:40 CET to 19:05 CET. Qualifying will take place from 19:05 to 19:15 CET, and the Cup will end with the Race event to be held from 19:20 CET to 19:50 CET. Registrations open on February 12th from 17:00 CET.
Our Super Saturday's last event is the 2.4h Endurance, which is the marquee show with a proper endurance test at the end. The Practice session will begin at 19:45 CET and ends at 20:10 CET. Qualifying follows from 20:10 CET to 20:25 CET. Lastly, we enter the Race session starting at 20:30 CET and finishing at 23:00 CET. This is a spicy event for sure! Registrations open on February 12th from 19:00 CET.
Well, there you have it. That's our featured calendar with all events summed up. For more information, make sure to visit The Sim Grid. It's not too late to sharpen your sim racing skills for February as you can head over to Coach Dave Academy anytime! Last but not least, practice makes perfect, and Daily Racing is here to save the day!