This week, The Sim Grid Sprint Cup headed to Misano for the second round of the championship. After an extremely dramatic race last time out at Snetterton, the order was flipped on its head, as we see new time winners, Tauro, take victory at Misano as rivals struggled.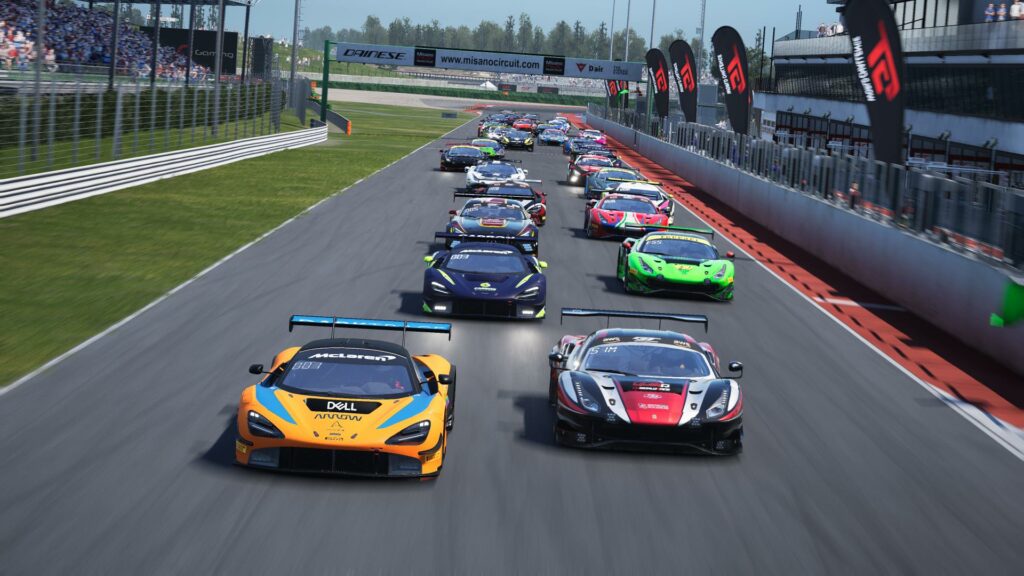 The Podium
Taking victory this week were Alleric Enslin and Amir Hosseini. After Hosseini took the wheel of the Tauro McLaren for qualifying, he took seventh, just two tenths off of pole but six places behind. This meant that the team would have their work cut-out if they wanted victory, however, Hosseini drove brilliantly in the first stint to get the car into second position via some great overtaking and mistakes from his rivals.
As Enslin stepped into their McLaren, he emerged from the pits in P1, with the previous leaders nowhere to be seen. How? The leading GTWR Racing Team Ferrari suffered a technical issue whilst performing the mandatory driver swap, taking them well out of victory contention. This left Enslin leading by around six seconds, with the sole aim to bring the car home. That is precisely what he did, winning in their first appearance in Sprint Cup Season 3.
Crossing the line in second place was the UKOG47 McLaren of George Boothby and Niels van de Koekelt. In the hands of Boothby, they lay second for around half of the first stint, however, after a coming together with the Simracing Masterclass Ferrari, he was facing the wrong way and dropped to P8. He recovered well and handed over the car to Koekelt in P4, but after a perfectly executed overcut, they saw themselves back in second place. From then onwards, they didn't quite have the pace to catch Enslin but retained second with a solid buffer behind.
The final spot on the podium was taken, once again, by the H3 Racing Ferrari of Luke Whitehead and Hamada Erquizi. Just like in Snetterton, they were one of the standout teams, as they rose all the way from P11 to P3, with the pace to possibly go further if it wasn't for the clock. Both Whitehead and Erquizi drove brilliantly, keeping out of trouble and taking every opportunity they could – despite a 28KG Success Ballast. Their second third-place finish of the series sees them at the top of the standings with a twenty point gap.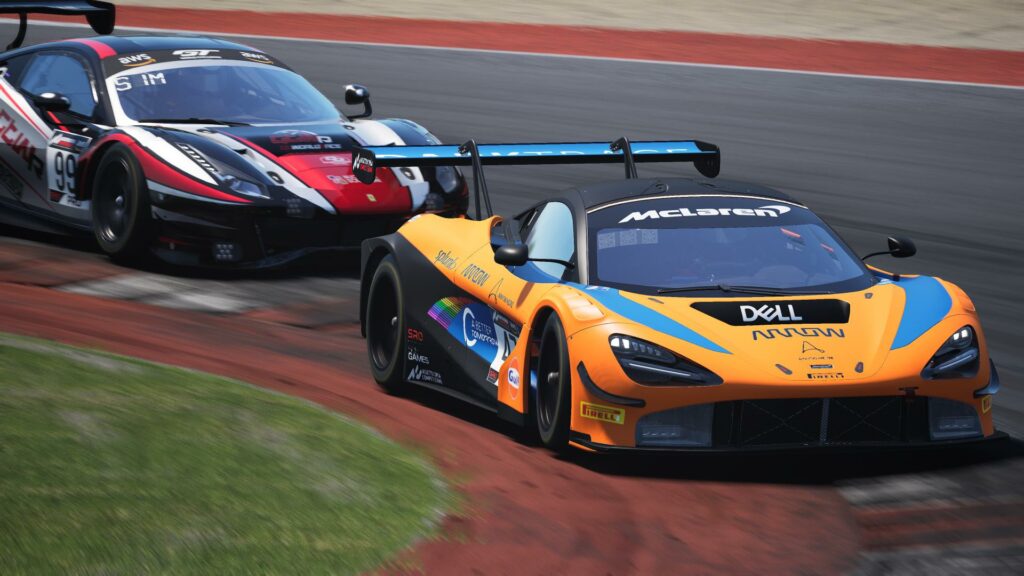 The star teams
Misano gave us action at every corner, meaning that many teams were battling for position, and inevitably, driving some brilliant races.
The most impressive drive of the race had to have been from the Griphax Engineering Mercedes of Jesse Kauppinen and Joonas Savolainen, who fought their way up to fifth, by the checkered flag, from all the way down in 32nd position as the lights went green. They were one of the duos looking to bounce back after a tough race at Snetterton, despite showing that they had pace for the leading places. Both Kauppinen and Savolainen made countless brilliant overtakes and certainly had top-team pace. They will definitely be ones to watch in two weeks time at Imola.
Another eye-catching drive was from Felix Ruppert and Maximilian Wohlmuth, who were at the helm of the Excel Racing by RennWelten Ferrari. After round one at Snetterton, the pairing showed that they had the pace to contend for the larger points-paying positions, but after qualifying in P24, it seemed although they would have their work cut out to re-produce such a result. However, following 90 minutes of great wheel-to-wheel ability and pace, they came home fourteen places higher than they had started, in P10. This result sees them snatch second place in the championship, securing their spot as a team that could pose a threat to the likes of H3 Racing.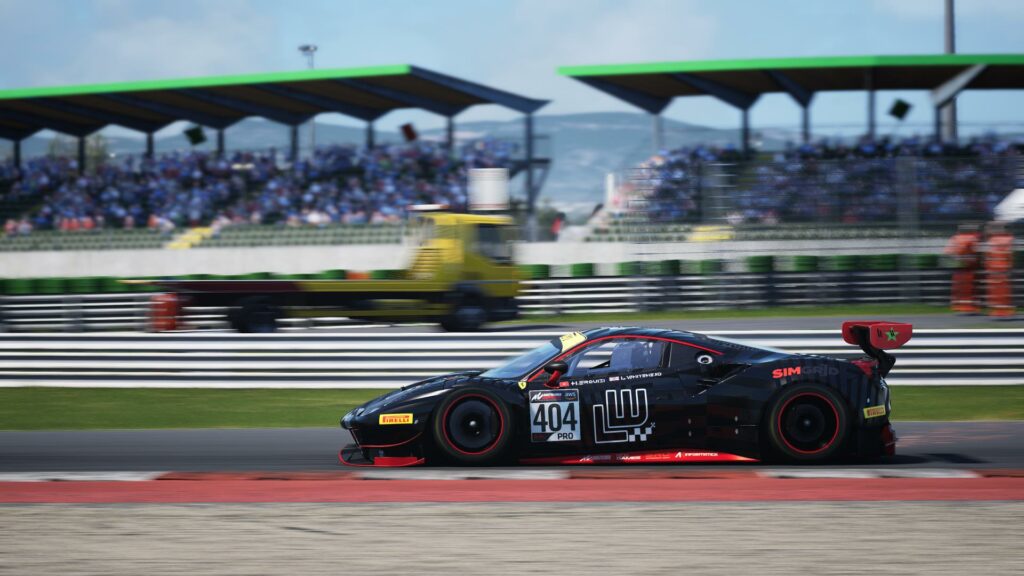 Where there are winners, there are losers
Two of the biggest shocks throughout the Sprint Cup paddock are the poor finishes of last round's first and second-place finishers. At Snetterton, we saw G2 Esports drivers Nils Naujoks and Arthur Kammerer win by over five seconds, yet this week, they started in twenty-first place and finished three places lower, in twenty-fourth. After their disappointing qualifying, they still had 90 minutes to make up for it, but, after being spun on lap two, Naujoks and Kammerer couldn't do much more.
For Send It Racing, their race will also be one to forget. Unlike G2, their qualifying was decent, as James Parker lined up in twelfth place for the start of the race, however, on lap one he was spun around by Egor Ogorodnikov and spun in sector three on the following lap. This meant that they too were too far back to salvage solid points from a disappointing race.
However, there was one team that was the most unlucky, and that was Giorgio Simmonini and Andrea Benedetti from GTWR Racing Team. Simmonini was absolutely on it right from lap one, hassling and passing Boothby for the lead of the race within fifteen minutes. GTWR was looking strong and looked to carry their momentum into stint two. However, in the pits, disaster struck, as Benedetti was not swapped into the car, forcing them back into the pitlane. Benedetti did manage to get his head down and push on, finishing in P13, but they will be leaving Misano knowing what could have been.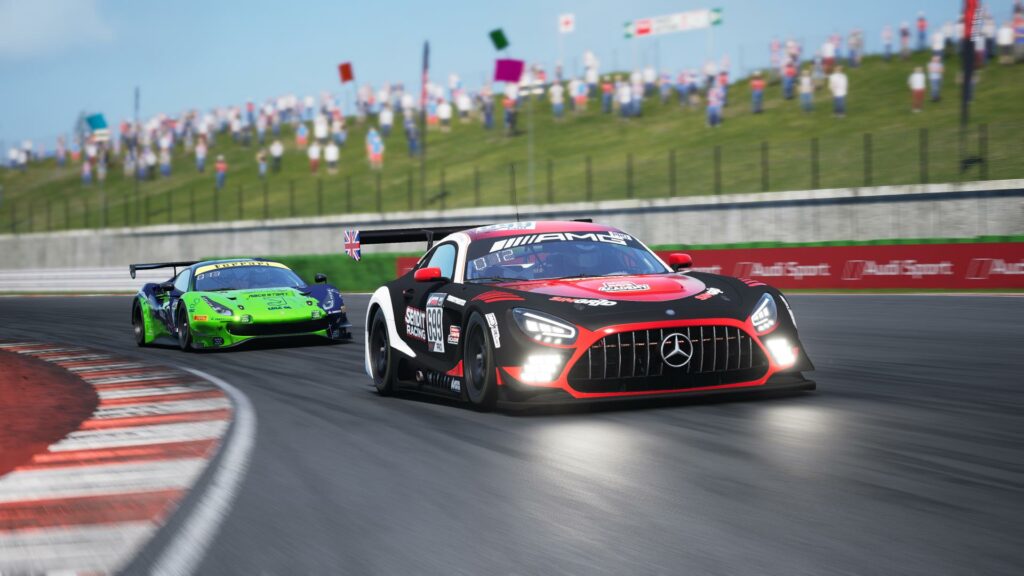 Looking ahead to Imola
On the eighth of April, the Sprint Cup circus is heading to one of the most historic tracks in Assetto Corsa Competizione, Imola. Imola is known for being hard to overtake at, yet so are Snetterton and Misano, meaning that we could be in for titanic battles up and down the pack. Be sure to tune in on The Sim Grid's official YouTube channel to watch all of the action live and uninterrupted.