The SimGrid Sprint Cup headed to the iconic South African Kyalami Circuit for the second round of Season 4. The race saw a mixed-up grid after the track was drenched in qualifying, and turned out to be a vital race for many teams, as some hauled themselves up the standings, and some fell. However, we would leave with new winners – Maciej Malinowski and Michael Tauscher from Random Pasta Bowl would master their Porsche 991 GT3 R and win by 20 seconds. Let's see what the drivers had to say about the race, as we go behind the scenes at Kyalami.
Maciej Malinowski – Random Pasta Bowl
Kyalami saw new winners, as Maciej Malinowski and Michael Tauscher fought from fourth on the grid to battle with UKOG47 before racing off into the distance.
Malinowski was delighted with the victory, especially as last round was tough. "Both me and my teammate are extremely happy to grab a win and a bunch of points. We were able to show our duo can fight for top positions and we hope to continue doing that in the next races."
Not only did they fight, but they smashed their opponents – winning by 20 seconds is unheard of with this grid. He went on to say "We know we can fight for the top and it's not like our P17 at Misano was where our pace was. There, we also were fighting for p2 for the entire race prior to unexpected and unlucky spin and DT for track limits."
One of the main talking points from this race was his immense battle with UKOG47 driver, George Boothby. They fought for almost the entirety of the first stint – it was only in the second stint where Tauscher was able to make a move. "I tried to put on pressure but we know he knows those tricks, he stayed calm and kept pushing without mistakes.
"I enjoyed the fight with George a lot, he managed to put in an amazing lap in qualifying where the McLaren was strong in the wet and put himself in a position where he can fight for the win if he can defend well." Showing great respect for his rival, Malinowski too has the ability to take to battle at the top. "We are looking forward to the coming races – we will do our best at Bathurst and for sure we are looking to get some great points again."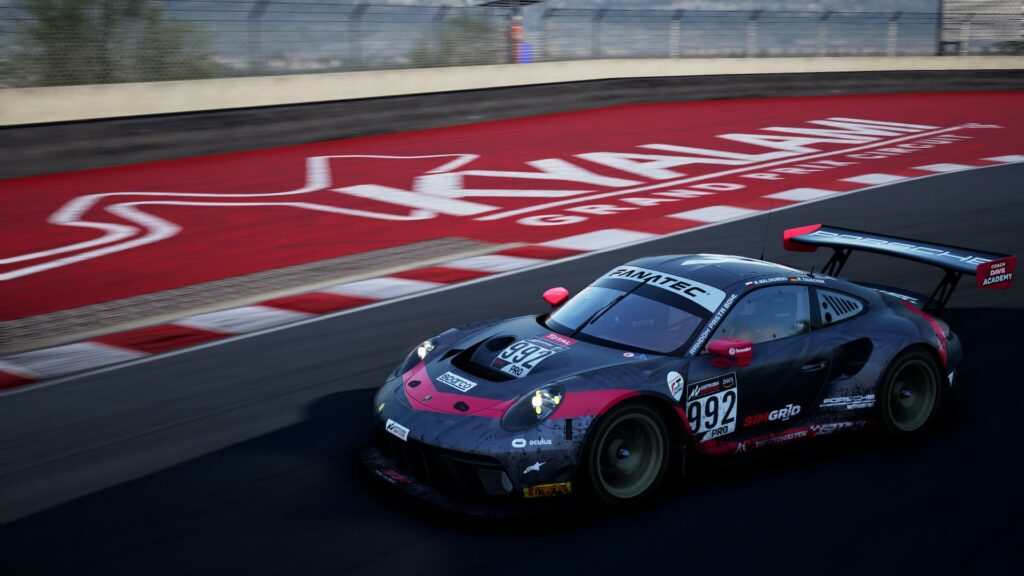 Egor Ogordnikov – Simware.Pro
Simware.Pro had a bounce-back performance at Kyalami, after a tough race for them, too, saw them finish 18th – just behind this round's winners. Egor Ogorodnikov made up places at the start, gaining on Excel Racing by RennWelten driver, Felix Ruppert, and getting past Joe McAuley, despite a bit of contact. As the leaders and the Aston Martins behind fought, he could relax a little, but that wouldn't be for long.
"Everything was fine until Alex Smolyar caught up with me. He put pressure on me, which made me lose my pace. Then we lost a lot and struggled, but after it, we could no longer think about the lead." It was this fight with Formula 3 driver Alex Smolyar that would rage on. Despite being close to Boothby and Malinowski, he had his eyes in his mirrors. "I didn't fight with Boothby but I did fight with Smolyar. It was very hot! It's hard to fight against a real driver – in the end, my nerves broke down and I made a mistake."
After this fight, his race somewhat calmed. However, it was into stint two where his teammate Novikov took over that the action would resume. With around 15 mins to go, UKOG47 driver Neils van de Koekelt was hit by Danila Cherepenin, dropping him down the order. This meant they would get a drive-through penalty, and the Simware.Pro squad would be promoted to second.
Looking ahead to Bathurst, Egor is somewhat optimistic, despite the car maybe not suiting the circuit so well. "Bathurst is one of the weak tracks for us, but there have already been examples when we came to the podium in an Aston Martin. I really love this track and I think we will be able to start the race well".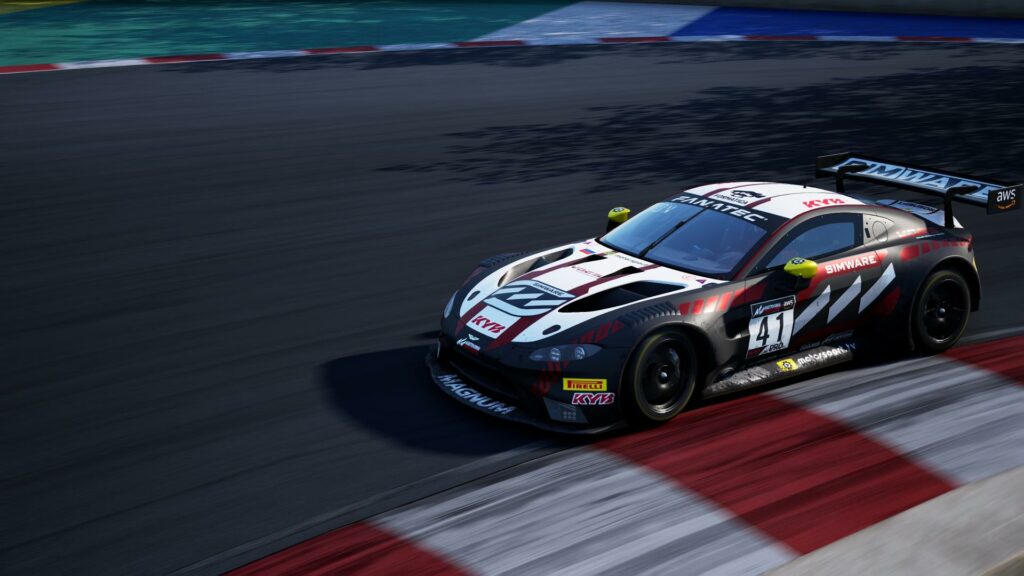 Felix Ruppert – Excel Racing by RennWelten
Ruppert and his teammate Max Wohlmuth had a strong outing at Kyalami, just like they had done last round at Misano, coming home in fifth position – one place higher than at Misano. Consistency is key in the Sprint Cup, as having a season of ups and downs can leave you at the mercy of your rivals. However, after qualifying, he was in a much better position.
"To be honest, I was very happy with the rainy conditions in qualifying, because the Aston Martin certainly excels in those conditions and I like driving in the rain on top of that, so we knew that these conditions would be our best chance to end up towards the front of the grid." He snatched this opportunity, putting his Aston Martin V8 Vantage GT3 on the front row.
As the lights went green, though, he found himself a little further down the order and stuck behind Jaroslav Honzik in the YAS HEAT Ferrari. "That's where we stayed throughout the whole 90 minutes, desperately trying to get past, but we never quite got a run that would be good enough to get past, so we settled for P5 at the end."
A higher finish was tantalisingly close for Ruppert and Wohlmuth; a fifth-place is still very solid, but they wanted to go further, as Felix explains. "5th is definitely is a good result for us, we weren't expecting to hold to that 2nd place in qualifying anyways, but considering that P3 was only 5 tenths ahead of us, it is a bittersweet result."
However, he is still confident for the rest of the season, especially considering the pace the duo showed last season. "We are trying to keep up the good results, keep out of trouble and hopefully it will pay off at the end."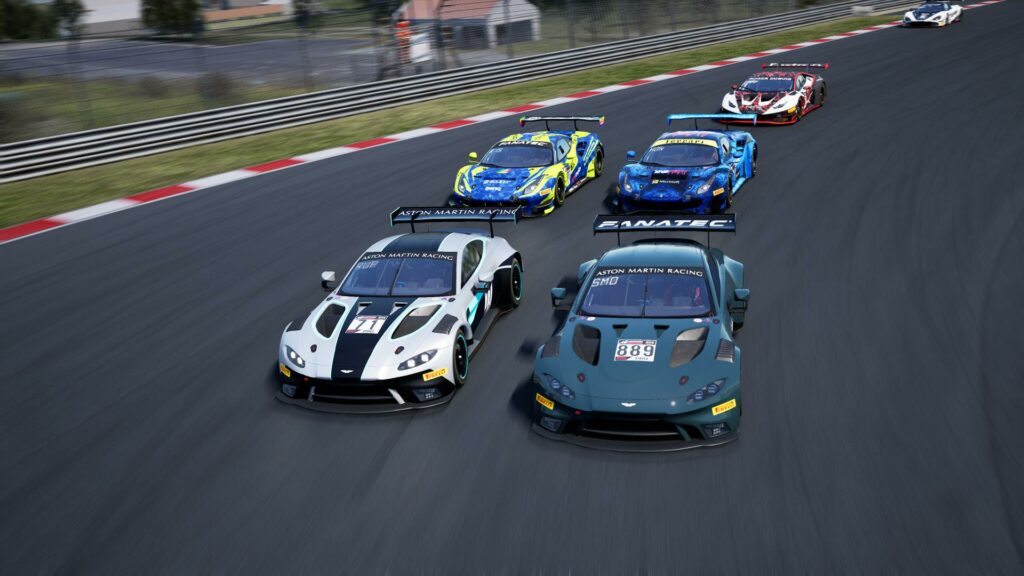 Luke Whitehead – SDL Esports By Logitech G
Luke Whitehead and Hamada Erquizi from SDL Esports by Logitech G are another big team from last season that are looking to translate their pace into this championship campaign. They made a name for themselves as a team that was supremely good at fighting through the pack – a skill they'd need to show this time around.
Qualifying was difficult for Whitehead, as the rain came as an unwelcome surprise. "I was definitely caught a little bit off guard with the conditions, after mostly preparing for dry running… My downfall was a missing 100m board, and I just overshot because I lost my braking reference… Nothing more that I could do." This session left him starting in 22nd, but all was still to play for considering past form.
"I got the perfect start, gaining 11 places on lap 1, and then got spun out at the end of the lap, which was a massive shame. But lap 1s are so much fun for me, I always seem to profit a lot, and I'd say they're definitely a big strength of mine." Gaining 11 places on one lap was quite the achievement, showing once more that when it comes to scything through the field, Whitehead is one to watch. However, all this does is sour the incident even more.
This incident put him all the way down to 35th place, but where many would give up, he and Erquizi didn't. It would not be easy though, as he explains,  "It was all about coming back through, but me and my teammate got hit 6 times throughout the race, so it was tough." They did, however, fight back to P17 – a great accomplishment considering the circumstances. "While the result looks poor on the surface, our performances were very strong all things considered."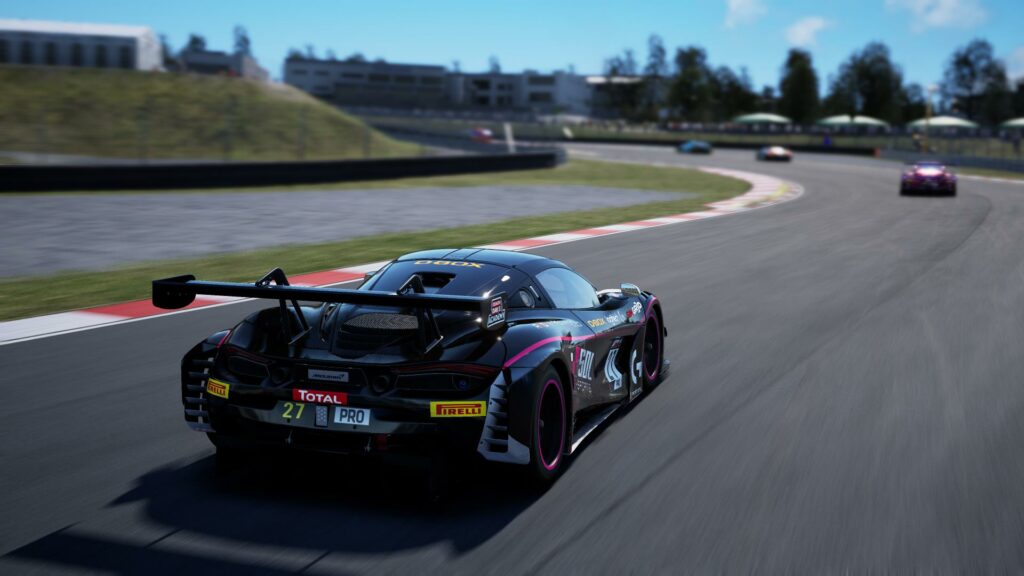 What's next for the Sprint Cup?
For round three, the teams will be headed to arguably one of the most famous but treacherous circuits in the world – Mount Panorama, Bathurst. As the drivers have touched on, it will be a difficult race, but they all have high hopes and are fired up to try and maximise the race. Tune into SimGrid's Youtube Channel to get all the action live.