The fifth and final round of Season 3 of the SimGrid Endurance Cup would see our teams head to Misano in Italy. Heading into the event, Odox Motorsport still had a mathematical chance of being crowned champions, but in the end, it was Simware.Pro who triumphed after a stellar campaign.
Race victory secures championship title for Simware.Pro
After qualifying in third place, things looked good from the get-go for Yaroslav Shevyrtalov and Egor Ogorodnikov in the all-Russian #41 Simware.Pro entry. The pair had previously won at Monza and Laguna Seca, while a second-place at Paul Ricard and third at the Hungaroring meant that they were yet to finish off the podium.
Keen to finish their remarkable season in style, Shevyrtalov made the most of the team's well-placed grid slot at the start of the race. Heading into turn four, the two leaders – Lars Kisser and Davide Santoro – had compromised each other's pace. This meant that Shevyrtalov was able to make it three-wide heading into the corner. With the inside line to his advantage, the Russian swept by into the lead, ahead of the #14 Unicorns of Love BMW and #27 Jean Alesi eSports Academy Ferrari.
The Aston Martin crew stayed out in front until the first pit-stop phase when Santoro went for an overcut strategy. By staying out longer in a car running light on fuel, he was able to pull out a four-second lead for Alex Vottero, who would take over the #27 Ferrari after the pit stop. However, Vottero didn't quite have the pace to match the #41 Aston Martin – now being driven by Ogorodnikov – and soon enough the championship leader was able to reclaim first place.
After sending it down the inside of turn one, Ogorodnikov ran level with Vottero through turn two, before finally getting by on the inside line for turn three. Behind, Mirko Ferrari in the #446 SFR ITALIA Lexus was also able to squeeze past Vottero through turns four and five.
In fact, the Italian Lexus team would come closest to knocking Simware.Pro off of their perch. Later on in the race, Ogorodnikov had to take avoiding action as the #66 Fordzilla entry spun out in front of him at Curva del Carro. This allowed Ferrari to sneak ahead, but not for long. With Ogorodnikov quickly charging up to his rear bumper, Ferrari made a mistake and ran wide at turn five. There, he clipped the sausage kerbs, thus launching his Lexus about 45 degrees into the air. With that, Ogorodnikov was able to reclaim the lead of the race at Curva Quercia, and after handing back to Shevyrtalov, that is how it would stay.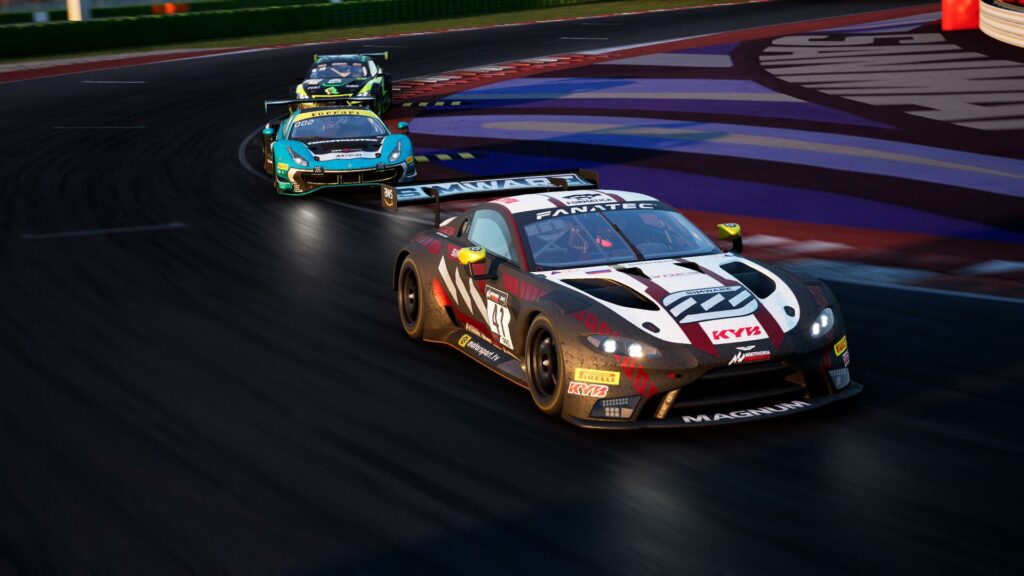 What our winners had to say
Given their form this season, it may seem like a rather inevitable result, but within the team, they certainly weren't expecting to have it all their way at Misano:
"I didn't expect that I would be in such a high position [after qualifying]," said Shevyrtalov. "But no, it didn't change our strategy. We had one setup so we drove on this. We changed the tyre pressure a little bit but nothing more.
"We thought that this track isn't very good for Aston Martins, but the Balance of Performance changed the strength of the car a little bit and we did a perfect job. Honestly, we expected to be in the top five or the top ten – that would have been good for us. But we won, so it is a very good feeling."
"I really liked it today, to drive," Ogorodnikov added. "Today's race was one of our most difficult races but the car was just awesome."
Simware.Pro will be back to defend their Endurance Cup crown in season 4, though potential real-life calendar clashes mean that question marks are hanging over who will partner Ogorodnikov in the #41 car.
Odox Motorsport's difficult finale
For Odox Motorsport, Season 3 of the SimGrid Endurance Cup has been a marked improvement on Season 2. From relative midfield obscurity, the #121 entry had emerged as a genuine title contender this time around. Plus, despite the stunning form of Simware.Pro, there was still a possibility that the championship could sway in Odox's favour.
For that to happen though, the team would need a fantastic result for themselves, and a dreadful one for their rivals. Of course, anything can happen in a race, but hopes were already beginning to fade after qualifying. With Shevyrtalov up in third place, Alberto Garcia would have his work cut out to usurp the Russian from ninth. Then, as if things weren't already tricky enough, Garcia was dealt the bad luck that they needed to strike for Simware.Pro.
With the race in its early stages, Garcia got a tap from Chris Harteveld in the #32 GTWR R8G Academy Ferrari, sending the #121 Odox Motorsport Audi into a spin at Curva Quercia. With that, the team's withering title hopes faded altogether. From then on, it would simply be a race about recovery, and credit where credit is due, the team did a sterling job of it. Good work from Nicolas Albadalejo Camins and Gerard Martinez Amer ensured that the latter would eventually bring the car home in eighth.
That wouldn't be good enough to claim the title of course, but nevertheless, this is a season that Odox Motorsport can be proud of. If they can regain the form that they showed at the start of the campaign, then they could certainly be ones to watch in Season 4.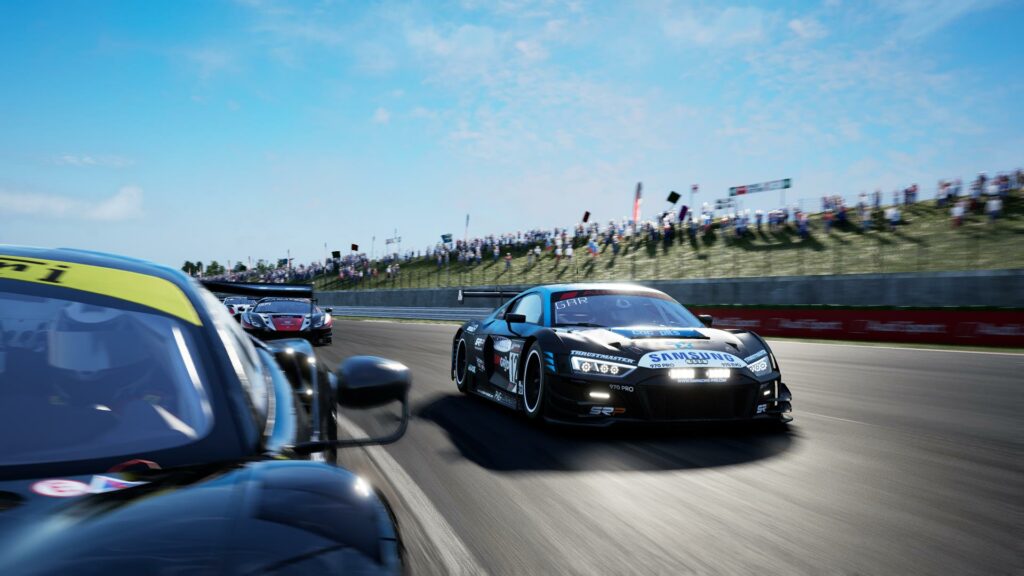 Honourable mentions at Misano
As ever, plenty was going on in this race throughout the field. Outside of the championship battle, the biggest result was perhaps that of the #446 SFR ITALIA squad. With a previous best finish of eighth at the Hungarian season opener, the team put on a wonderful display to challenge for outright victory. In the end, they would have to settle for second place, though this would still be a landmark result for the team.
Further back, we also saw great battles in the midfield pack. For example, at roughly the halfway stage of the race, the fight was on for thirteenth position. Jan Holter in the #73 Excel Racing by RennWelten Honda ran wide at turn four, allowing Robin Pogadl to take to the inside in the #911 GTRC Endurance Team Porsche. However, Holter held firm on the entry to Curva Quercia, which then allowed the #7 Virtualdrivers by TX3 Mercedes of Julien Hennaut to go around the outside of Pogadl at Curva Tramonto.
Reigning Endurance Cup champions, the #149 YAS HEAT Richard Mille team, were also involved in good action. In the final fifty minutes of the race, Jaroslav Honzik found himself in a 1v1 dogfight with James Parker in the #888 SimGrid community Aston Martin. Their long tussle culminated in a slight misjudgement from Parker, resulting in side-to-side contact at Curva Quercia. In the end, though, Parker allowed Honzik back through into fourth. Nevertheless, the #888 crew can be delighted with their performance, having quietly worked their way up from fifteenth to fifth.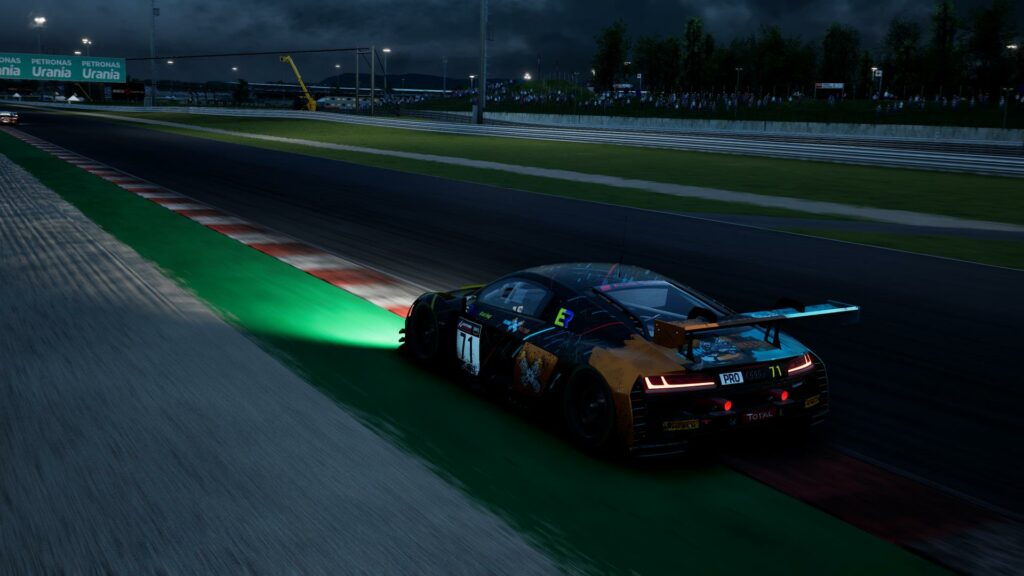 Thoughts from last season's champions
Simware.Pro's title glory at Misano means that YAS HEAT is no longer our current Endurance Cup champions. That said, the #149 crew still enjoyed a very successful season en route to third place in the overall standings. Plus, as is typically the case with Eamonn Murphy and Jaroslav 'Jardier' Honzik, spirits were still high once the chequered flag was waved:
"We'll come back stronger next season!" Murphy said. But the real question is: driving what?
"Jardier's thinking of the Aston." the Brit revealed. "I've got a soft spot for the McLaren, I always have. The Ferrari, I don't like it in low-speed corners – I find it very twitchy. It's good in the fast stuff but you can get a lot of oversteer on the exit [of corners]. I'm sure we'll test a few different ones but it may sway towards the Aston, we'll see."
Honzik echoed Murphy's thoughts, saying:
"I would like to try a different car to learn it because I've driven the Ferrari a lot, I've driven the McLaren a lot, and I would like to do some refreshment.
"I kinda liked how the Aston was working for some other teams, so I would like to master it as well. Maybe if there's gonna be custom BoP again, I'd like us to try and take the car and to learn it, to start with something different again.
"Hopefully we'll be competitive again like we were this season!"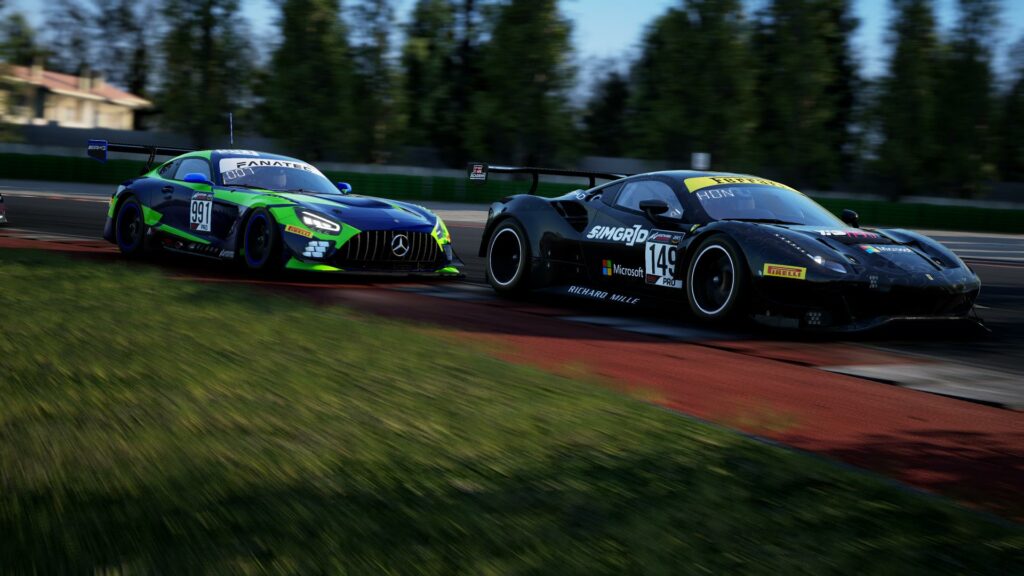 Keep an eye out on SimGrid's announcements page to hear as soon as any new events are announced, but for now, congratulations to Simware.Pro – our Endurance Cup champions!