The SimGrid x VCO World Cup has entered its closing stages, as our top teams headed to South Africa for the Coach Dave Academy 12 hours of Kyalami. This would be the penultimate race of the season, so was crucial in setting the tone for the 24h Nurburgring in just over a month. With success ballast in place, the grid was shaken up, and a brilliant race was on the way.
Simracing Masterclass battle to the top for the victory
After 12 hours of gruelling racing, the Simracing Masterclass squad, who ran their Bentley in a South Africa-special livery, fought their way to the sharp end through good strategy and moves when it mattered.
Starting in seventh place, Zaahir Essa led the quartet away. He ran strongly for the first two stints, keeping the pressure on the likes of Arnaud Lacombe from Triple A Esports and Tobias Gronewald from Unicorns of Love. The battles on the horizon continued bubbling up; Simracing Masterclass loomed in the mirrors of those ahead and was ready to pounce.
The race would suddenly play into their hands, however, as three disconnects amongst the top teams during the first half of the race saw them promoted to second place. This didn't come for free though, as they fought with the #211 Sidemax Motorworks FFS Racing team, WPS Racing Team and used strategy to their advantage – extending their early stints would ultimately play to their advantage late on.
By the time we had just two hours to go, Basheer Jadwat had been closing in on Cormac Ryan-Meenan in the leading car, and jumped him under stops, leaving it all to be done on track for Sidemax Motorworks. With the Simracing Masterclass squad defending well, the Sidemax couldn't get past, as they were forced to stop earlier. With a lighter final stint for the #777 car, they could cruise to the end out front, as a perfect strategy played to their advantage.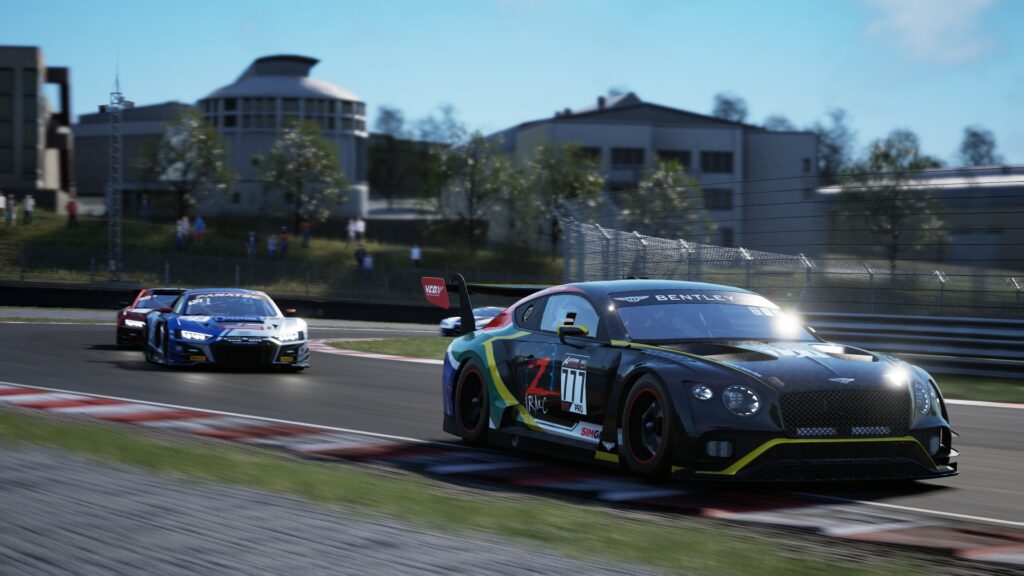 Disconnects leave top teams heartbroken
As can so often happen in racing, technical issues would play a large factor in the outcome of the race. This season has already seen a disconnection from the lead, as at the 24h Spa two rounds ago, Sidemax Motorworks retired from the lead following such an issue. When looking back further, our reigning champions had endured the same pain last season, as a disconnect from a convincing lead at the 12h Bathurst ended their victory chances. Luck isn't always on teams' sides, and this would continue.
After a perfect start to the race, GTWR R8G Academy #157 were flying away. In his first stint, the young gun Tobias Pfeffer dragged their Audi to the front, coming from sixth on the grid. As the driver swaps came around, Jordan Sherratt jumped in and would lead by 10 seconds. It would all go downhill though, as they disconnected as we entered hour three. The same fate struck Triple A Esports, who had been in the midst of a fierce top five tussle, retired. Continuing from outside the top 40, GTWR miraculously fought back to twelfth, but that's only scraps compared to what could have been.
Unicorns of Love would be the third victim of the ether, as after fighting to the front and extending a gap over twenty seconds over anyone else, they would disconnect too, and end in retirement.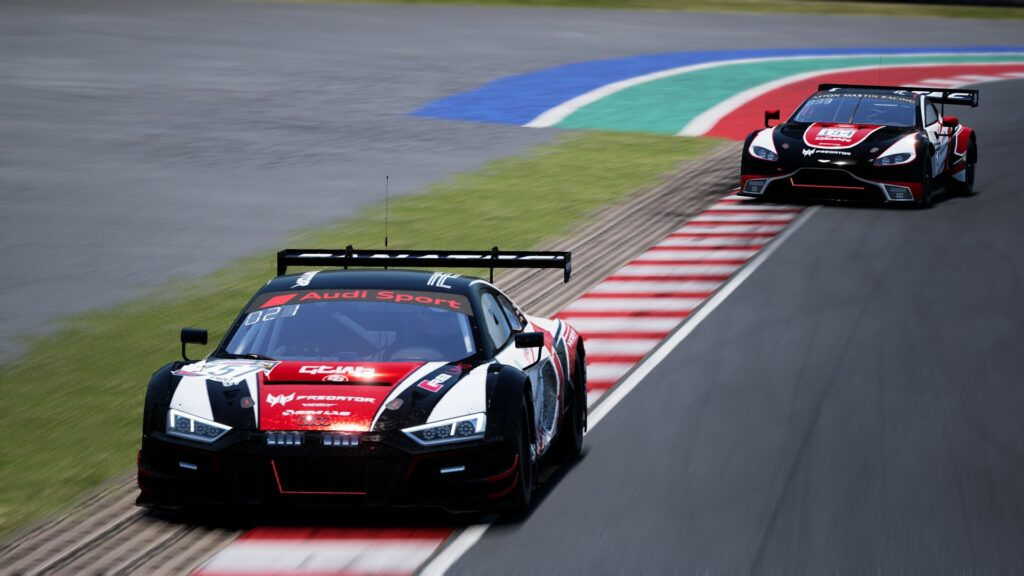 A day of mixed fortunes for championship contenders
In a tightly fought championship like that of the SimGrid x VCO World Cup, we see professional teams just points apart. Heading into this round, it was Simware.Pro on top, with DV1 Triton Racing hot on their heels. With other players like Unicorns of Love, G2 Esports and Racing Line Motorsport all with potential to continue this fight, qualifying saw a real mix-up, with all of these teams bar one, starting outside the top 10.
Arguably the biggest shock coming out of qualifying was from G2 Esports – after being hit with 30KGs of success ballast on top of an already unfavourable car, they were to start 42nd, with a real lack of hope amongst the team. The start was steady, as they struggled to gain too much ground. By the end, however, they had dragged their BMW M6 GT3 to 22nd – better, but not how they would have liked to follow up a win at Donington.
At the top of the standings though, it was Simware.Pro and DV1 Triton Racing. Simware.Pro started 15th and DV1 in only the twenties, so it was Unicorns of Love who looked to be right in the prime position. A disconnect for them, however, would leave them pointless. Simware.Pro fought through the pack incredibly, gaining countless positions to take fourth place and vital points over DV1 Triton Racing, who could only clamber to 19th.
Simware enters the finale on top, leading DV1 Triton Racing by 46 points. A decent race from Racing Line Motorsport leaves them a further 20 points back, with Simracing Masterclass and Sidemax Motorworks hot on their heels.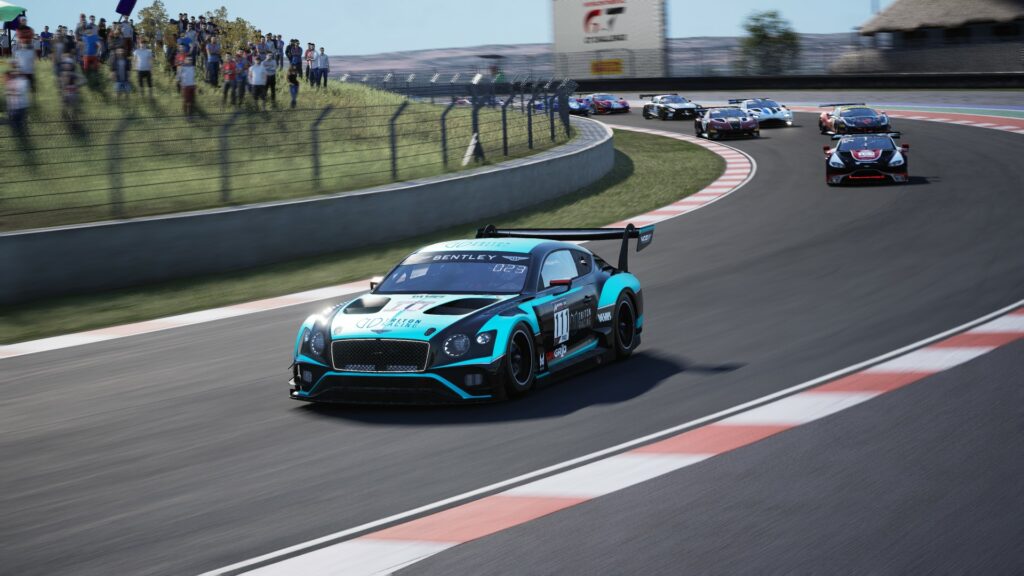 ACC silly season sees strong team debuts at the top
Silly season is a term we often use regarding driver swaps, but recently, it's making a name for itself through the ACC pro driver scene. With a big reshuffle amongst top teams, this round of the World Cup saw a few new faces at familiar teams, so the pressure was on the team debutants to perform when it mattered.
One of the biggest stories has been that of Sidemax Motoworks, as the team is soon to be no more in its current state. This set off a chain reaction of driver swaps, with big names moving stables. Departing Sidemax was Michael Tauscher, but he ran this race, and the rest of the season, with the squad. Pole position and a near-victory proved he is one to watch as he moves to Unicorns of Love – an already strong team that also led a large portion of the race.
Arguably the strongest team debut was from George Boothby, who moved to YAS HEAT. He and the team had a brilliant race, coming up from P15 to P5. Some strong early battles saw ground made and his worth really shown, but in the last hour, he put on a great show as he battled to pass Simware.Pro. With just minutes to go, Boothby treated us to one of the most nail-biting fights of the race – a fiery end to a strong debut.
Another eye-catching debut was from Porsche specialist Maciej Malinowski, who made his first appearance with Racing Line Motorsport. This squad is already in championship contention, but a collision in the first couple of hours with a lapped car saw them in the latter twenties and with ground to make up. A brilliant comeback from them left them P10 – a great way for Malinowski to start his career with them.
Next up, the Nurburgring
For the season finale of the SimGrid x VCO World Cup, we are going big. We are heading to the Nurburgring for none other than the second 24h race of the season, a real test for the drivers and a brilliant spectacle for the fans. The championship is immensely close, and as shown in this race alone, anything can happen at the top. Will it be Simware.Pro, DV1 Triton Racing, or any other of the top ten? Tune in on October 2nd to find out.