Today at SimGrid, I am delighted to introduce rFactor 2 to our fast-growing competition platform. Our aim at the SimGrid is to make sim racing as accessible as possible and after a hugely successful debut on ACC my whole team started to look at other titles to add to our system.
Having listened to our community, we received an overwhelming amount of requests to support rFactor 2. We believe this is a great start to adding more games to our platform in the future and with the incredible amount of official content on rF2 I am genuinely excited to see what our event hosts come up with.
rFactor 2 – What's what and Who's Who?
rFactor 2 was originally released on the 28th of March, 2013 – however, don't let its age fool you. Whilst it was originally developed by American-based firm Image Space, the title has since received unprecedented levels of support and growth from Studio 397 (since acquired by Motorsport Games). Much of its source code is derived from rFactor Pro which is also used by professional racers and most of the Formula One teams and NASCAR manufacturers.
Looking to more recent history, the title is the first consumer simulation featuring a thermomechanical physically-based tire model, based on first principles, simulating the entire carcass, thread, and contact patch, with proper heat transfer, accurate tire wear, flat spots, and visual deformation. The title was also one of the first to offer a dynamic track condition, something which our Assetto Corsa Competizione community will be used to by now!
As a competition platform, rFactor 2 is also a big player in the space, boasting some of the World's biggest Motorsport Brands and Competition Organisers Involved. For example, the ABB Formula E Race at Home Challenge, the Le Mans Virtual Series, and numerous other titles. This, coupled with a wide range of car content, give it a solid competition foundation.
Whilst the community for rFactor 2 is small, relative to other titles, we're confident that with our new technology and community, we can help grow this userbase!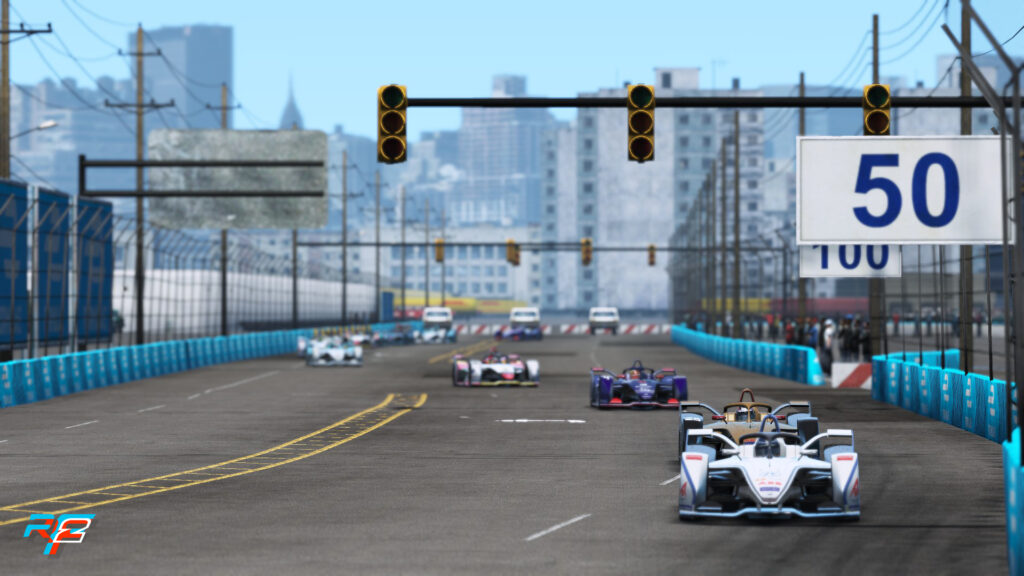 What to Expect from SimGrid
During the development phase, we wanted to focus on official content from rF2. This means that all tracks and cars available for use in the game are also available for championship creation on SimGrid.
Everything from GT3s, to Formula E and its related tracks, will be available on SimGrid for hosts and competitors.
As a driver, you can find content under the "Championships" tab on the main site, whilst our dedicated community hosts can access it through your Host Admin area!
How to find rFactor 2 League Races
After reading all of this, we're sure that you want to get racing! There's no doubt that the current way to race in rFactor 2 leagues is difficult, so in order to get you up to speed, we reached out to some of our innovative community hosts to see what they have to offer!
The SimGrid – BMW Sprint at Zandvoort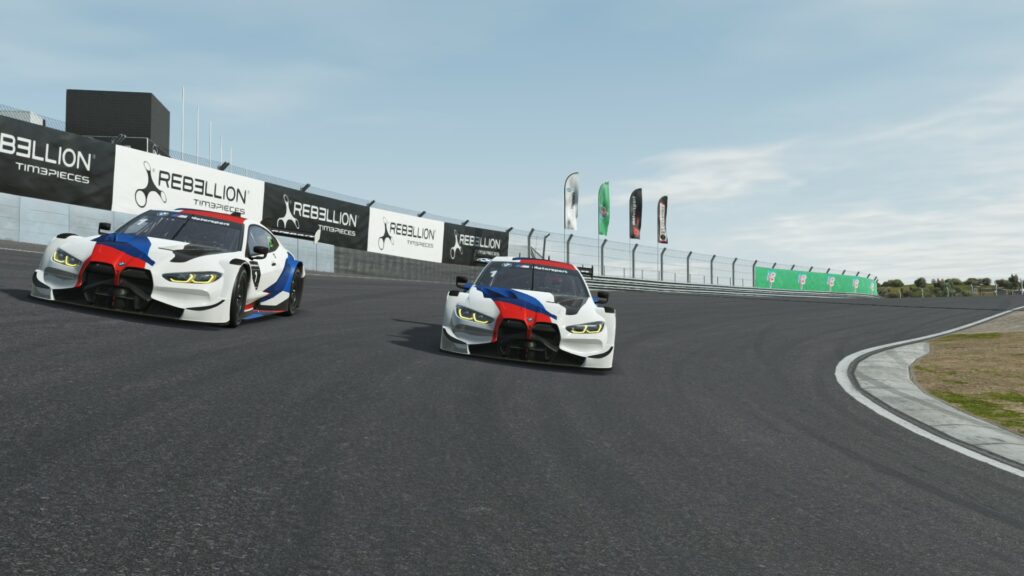 To celebrate the launch of rF2 to the platform, we shall be running a 60 Minute Sprint Race on the title. Utilizing the powerful BMW M4 Class1 around the brand new Zandvoort 2021 GP Layout, this race is sure to provide even more excitement than F1! All the details for this event can be found by visiting our host page! or, by clicking the link below!
Rapid Drivers Club – LeMans 2.4 Hours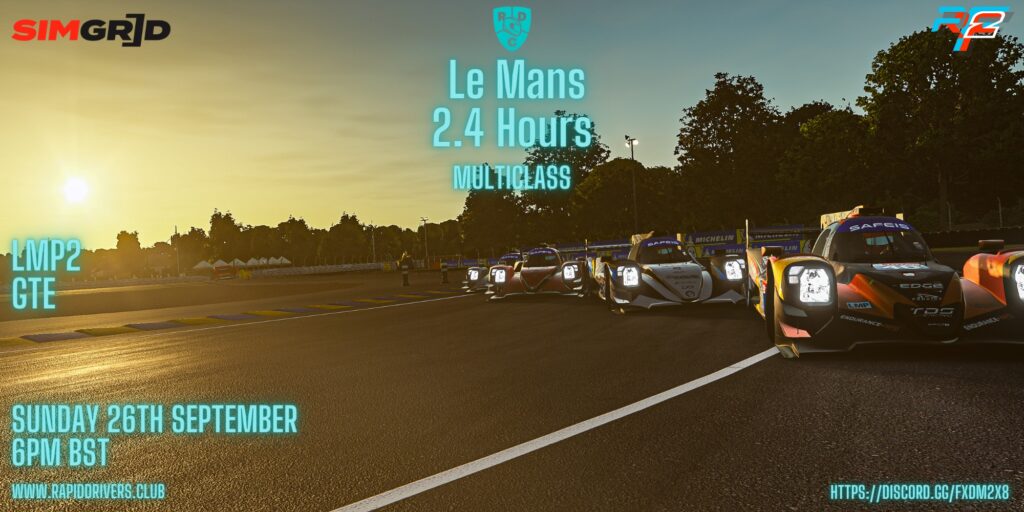 The Rapid Drivers Club is no stranger to SimGrid, providing consistently popular and exciting races. They are stepping into the rFactor 2 platform with our SimGrid technology in the form of their 2.4h Le Mans Series. There's no doubt this will be popular, so grab yourself a spot on the grid!
OTL – British F3 Sprint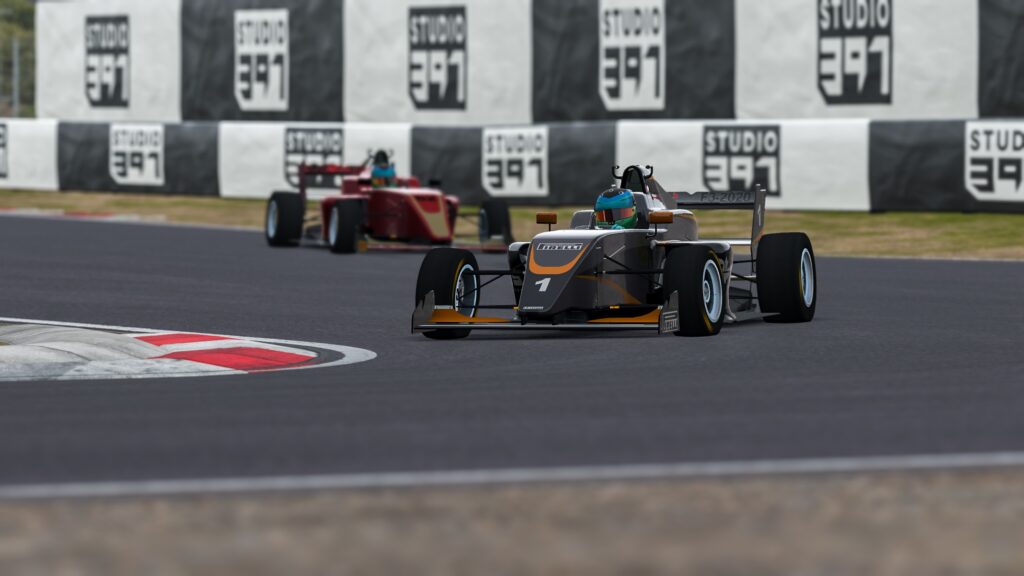 OTL is a community built around the principles of delivering High Quality, Clean and Fair racing to their users. As a UK-based community, their events are perfect for this in the UK & EU time zones. They have just announced a 3 round, mini Formula 3 series on the platform – be sure to sign up!
Looking to the future
We're delighted to see how the rFactor 2 community benefits from our Competition Technology, and we're always looking to partner with new hosts to help grow your grids! Be sure to reach out to us if you're interested in being involved. Otherwise, See you on track!