Two very exciting series are coming back in October. More Female Racers by Thrustmaster Rockets Season 4 and the SimGrid Endurance Cup Season 4 are both hitting your screens, as they return from inter-season breaks! New teams and drivers have competed in the qualification events and are ready to hit the track for the upcoming season, whilst we venture into new platforms, this month, at SimGrid.
More Female Racers Season 4
More Female Racers by Thrustmaster Rockets Season 4 is due to get underway, with the qualifying event having started on Monday 27th September and will be finishing on Friday 8th October. When the qualifying event at Monza finishes, the classes will be decided.
This season brings new talented drivers and some familiar names to the grid. The MFR format for the last three seasons has been that the female drivers needed to drive with a co-driver, but now, you can go solo, giving Female racers even more opportunity to hit the track, as the format is further refined to boost inclusion and encourage new faces. The first round is on Monday 11th October, at Monza, whilst the second round is on Monday 25th October, at Spa Francorchamps. Both are high-speed tracks that are bound to put on some great racing and will kick off the season with a bang.
There are some strong driver lineups ready to make an impact, so make sure you don't miss the live stream on Monday 11th October at 20:00 CEST on the SimGrid YouTube Channel.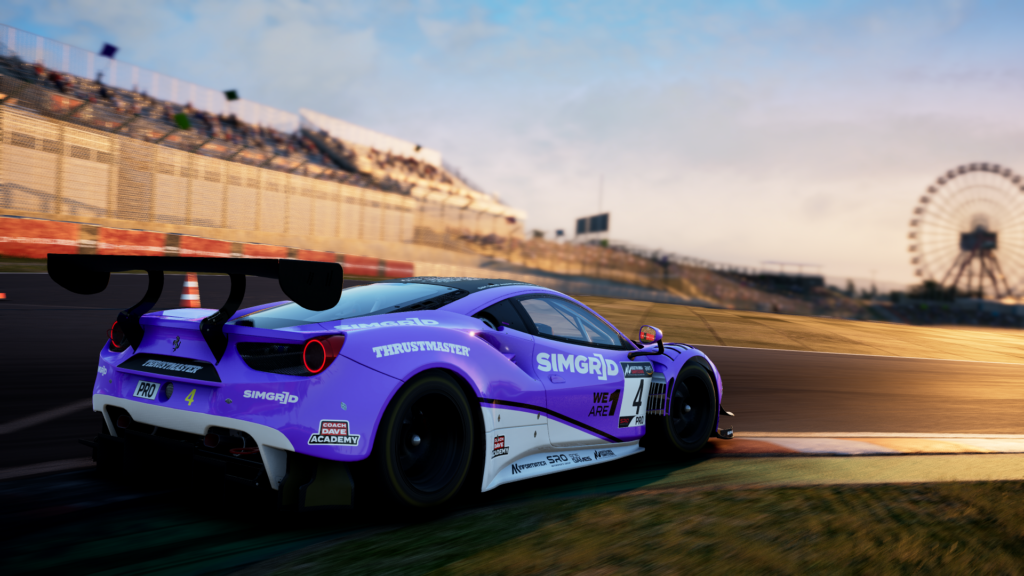 Endurance Cup Season 4
The SimGrid Endurance Cup Season 4 is going to kick off on Saturday 9th October, with the first round at the infamous Spa Francorchamps circuit, as we hit the track for 6 hours of action. It promises to be an exciting season, with very strong teams in every split, as we come off the back of one of the most entertaining seasons of racing SimGrid has seen. The competition will be high and very close with the custom BoP (balance of performance) in place to ensure teams are as close as can be.
Will the recent World Cup champions Simware.Pro be able to carry the momentum of last season's win, or will Yas Heat launch their way back into the mix as they try to reclaim their crown? Make sure you don't miss it, the live stream will start at 15:00 CEST on our YouTube channel.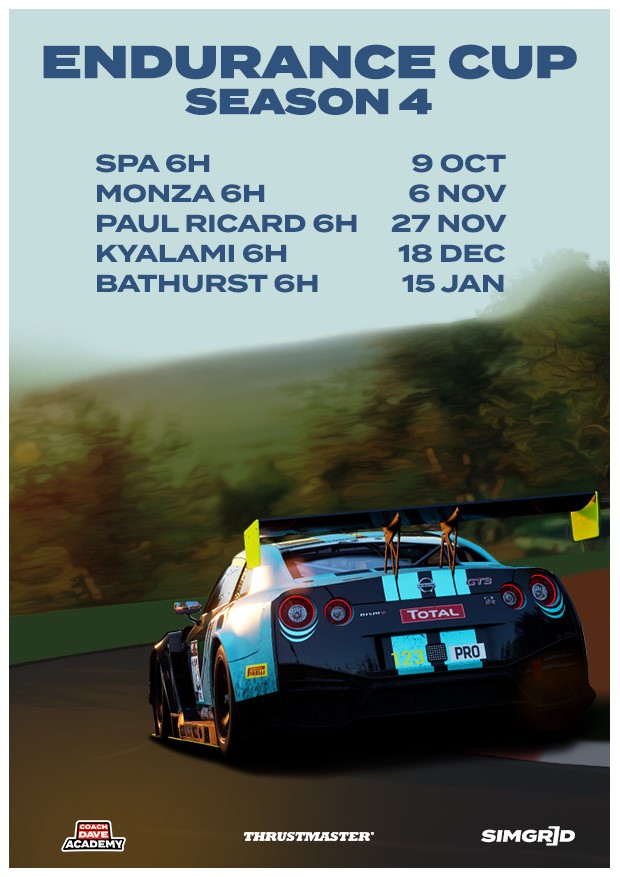 The rFactor 2 Launch Party
The rFactor 2 launch party from the SimGrid was a very exciting race, as we celebrated the launch of SimGrid becoming multi-platform. 60 minutes at the new layout of Zandvoort gave us some very nice overtakes, close racing, nice graphics, and some stunning shots of the powerful BMW M4 Class 1.
Marcell Fuzy would cross the line to take victory, with Marcin Wyszynski second, and in third place, Nobert Michon. If you are interested in racing on rFactor 2, take a look at the SimGrid website to see what the dates are and which race or championship you can join in on as we expand into this new adventure.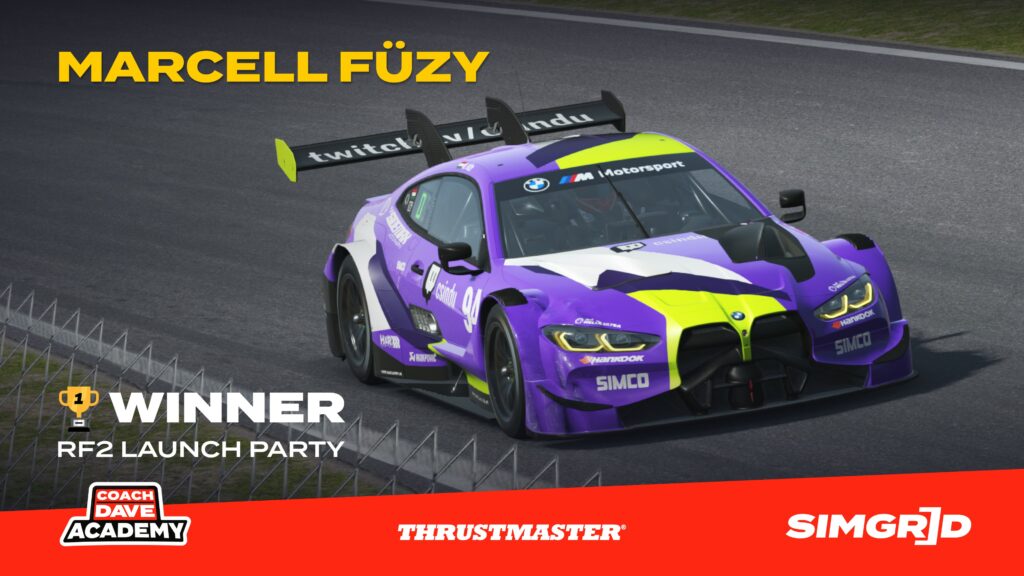 The SimGrid X VCO World Cup Finale
Last weekend was the final round of The SimGrid X VCO World Cup. It was a great race with lots of door-to-door action as the championship went right down to the wire at the 24 Hours of Nurburgring. In a somewhat redemption race for Unicorns of Love after disconnecting from the lead in the round prior, they would take race victory, as Yas Heat followed up behind them, and in third place came our pole sitters, GTWR R8G Academy.
However, we crowned a new champion – Simware.Pro. A fifth-place finish would see them take championship honours, with second place going to Unicorns of Love, and in the third place DV1 Triton Racing.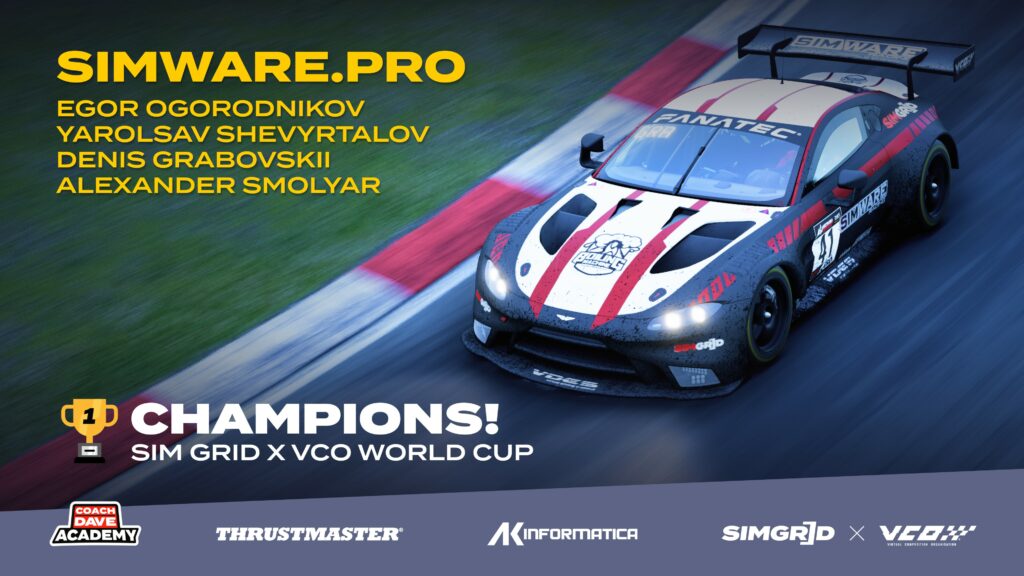 That's everything we've got planned this month, so make sure you get involved in the action!