Season 3 of the SimGrid Endurance Cup was arguably the best championship of racing we have ever seen, as multiple teams brought the title right down to the wire. As for this season, well, it has big shoes to fill, but the series picked up right where it left off. Spa Francorchamps is the perfect playground for the best teams in Sim Racing, so let's see how they got on in the season-opener of Endurance Cup Season 4.
R8G eSports take the race down to the last stint to win
To take victory on the team's first independent appearance is quite the feat, but, with one of the strongest lineups on the grid, Denis Schoeniger, Jordan Sherratt and Niklas Houben bought their R8G eSports Audi straight to the top. But, it wasn't so easy.
The front of the field was about as up and down as it possibly could have been. From the start, it was the YAS HEAT Richard Mille Porsche that was hot out the blocks, as they fought away with GTWR R8G Academy Black and RennWelten Orange for the lead. R8G eSports sat back though, as the teams ahead tripped over themselves. GTWR's Giorgio Simonini made an error and lost a spot, as Michael Tauscher in the Porsche suffered a hardware failure, handing RennWelten the lead, but not for long, as they were slapped with a 20 second time penalty for an incident on lap 1. Suddenly, it was Schoeniger in the lead!
The R8G team, however, wasn't safe from the same gremlins that got to Tauscher's car, as Niklas Houben, who took over under stops, also suffered a hardware failure, dropping to fourth. As they started the fightback, they caught GTWR's Alex Turato, and after going toe to toe, slipped through. His sights were set on the leading YAS HEAT Porsche, as they would be for a long while to come.
Those two cars would run right in-line down to the last 30 mins, as they spent the next stints closing the gap, allowing R8G eSports within jumping distance of the leaders in the final pitstops. Some quick in-laps from Houben meant they did exactly that, and with just 30 mins to go, snatched the lead. They had the pace, and a crash from Honzik behind secured their win.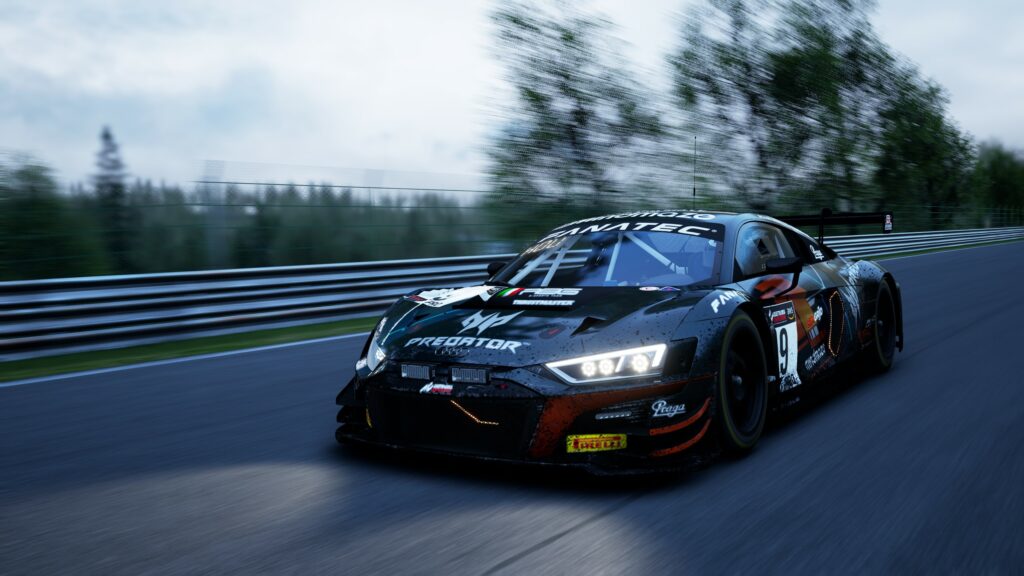 Spa gives mixed fortunes for YAS HEAT
As one of the most prominent teams at SimGrid, YAS HEAT had two top-class teams entered into the Endurance Cup – YAS HEAT Pirelli in the McLaren and YAS HEAT Richard Mille from Jaroslav Honzik and the reigning Sprint Cup champions, Michael Tauscher and Maciej Malinowski, in the Porsche. It's two strong lineups, but it wouldn't come together.
Tauscher started on pole, but they would endure heartbreak twice as Tauscher suffered an issue with his button box from the lead, forcing him to stop on track. However, they would fight back to the lead, where they'd stay for a large portion of the race. With the win in sight though, it slipped away as they were passed in the pits by R8G eSports with only 30 minutes to go. It would go even further south though when Jaroslav Honzik spun off at Blanchimont and gave them enough damage to lose almost 5 seconds per lap. As we could all see from his live stream, he was distraught. "No it doesn't happen, it shouldn't", he said as he raised his hands in disbelief.
It was a heartbreaking end for YAS HEAT Richard Mille, who eventually limped home to fourth, but for YAS HEAT Pirelli, their heartbreak came at the start. Baldwin was given a Drive Through penalty almost straight away, as the team were penalised for an incident with the #111 Lamborghini in qualifying. It plummeted them down the field, and left them needing to execute a perfect comeback drive. After hours of chipping away and making overtakes, they came home to P7 – one of the best drives we have ever seen, as they scythed their way through the pack.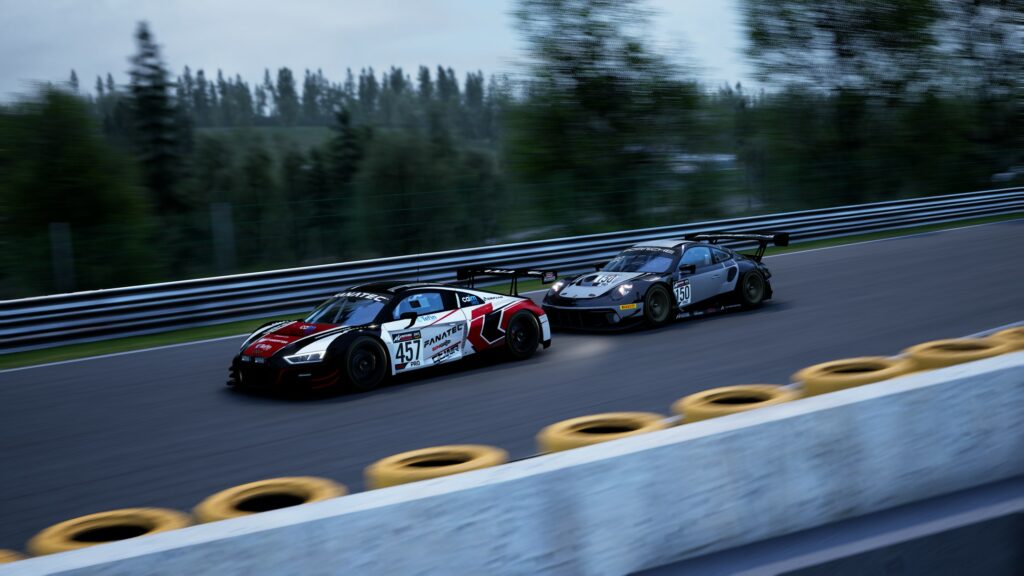 Last season's championship contenders struggle in the midfield
Coming off the back of two championship victories at SimGrid, Simware.Pro had the World Cup and Endurance Cup Season 3 under their belt. Our reigning champions didn't start the weekend well, though, as they qualified outside the top 20. This only put them in a worse position for the race too.
On lap two, a collision between two cars going side-by-side up Eau Rouge ended how you may expect – in a crash. This caused a pileup, and amongst that, was Simware.Pro. They already had a slow start, and it was only compounded as they faced the wrong way. It would get better though, as they fought their way up to P16, proving they did have pace. It was certainly an odd weekend for them though, as outside the top 15 is not where we expected to see them.
One of their main challengers last season was Odox Motorsport. Moving to the Bentley, they too didn't show the same pace as last season. Qualifying 13th, they didn't make up that much ground, getting stuck behind the #7 Virtualdrivers by TX3 Lexus and overall seeming a little off the pace. A crash at Raidillon only made their troubles worse, taking the flag twelfth.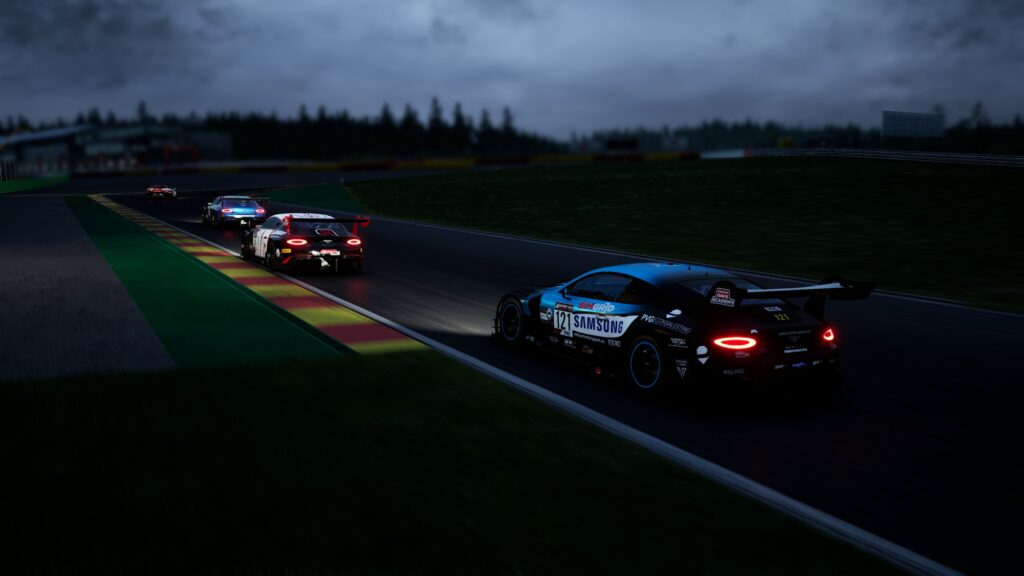 Strong day at the office for RennWelten
RennWelten, just like YAS HEAT, had some strong entries. The #72 Excel Racing by RennWelten Blue squad took to the Porsche, whilst the #71 Excel Racing by RennWelten team went racing in the Aston Martin – two wildly different cars. What wasn't wildly different though, was their pace.
Both were fast, but the #72 Porsche had a quiet, yet strong outing. Starting seventh, Ibraimi led them away, taking advantage of the top three's dramas. They would find themselves third on the road, fighting to keep GTWR R8G Academy at bay and to try and hang on to that podium spot. They wouldn't keep it, but would come to blows with the squad again as they swapped around in the pits. In a bit of a rollercoaster last hour, they would lose third to GTWR after an incredible fight, but inherit that same podium spot as YAS HEAT tumbled down the order.
Excel Racing by RennWelten Orange had a much more up and down race, however. After starting really well and climbing to third, they had clear pace and were looking like contender. It wouldn't stay so clean though, as an incident between Jakob Ostermann and the Williams Esports Ferrari saw them hit with a penalty for avoidable contact. This would really hurt and drop them into traffic, putting a comeback drive on the cards. Flexing their muscles, they would climb and climb, battling all the way to fifth by the final hour, and as the cooler conditions helped their Aston Martin, they looked good for some hefty points.
It's never so simple though in the Endurance Cup, is it? Ostermann would sadly be the one to pick up their fourth track limits warning and a Drive Through penalty as a result, giving them an agonisingly long trip to tenth place.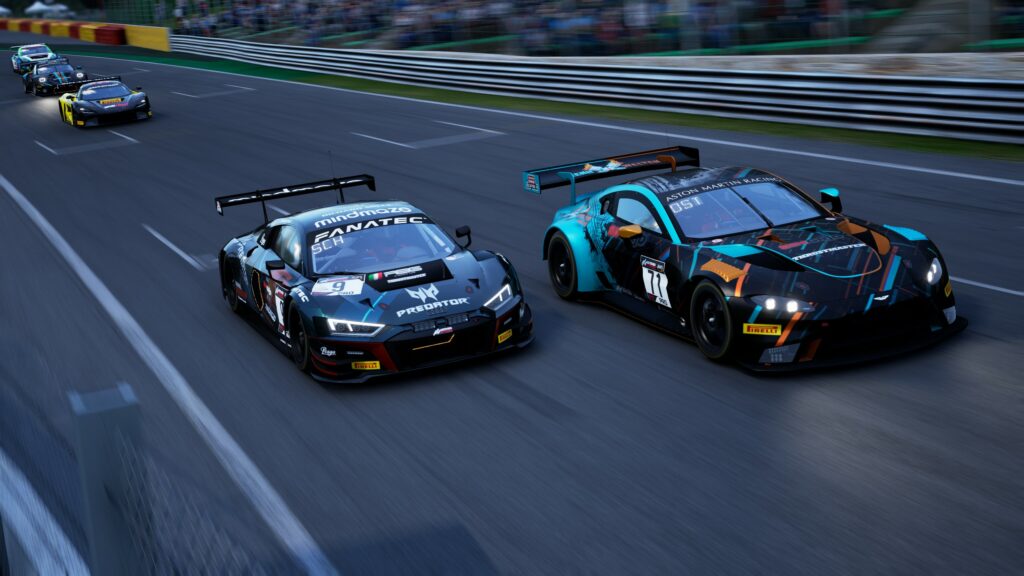 What's next?
After a crazy six hours of racing at Spa, the Endurance Cup is well and truly back. For the second round of the championship, we are off to Monza, the Temple of Speed. With YAS HEAT looking for redemption and GTWR bound to be fighting with R8G eSports once again, it's set to be unmissable. Look out on the 6th of November on our YouTube Channel to catch all of the action as it comes.