It's one of our most popular and exciting series, showcasing the diverse talent of the Sim Racing World – and today we are excited to announce that the More Female Racers Series returns! Before we dive deeper into Season 4, let's take a look at what's in store for this edition of the highly diverse and accessible Assetto Corsa Competizione series.
A short look to the past: Season 3 Overview
The third instalment of the More Female Racers championship saw drivers using the Lamborghini Super Trofeo – a challenging car that had even the best on the grid making errors. With four classes to facilitate multiple skill levels, we had another season of incredible racing.
After six rounds of action, it was Aloo Gobi and Jens Kaiser from Map1 Racing who would leave with their first More Female Racers championship crown! After being moved up to Pro Class from Silver mid Season 2, they certainly made an impression. In Silver though, the competition only got fiercer. NSN x Wild Things Racing and Turn1 – Diablo took it right down to the wire, with the prior emerging on top – Denise Pope and Rob Taplin taking their first championship crown, too. 
With another two more classes with even more drivers on the rise, Pro-AM and AM also saw their fair share of action. The duos saw many ups and downs, but leaving the season victorious would be Team Cake – Cupcakes and Team Cake – Angel Cake. Season 4 should be even more competitive, as we welcome new drivers to race alongside series' veterans in the battle to rise to the top.
Save the Date: The More Female Racers Season 4 Calendar
The last season of More Females Racers saw the biggest calendar yet – 5 set races with the finale held at a public-voted circuit. Not only was it bigger than ever, but it was also better than ever, as we ventured to famous circuits such as Circuit Spa-Francorchamps and Autodromo Nazionale di Monza. For this season, that's not going to change, so let's take a look at where we are headed:
Round 1 – Monza – 11th October
Round 2 – Spa – 25th October
Round 3 – Imola – 8th November
Round 4 – Silverstone – 22nd November
Round 5 – Zolder – 6th December
Round 6 – Public Voted Track – 20th December
Once again, we are going for a six-round calendar with a spicy public-voted race to round out the championship. Imola and Silverstone will be returning to the series after their prior appearances two seasons ago and Monza, Spa and Zolder carry over from Season 3 into Season 4.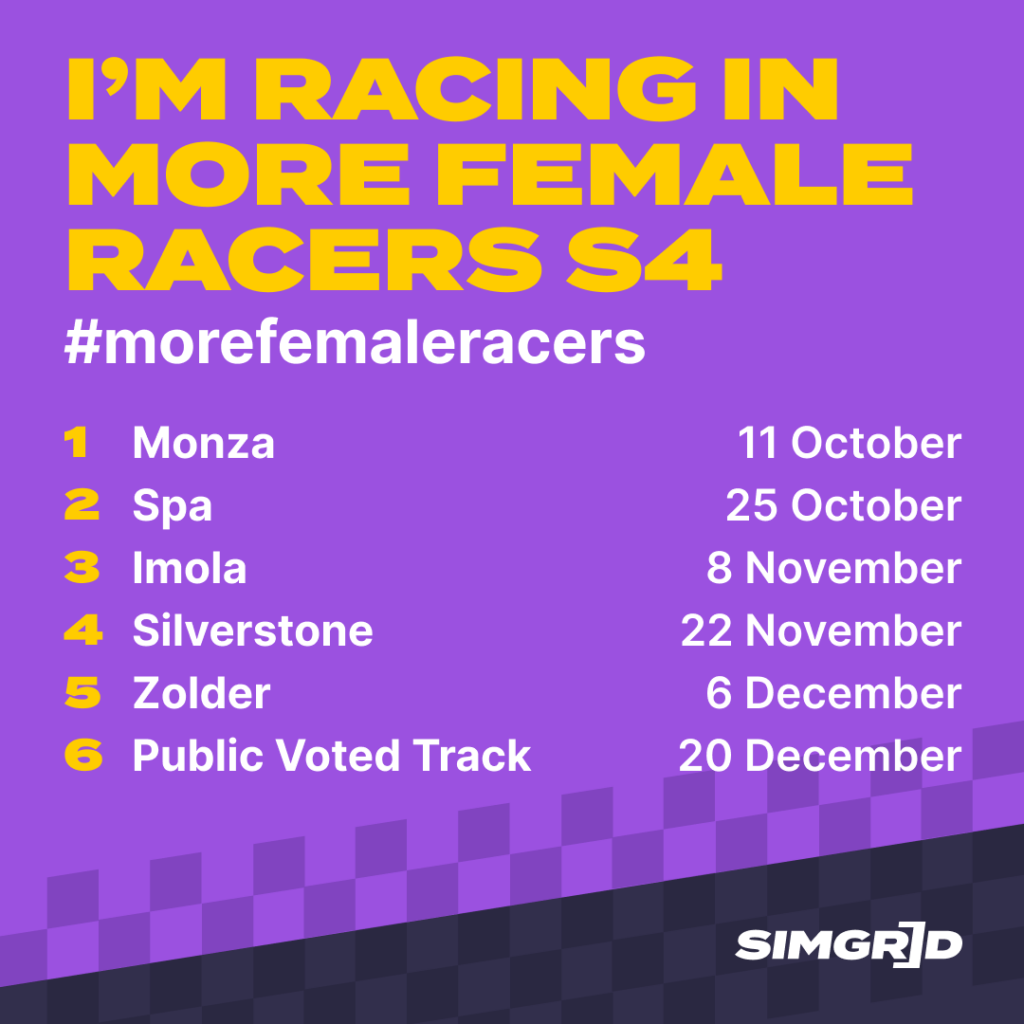 More Female Racers Season 4 Race Format
In Season 3, a new format debuted of a "3-stint race", allowing for the female drivers a second stint in the car and also giving us more drama at the Pit-Stops. We're delighted to announce that this format, alongside the 60-minute race length, will also stay the same, meaning there isn't anything timing-wise you may need to adapt to going into the new season.
What has changed, however, is that in Every season of More Female Racers we have utilised a new car, and that means it's time to find out what we have in store! As a quick refresher, Season 1 saw drivers in GT4s, Season 2 in GT3s of free choice and, of course, Season 3 the Lamborghini Super Trofeo.
For Season 4, the mandatory car will be none other than the Fiorano born Ferrari 488 GT3 Evo (And Non-Evo). The Ferrari is a brilliant all-around car, which shouldn't cause our drivers too many issues, with the Balance of Performance (BoP) equalising the talent pool of the series.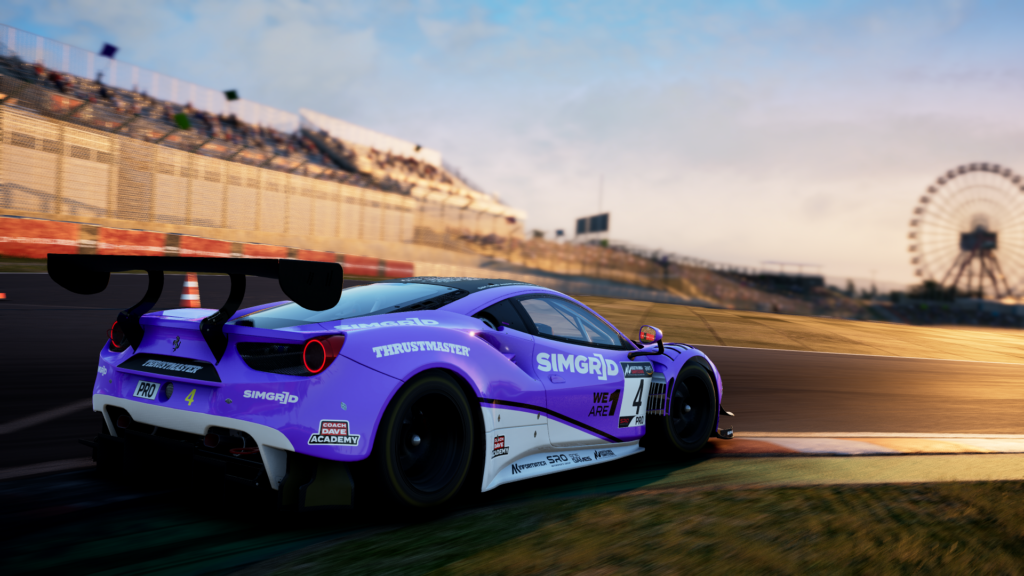 In it to win it: The More Female Racers Season 4 Prizes
Further cementing the value of this series, we are delighted to announce the various prizes on offer from our brilliant partners!
SimHound
Simhound provides great quality Sim Racing products at a great value. Via their website, you can fulfil all of your Sim Racing hardware desires – from gloves to customisable rigs to Sim Racing apparel, they have it all!
They have agreed to provide all Coach Dave Academy and SimGrid fans a bespoke discount across their entire range of products. To access this, just enter code MFR10 at discount, or you can click here and it will be automatically added!
Not only this, but one lucky person who finishes in the top 10 at the end of the season will receive an MFR Coloured custom rig as a testament to our desire to help further enhance the accessibility of Sim Racing. Not only will the rig give you a certain upgrade, but it can also serve as a reminder for your time participating in the series!

Coach Dave Academy
We are sure you already know who Coach Dave Academy are, but for the few of you that don't, here's a brief overview! Coach Dave Academy is the home for Sim Racers of all skill levels who are looking to up their game, whether it be through their bespoke Track Maps, high-quality setup bundles that are available for every car in Assetto Corsa Competizione, or coaching sessions with their team of Professional Racing Drivers.
They have agreed to provide a FULL Coach Dave Academy setup bundle, on a car of your choice, to one lucky person who finishes within the top 10 of championship standings at the end of the season!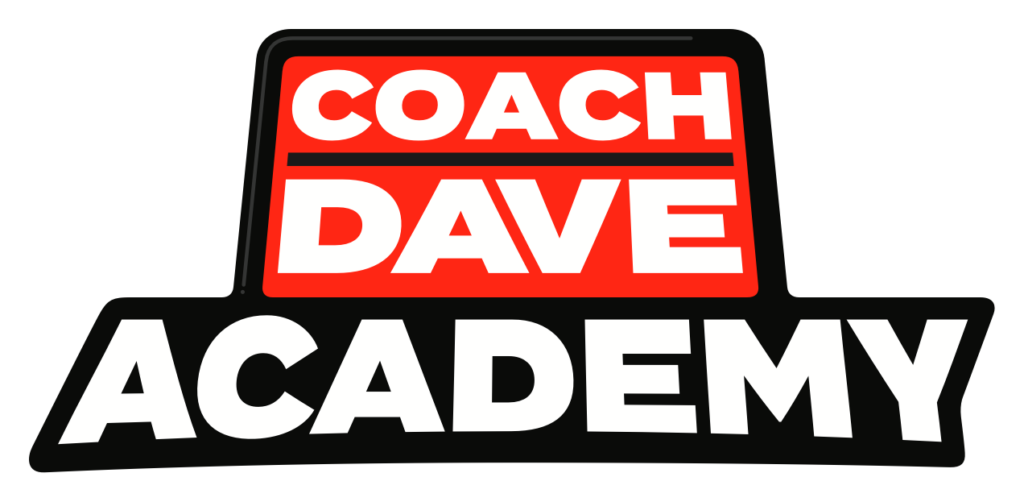 How to follow and get involved
Trust us, there is a lot more on the way! Watch this space as we will be back with more details to share about More Female Racers Season 4 (including special guests and amazing video tutorials) Keep those engines warm!
If, after seeing and reading all of the above, you want to get involved, then signups are open throughout the whole of the series, but be sure to get yourself signed up early if you want a full-time seat! Or, if you know of any females who'd be interested in taking part (as a driver, commentator, or similar) then be sure to share this article with them! Remember, all of the action will be streamed live on the SimGrid YouTube Channel!