For the fourth round of the season, More Female Racers by Thrustmaster Rockets was headed to the hills of Johannesburg and the Kyalami Grand Prix Circuit. One of the best tracks to drive in Assetto Corsa Competizione, due to its variety of corners, Kyalami would stand as a great test for the drivers up and down the grid. After a potentially pivotal race at Spa, everyone was raring to go for another entertaining hour of racing.
Map1 Racing wins despite Gobi going solo
Map1 Racing had a great end to last season, as Aloo Gobi and teammate, Jens Kaiser, moved their way up to the top end of the field, eventually earning themselves a promotion to Pro class from Silver. The pairing carried this momentum into season three, and have so far scored themselves two podiums and a great comeback drive from last to fourth at Monza. However, after qualifying, they were right at the sharp end and looked good for their first win of the season.
After snatching the lead into turn one, Gobi extended her lead over the competition well, but she couldn't quite wiggle her way out of their reach. However, the biggest twist of the race came at the first round of pitstops, as her teammate Jens Kaiser had disconnected, so couldn't swap into the car. Despite this setback, the tyre change completed in the pits meant her pitstop time, in this and the second stop, was equal to her competitors, so she could continue without a penalty.
Despite doing a considerably longer stint than her rivals, Gobi retained the lead all the way to the line, winning her first race of the season and putting Map1 Racing to the top of the standings.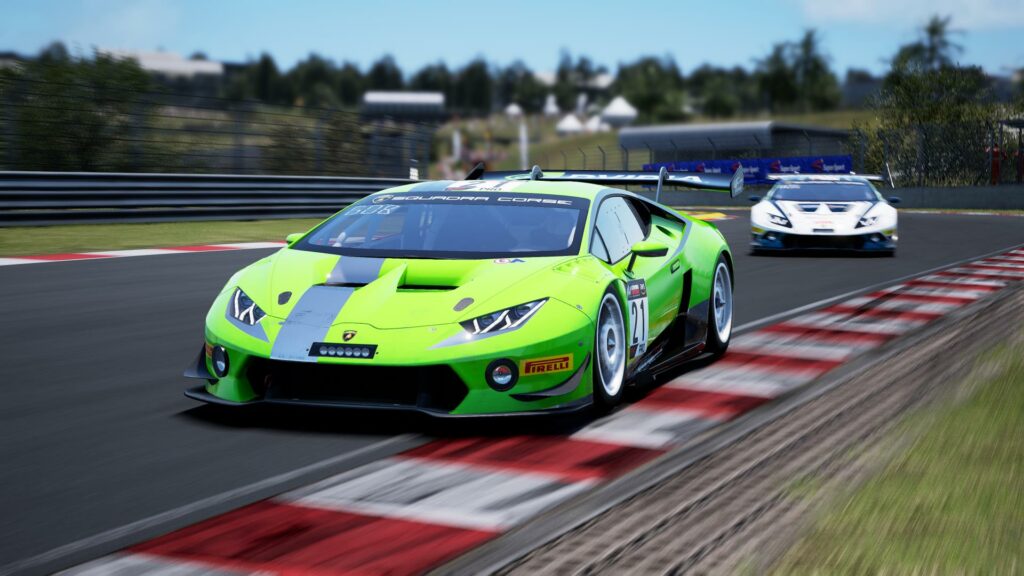 Arnage Competition slip up as GTWR R8G #1 take second
Behind Aloo Gobi, her and Kaiser's main championship rivals, Arnage Competition, had an unusually tough day in the office despite coming off the back of their second win on the bounce.
After qualifying, our ex-championship leaders qualified the worst they had all season, although not badly by any stretch, in sixth place. However, considering how close the championship was, they had to make moves if they wanted to keep their lead, as the gap to Map1 Racing was only six points. Off the start, it couldn't have gone much better for Timea Bencsik, as she moved her way to fourth, and eventually to third after a pass on Sara Dove. However, disaster struck around the first stops, as they had suddenly plummeted to P18. This puts a massive dent in their championship campaign, especially as Map1 Racing took the victory.
Meanwhile, GTWR R8G Female Racing 1 drivers Althea Boucq, better known for her Sim Racing YouTube content as Theamusante, and Giorgio Simonini were having a strong race. Thea started well, making passes here and there to move up to seventh from her P10 starting spot. As the stops rolled around, she and Simonini chose the undercut, and Simonini was released to see what he could do in his 20-minute stint.
Simonini was absolutely flying, as he passed Rob Taplin, Jonathan Lee and finally Olaf Sawczuk and Declan Bowler. This saw GTWR R8G Female Racing #1 in third place overall, and after second place's pitstop error, they were promoted to second place where they'd finish – their best position so far.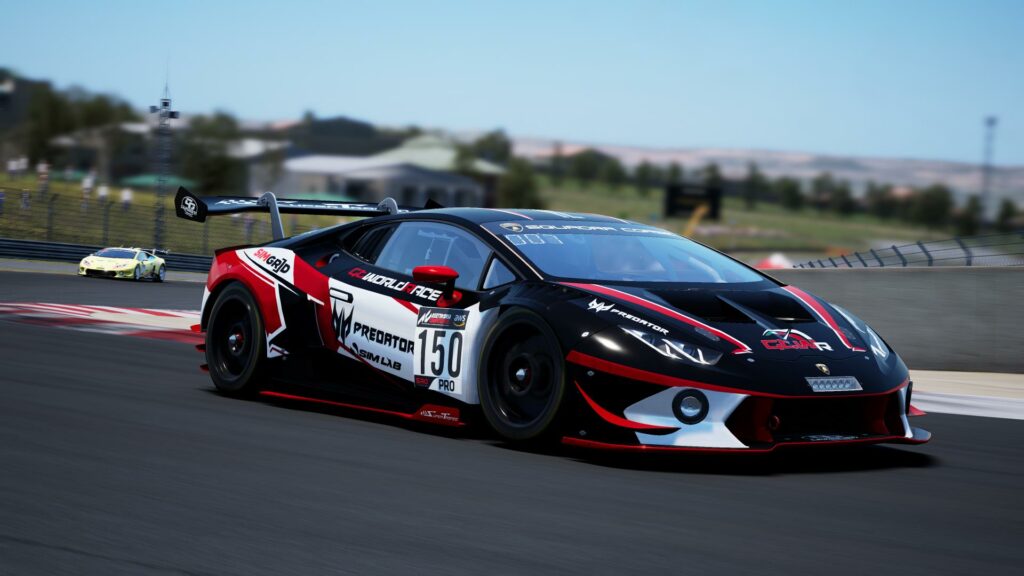 NSN x Wild Things Racing and Turn1 meets BSKIT battle it out
The class that keeps on giving! Once again, Silver class put on a spectacular show, as NSN x Wild Things drivers Denise Pope and Rob Taplin scrapped all race long with reigning Silver class champions, Turn1 meets BSKIT. Turn1 driver, Jenny Camugli, stuck her Lamborghini Super Trofeo on class pole, but Pope was close on her tail. Meanwhile, Turn1 Diablo couldn't keep up, setting up another race where they would lose out in the standings.
As the lights went green, Camugli was passed by Pope for the class lead. She continued on in second, keeping Pope under pressure until eventually, she cracked. Pope had a half spin at The Crocodiles right-hander, and tumbled down the order to ninth place. However, under stops, this was regained, and the battle continued. Rob Taplin and Declan Bowler would take over for stint two from Pope and Camugli respectively, and as Bowler fought for an overall podium, Taplin could crucially whittle down the gap.
As the pairings swapped back, Pope had to hunt down Camugli if she wanted class honours. However, this battle was interrupted, as a late-charging Sara Dove split them. Just after Dove passed Camugli, Camugli went off track, gifting the silver class lead to Pope in the dying moments of the race. With so little time left, Camugli had no reply, and it was Pope who took win three of the season.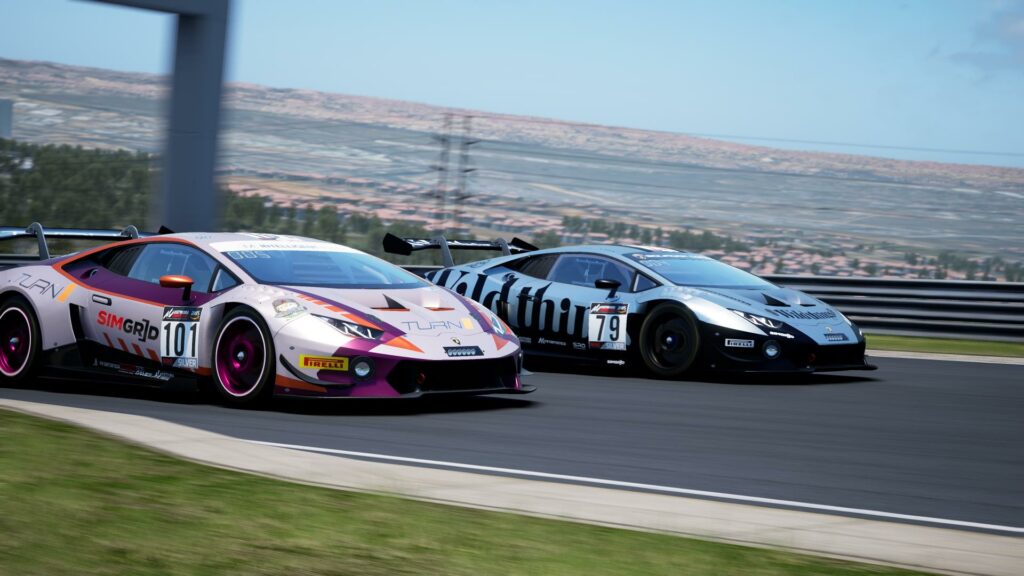 CMS Pro Purple dominate Pro-AM
In Pro-AM, we have so far seen an incredible feat of pace from Team Cake Cupcakes, as they have scored three class victories on the bounce, launching them far to the top of their respective championship. However, this would all change, as Julie Redmon from CMS Pro Purple took class pole by 1.5 seconds over Sarah Fair and Seb Handler. This set her and Jonathan Lee up perfectly, as there were nine places between them and their rivals.
As the race went on, Redmon and Lee didn't slip back into the clutches of the field, but instead, gained positions on Silver, and even Pro class, runners. In the middle of the second stint, they lay in fifth place overall – a brilliant position for a Pro-AM team. Eventually, they came home in seventh place after some late-race charges around them, but nevertheless, that won't rain on their parade. This result sees them take a big haul of points home, which allows them to further climb the all-important championship ladder.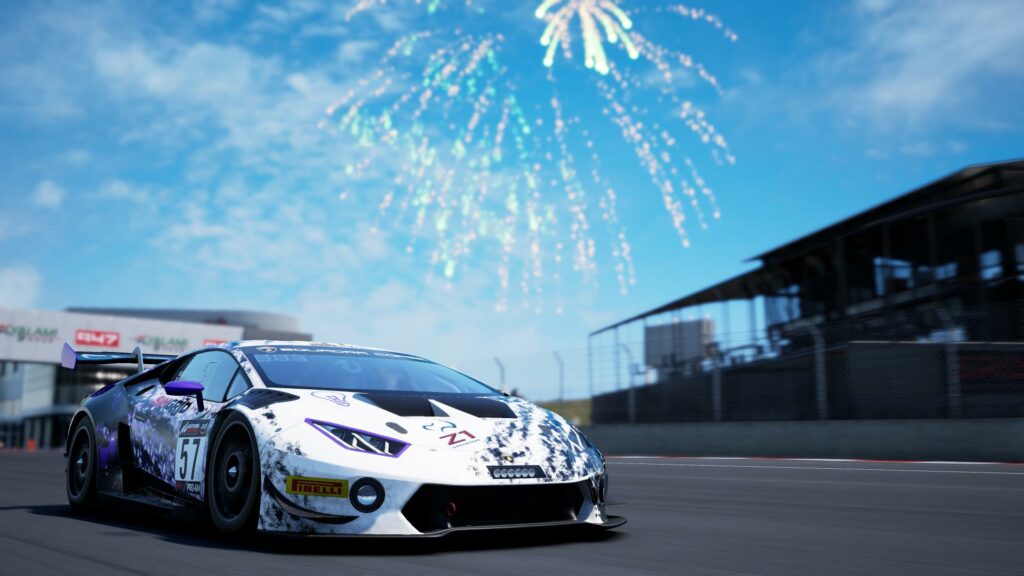 Post-race reactions
One of the great things about More Female Racers is the progression that we see from drivers. In AM class, Kyalami provided a great example of this, as Redlinezak Racing driver, Sam Pierce, got her first class podium. She was "thrilled" about this finish, especially considering she only started Sim Racing in February. This a perfect example of what More Female Racers by Thrustmaster Rockets is all about!
After finishing sixth in AM class, Team Cake Mascara and Hope were another team that headed to the media pen. Alice Horton said, "I'm very proud of my co-driver Katherine Hamilton for improving a lot since round one at Monza. We went from multiple drive-throughs at Monza to a consistent race at Kyalami, only a few seconds off the pace of the field now." She was rightfully over the moon with how her teammate, Hamilton, had improved, especially considering "the Lamborghini is a very challenging car to drive for new drivers and to see this performance on her second ever race is very impressive."
One team that headed up to the commentary booth was the #150 GTWR duo of Althea Boucq and Giorgio Simonini, who had claimed second place after an incredibly strong race. Boucq told us, "this is probably the best finish I have ever had!". She went on to say, "We did an amazing job… it was great!". Boucq was buzzing after her and Simonini's standout performance and Simonini was just as impressed. "Really good job to Thea today… 40 minutes of amazing driving, kept it consistent, and really well done".
For more of this amazing action, join us in two weeks time for the fifth round of More Female Racers by Thrustmaster Rockets.