More Female Racers by Thrustmaster Rockets season three has been full of action, keeping us on the edge of our seats every lap of the way. As we headed to Brands Hatch for the fifth of the six-round season, it was clear we were getting to the business end of the championship. All classes remained well and truly undecided, with margins as little as seven points splitting the fastest teams from each other, so with the last confirmed track on the calendar ahead of them, taking all the points they can would be crucial.
Map1 Racing extends championship lead after another win
Map1 Racing was on the front foot after taking their first win of the season last round, at Kyalami. However, Brands Hatch is arguably a far more difficult track to master due to its high-speed nature, tight boundaries and punishing track limits. For our championship leaders, this would be no such issue.
After qualifying on pole by just 0.034 seconds, Aloo Gobi would see off any attack from her rivals, in particular, Sara Dove in the GTWR R8G Female Racing car. From then on, Map1 Racing was away, as she would go on to extend her lead to that of around six seconds.
The driver swap saw them have no problems, unlike last round, as Jens Kaiser took over to continue extending their lead. Gobi took control in the final twenty minutes, bringing the car home to their second win in a row. This would also see them further extend their championship lead over their Pro Class competitors, as Arnage Competition struggled.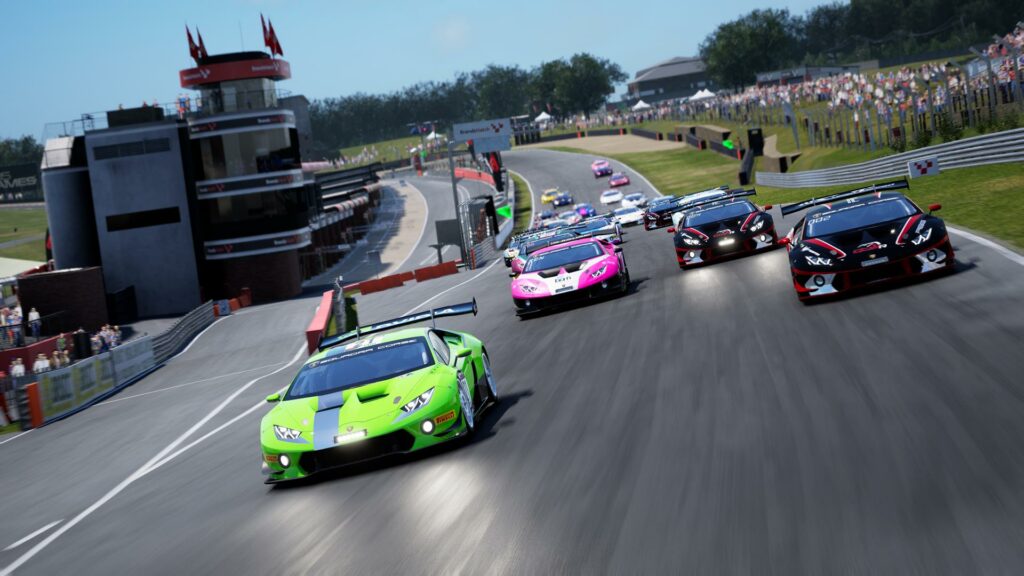 Arnage Competition fade from Map1 in the standings
Arnage Competition, the team made up of Timea Bencsik and Adam Pinczes, have been Aloo Gobi and Jens Kaiser's biggest rivals so far this season, taking a victory at both Spa and Monza as they capitalised on their rivals' errors. However, since then, their season hasn't maintained the highs.
With Map1 Racing winning two races back to back and securing a further two podiums heading to the final round at the public voted track, Arnage Competition needed to interrupt their streak at Brands Hatch, but neither driver quite had the pace to challenge. After qualifying third, they needed to make some moves if they wanted to challenge Map1. However, a spin for Timea Bencsik at Druids around ten minutes in saw them drop to the very edge of the top ten – not a position they'd like to finish in.
Although, they weren't done. Timea gained a little bit of ground soon after the spin, but at the first round of pit stops was where the ground was really won. Pinczes emerged fourth – three places up on where they entered the pits, but crucially, ahead of the Silver Class scrap that lay in their way. Despite pressure from behind, they managed to secure third place, but this still leaves them with a large deficit to Map1 going into the finale.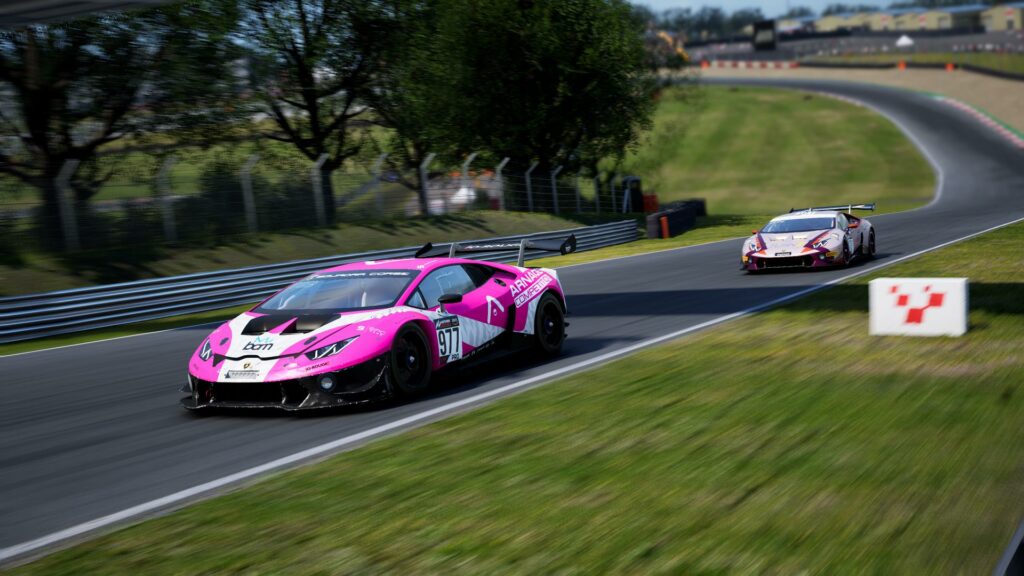 Turn1 meets BSKIT take Silver Class victory
Silver Class was all over the place at Brands Hatch, as current championship leaders, NSN x Wild Things Racing lined up fifth, and Sophie Aeronwen from GTWR Female Racing 6 took her first class pole of the season, lining starting fourth overall. At Brands Hatch, overtaking isn't easy, but Jenny Camugli and Jerry Lipponen from Turn1 meets BSKIT would find their way to the front.
Pole position is usually right where you'd want to start, but for Sophie Aeronwen, things didn't play out how she would have hoped, getting spun almost straight away by AM pole-sitter Lyubov Ozeretskovskaya, and sending her tumbling down the field to eleventh place. Meanwhile, this left Natalie Lee in the Turn1 Diablo car to inherit the class lead, followed by Jenny Camugli.
Lee would hold this lead for almost all of the first stint, until she spun in turn four, allowing Camguli to pass – the Lamborghini Super Trofeo showing how tricky it can be. Behind, Denise Pope in the NSN x Wild Things car had to work her way through the mayhem of the midfield, ending her first stint third in class after some spicy wheel to wheel moves. Later into the race, renowned super-sub Michael Hamlet would step into the car, retaining this progress as he emerged from the pits. However, this wouldn't last long, as he overcorrected a slide at turn one. This would put them out of contention, and dent their championship lead.
Whilst the carnage continued, one thing didn't change, Turn1 meets BSKIT's lead.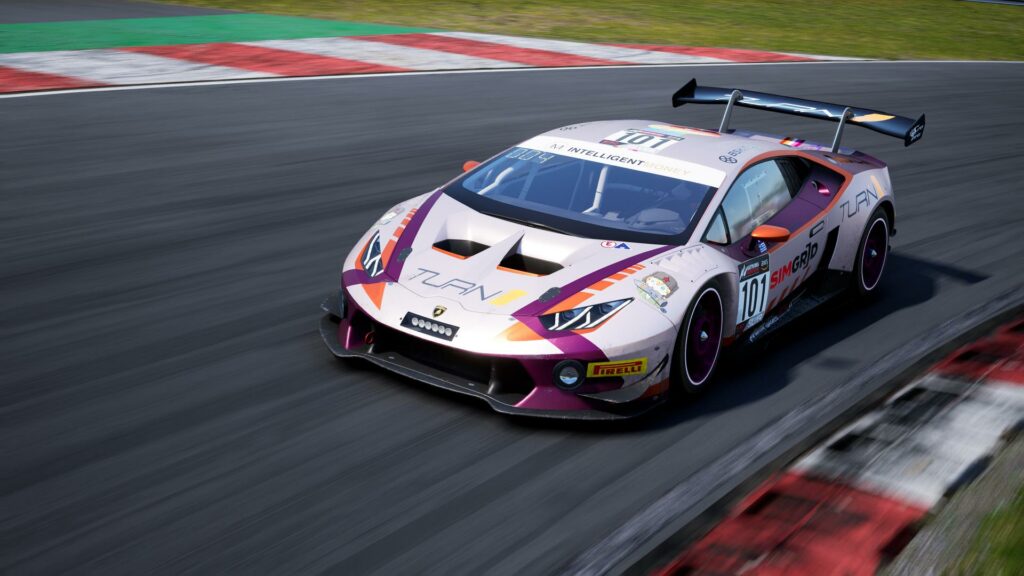 AM final-lap heartbreak sees MIA eSport win
AM class has so far been full of ups and downs, with six different teams taking to the class podium across the season so far. After taking pole position, LoveFortySix drivers Lyubov Ozeretskovskaya and Vladimir Ozeretskovskiy were the favourites to win, after their qualifying position saw them eight places ahead of Josie Austen in the Team Cake Angel Cake car.

Things didn't get off to the smoothest of starts, as Lyubov collided with Sophie Aeronwen in turn one, getting her a 5-second time penalty a little later in the race. However, things were still going well, as she continued on in sixth place overall, and still well clear of her AM class rivals. However, at the first round of pitstops, a technical issue saw them tragically drop out of a class lead, promoting Josie Austen and Rhydian Lloyd-Davies to the lead.
Austen and Llyod-Davies would lead commandingly in class, but as the clock ticked down, disaster struck. Austen had run out of fuel, possibly getting caught out by an extra lap squeezed in by the leader, meaning that with just half a lap to go, her class lead was done. This amazingly promoted the MIA eSport team to their first class victory of the season.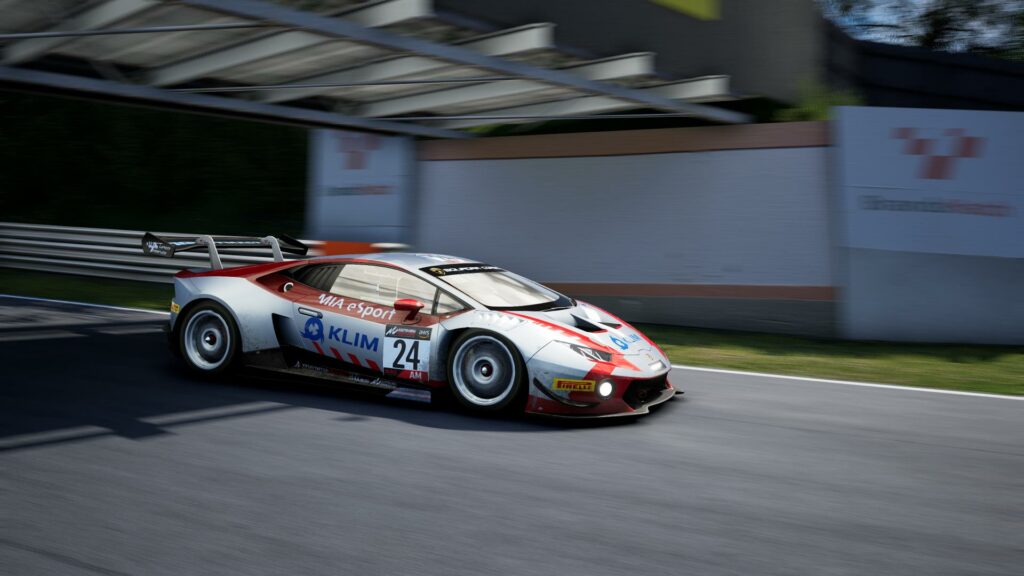 More Female Racers by Thrustmaster Rockets: The Finale
More Female Racers by Thrustmaster Rockets is nearing its climax, and in two week's time, we will be rounding out the championship. With all of the four classes undecided, we are going right down to the wire.
However, there will be a certain spanner thrown into the works – the track will be chosen by you. For the last round, teams still have no idea where they will be headed, as the track choice is left down to you via a vote on all of SimGrid's social media accounts; whether it be Facebook, Instagram or Twitter, you can have your say. This means practice will be limited and tension will be high – the perfect ingredients for a great evening of racing, which will of course be streamed live on the SimGrid YouTube channel.