More Female Racers by Thrustmaster Rockets kicked off with a bang at Zolder. With new classes, competition, and cars, the race would be a challenge for everyone, but one thing hasn't changed over the off-season; the Jean Alesi Esports Academy masterclass.
Mia and Aenore Rose hit the ground running
Season two of More Female Racers was near perfect for Jean Alesi Esports Academy drivers Mia and Aenore Rose, but as we headed to Zolder for round one of season three, the focus of all of Pro Class was to close in on the reigning champions.
Qualifying was tight, with Aenore Rose beating Map1 Racing driver, Aloo Gobi, to pole by just a tenth of a second. Aenore led away into turn one, and despite an attempt to take the lead from Gobi, Aenore held on, powering away into the distance as the stint went on. For teammate Mia Rose, her stint was just as clinical, putting not a foot wrong. As Aenore stepped back in twenty minutes later, the pair had built a sizeable lead, allowing them to keep out of trouble and start season three exactly how they would have wanted.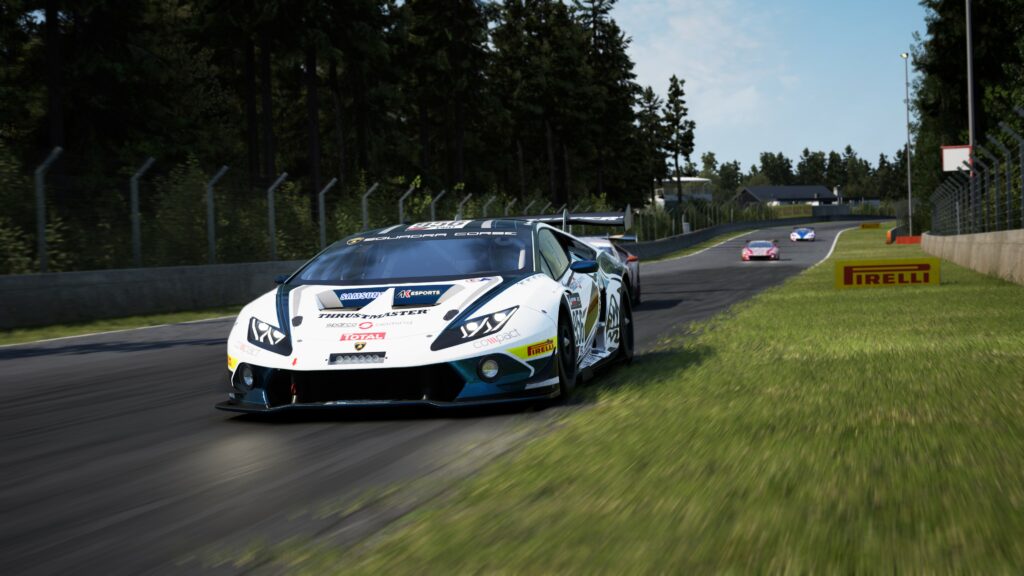 The ebb and flow of the podium fight
Whilst Jean Alesi Esports Academy flew away from the rest of the pack, the battle in their mirrors was far more intense. Second place was taken by Map1 Racing's Aloo Gobi and Jens Kaiser, who had a very clean race, as they got their heads down and powered towards the podium. However, third place was much more hard-fought, as Triple A Esports x Imperium, GTWR Female Racing #2 and GTWR Female Racing #3 drivers battled it out in a race of ups and downs.
Mia Swensen originally snatched third from Sarah Dove in the GTWR Female Racing #2 machine and Timea Bencsik in the Triple A car. However, they were forced to fight back after a spin at one of Zolder's treacherous chicanes after a battle with GTWR teammate, Sarah Dove. Yet, this didn't suppress Swensen and Kaiser's pace, as they battled back under pitstops and picked up the pieces from Triple A Esports x Imperium and GTWR Female Racing #2's mid-race dramas, crossing the line third after an encouraging showing.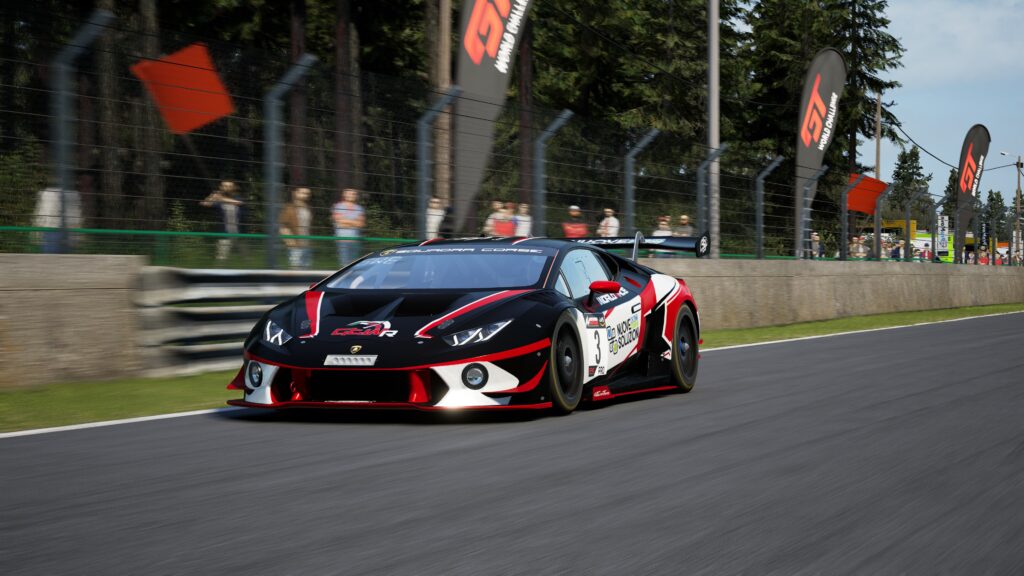 NSN x Wild Things Racing emerge victorious in Silver Class
For More Female Racers' third season, the field has been split into four 'classes' and therefore championships, allowing for teams and drivers of all skill levels to be competitive in their own right. Silver Class saw an incredibly intense battle for victory, with NSN drivers Denise Pope and Rob Taplin emerging on top after a race of battling with the Turn 1 – Diablo squad of Natalie Lee and Santeri Rantala.
Behind the top two, there was also some great racing. Reigning Pro-AM champions Turn 1 – meets BSKIT had to fight their way back through the field after a tough qualifying, but Jenny Camugli and Stavros Konstantinidies didn't get held back by the challenge, moving up to eighth overall and a class podium after some great fighting with Althea Boucq and Sophie Aeronwen.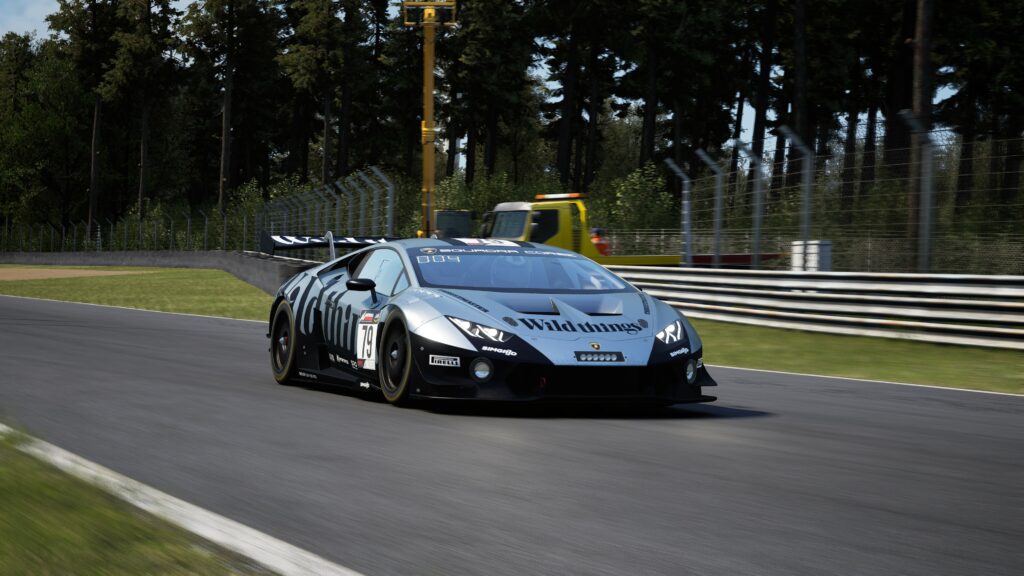 Josie Austen and Rhydian Lloyd-Davies dominate AM Class
Another of More Female Racers' sub-championships is AM class. Although theoretically for the least experienced drivers, Team Cake Angel Cake drivers Josie Austen and Rhydian Lloyd-Davies showed they could take the fight to the Pro-AM teams on their way to securing class victory by a whopping seven positions.
Austen put their Lamborghini Super Trofeo on class pole but was closely followed by LoveFortySix driver, Lyubov Ozeretskovskaya. However, the difference between them in the race came down to keeping their noses clean, as Ozeretskovskaya was caught up in a lap one incident almost straight away, dropping her down to fifteenth and into the clutches of MIA eSport. They briefly swapped, but LoveFortySix had the pace over MIA eSport, claiming second in class by the time the checkered flag fell.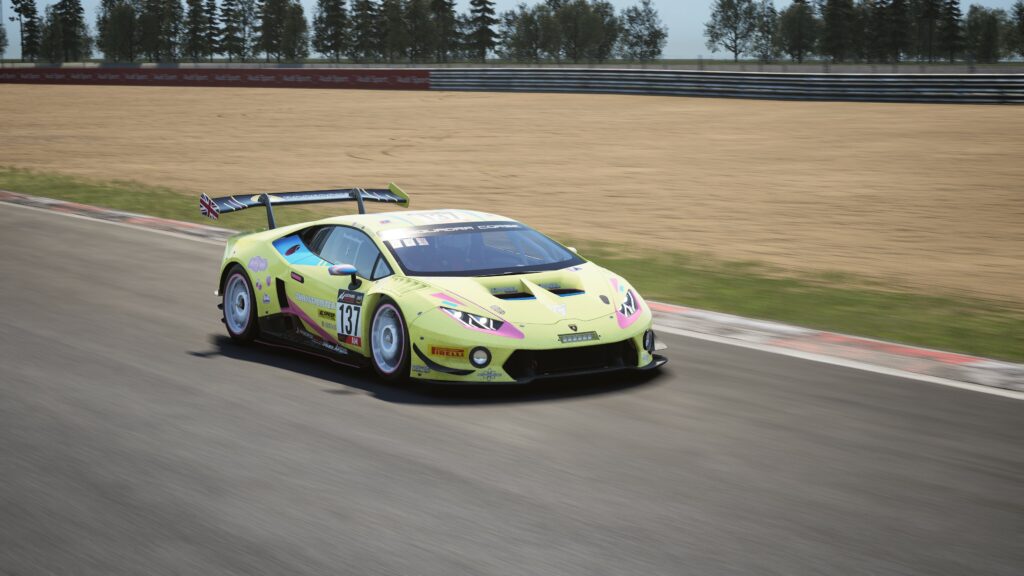 Post Race Reactions
After an eventful race, some of the teams headed to the commentary box for live interviews.
Despite claiming pole position in a close session, Jean Alesi Esports Academy driver Mia Rose was clearly not getting complacent, as she told us, "Really from qualifying we were worried, but after the first couple of laps, we were more worried about lapped cars". Their race pace was a level above the rest of the field, however, Mia said, "It was an eventful race", as they were forced to navigate lapped cars at a track where overtaking isn't easy. As we look ahead to Monza, confidence is up within the team, as she said "I think for Monza we should pretty much be on the pace", so another strong showing is certainly to be expected.
Pro-AM winners Sarah Fair and Sebastian Handler also headed to the commentary box, or rather, Sarah Fair bounced in to speak to commentators David Christie and Alex Goldschmidt, as she exclaimed, "I am so disappointed I don't have a bottle of champagne to open for you! Oh my goodness me, what a race!".
Battling in the midfield at Zolder certainly isn't easy, but she said "We survived, we didn't crash. We had a little mishap with the wall but other than that it all just worked.". Despite an initial setback off the start as she was hit with a penalty for being out of position, "It kept getting better and better", as she and Handler raced home to start their season exactly how they would have hoped.
Heading into Monza, MFR is set to be eventful as ever
Round one of More Female Racers by Thrustmaster Rockets had everyone on the absolute edge of their seats, but Monza is only set to be better. The teams will have had a chance to iron out any issues with the car and can settle into their new teams, only allowing them to take the battle to their rivals even further. Monza is also a great venue for overtaking, so don't miss round two of More Female Racers Season 3, live on our YouTube channel.