Continuing the trend of establishing a series of firsts for SimGrid, our opening premier iRacing event has been announced in the form of 6 Hours of Le Mans!
There is plenty in store for everyone, and the spectacle will draw a huge crowd. The historic competition has delivered a lot of thrills, action-packed encounters and wheel to wheel battles, and the esports version of the heritage is no slouch either.
What you need to know
As a part of the festivities culminating in the 24 Hours of Le Mans scheduled for June 11th, 2022, Coach Dave Academy presents the 6 Hours of Le Mans, a shorter version of the legendary race format and the first endurance event on the iRacing platform here at SimGrid. There are 62 spots up for grabs with two classes in the shape of LMP2 and GT3 cars. Registrants can form each team of anywhere between 2 and 6 drivers.
The event is set to take place on May 29, 2022, with proceedings kicking off in the form of practice at 14:30 CEST. This will be accompanied by a Driver's Briefing at 14:35 CEST, followed by Qualifying at 15:30 CEST. Finally, the race will commence at 16:00 CEST. The race would mark the first-ever SimGrid event on iRacing, and as such, the event is open to everyone.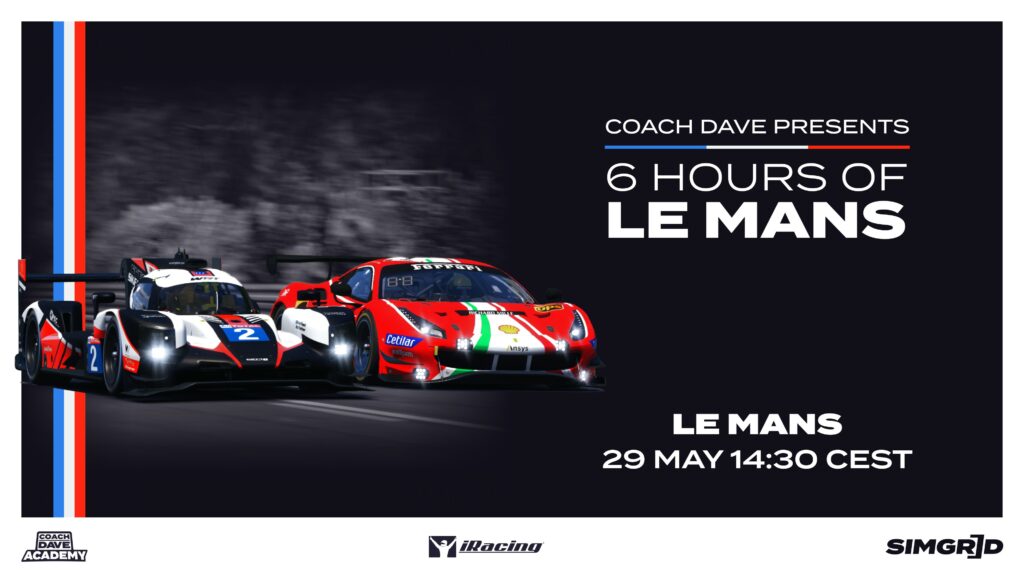 The Cars and Rules
Teams competing in the LMP2 class will be only allowed to use the Dallara P217. In contrast, the GT3 class teams have more freedom to choose. The cars available for selection are the Audi R8 LMS, BMW M4 GT3, Ferrari 488 GT3 Evo, Lamborghini Huracan GT3 EVO, McLaren MP4-12C GT3, Mercedes-AMG GT3, and the Porsche 911 GT3 R.
As for the rules, there will be no stewarding present for this one-off event. However, Safety Car rules apply along with a few more directions as follows:
Rolling Start
Single File, Maintain Restarts (after Safety Car period)
Fast Repairs: 1
Driver Fair Share rule enabled
Minimum Licence: Rookie 1.0
First Warning after 25 Incidents Points, then every 20
The first of many iRacing events at SimGrid
The 6 Hours of Le Mans event is also a fantastic opportunity for potential hosts to get an idea about SimGrid.
This is our first event on iRacin, but there will be many more to come! Communities can quickly and easily sign up to be hosts and get a jumpstart in SimGrid's iRacing scene, so if you're interested, you can can register your community here as well as find more information.
Le Mans never fails to amaze the crowd, and Coach Dave's 6 Hours of Le Mans on SimGrid is set to follow suit with its iRacing counterpart. If you are interested in competing in this event, head over to the event page to register and read the full rules and regulations of the competition.
Not only that but the event will also be broadcast live on SimGrid's YouTube channel for viewers across the world to tune in. As always, you can stay updated with all the latest news about this event and more through SimGrid's socials and the website. As race day approaches closer, the excitement is only set to rise. Happy racing!