Our competition platform, SimGrid, continues to grow like crazy with communities joining everyday and tons of laps being completed every hour.
For the longest time I wanted us to build some extra features for die-hard sim racers who want to discover more about their skills, their results and more. So we built SimGrid Pro.
SimGrid Pro is an all-in-one stats and data tracker with enhancements and features for you and your teams to take you to that Pro level. 
Want to see ever increasing detail about your own performances? Want to see in depth metrics and stats for every lap, in every car, at every track you've ever driven to help you improve as a driver and make better decisions? SimGrid Pro is here for you.
Want to help improve your team? Want to track your team performance with clear and concise data? SimGrid Pro for teams lets you assign yourself and upto 5 other drivers or engineers together to access team stats that will help you make better decisions for driver rosters, car selections and much more.
In-Depth Stats for Drivers and Teams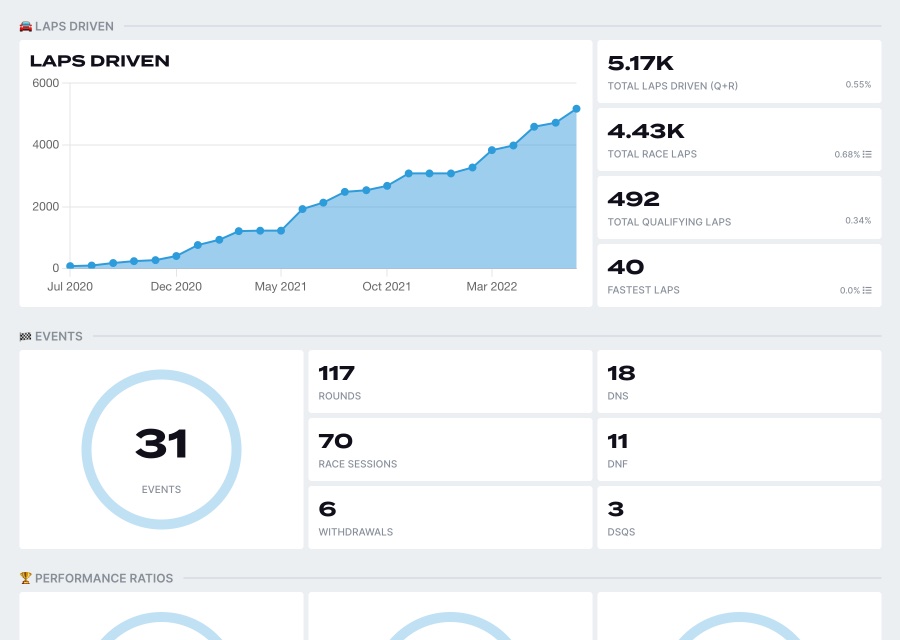 SimGrid Pro gives you access to more statistics, giving you ever-increasing detail on your performance with clear and concise figures that integrate seamlessly with SimGrid's Leaderboards. See total metrics of every lap, car and circuit choice you make across every sim racing platform SimGrid supports.
Activity Overview. Gain insight into how many championships and races you enter over the course of your sim racing career.
Performance Ratios. Track win, podium and top 5 ratios.
Laps Driven. See how many laps you've driven across all race and qualifying sessions.
Discover more about SimGrid Pro Stats
Discover which Cars and Tracks you perform best in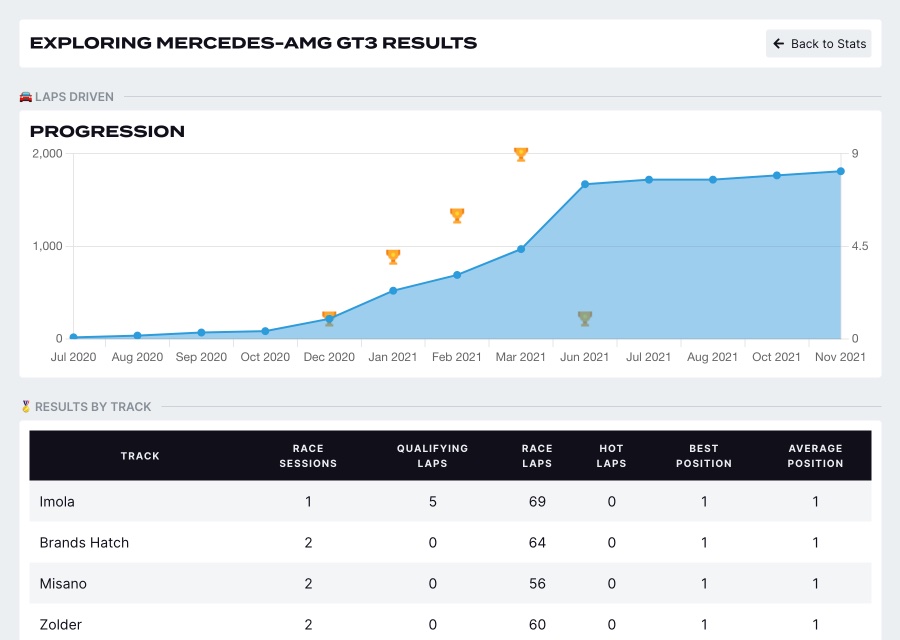 Ever wondered which circuit you spend the most time racing, or which cars get the most seat time? With SimGrid Pro you will be able to tell which tracks need most of your attention or which car you've had the most success in, making it easier to decide what championships you should enter and which car you should select.
Best Cars. Learn which cars you perform best in.
Best Tracks. Determine which championships you are likely to perform well in based on your previous performances on tracks you love and love to hate.
Make better, informed, decisions based on your past performances.
Discover more about SimGrid Pro Stats
Extra features that will make your sim racing life easier

Stats are not the only features you will unlock with SimGrid Pro. We are also launching with a bunch of updates that will make your general experience on SimGrid smoother too.
Calendar Sync. Never miss a race with the ability to sync your personal calendar with your upcoming races.
Pro Discord Role. Gain access to private channels and discussions on the SimGrid Discord Server.
The Blue Ring. Show your support with a blue ring around your avatar displayed site wide.
Disable Adverts. Have the option of hiding adverts on the site when you are logged in as a SimGrid Pro member.
Discover more about SimGrid Pro
Pricing + More on the way
Pricing for SimGrid Pro starts at €5 per month for single drivers or €15 per month for teams. If you sign up as a team you will be able to give out 5 Pro Driver memberships, which works out to a 40% saving.
What we are launching today is just the start of a huge feature roadmap for SimGrid Pro. We will be fully focused on bringing you value for the support you give to SimGrid by subscribing to our Pro package.
We have a ton of features already in the pipeline that will be released over the next few months, including a beautiful new section called 'Performance Analysis' which I cannot wait to share with you.