Season 4 of SimGrid's Sprint Cup got underway this week at Misano, with thirty-six cars taking to the Italian track. As far as season-openers go, this one certainly won't be forgotten anytime soon, with plenty of drama taking place at the front of the field. Here's how the event panned out.
Mayhem at Misano
Qualifying for the first round of SimGrid Sprint Cup season four was unprecedentedly close – so close, in fact, that the lap times of the two fastest drivers couldn't be separated up to three decimal places! In the end, it was Giuseppe Montalbano and the #340 Omega G-Performance team that would be accredited with pole position, however, as they had set the lap time first.
After that, we expected that the race would be a tightly contested affair, but unfortunately, some of the early contenders got a little bit too close together for their own good. Following a relatively well-behaved initial start, the drama began to unfold by turn seven, Curva Queria. The experienced #39 YAS HEAT driver Eamonn Murphy made an uncharacteristically rookie error, tagging the rear end of Harry Spiers' #285 SideMax Motorworks Mercedes in a battle at the lower end of the top ten.
Sadly, that ended up being a precedent for what was to come. As Leon Otocki dropped back from second place on the grid in the #14 Unicorns of Love Porsche, his team's chances of victory came to a sudden end when Egor Ogorodnikov punted him into a spin on lap four. The #41 Simware.pro Aston Martin would go on to make further contact with the same Porsche later on in the race too, this time picking up a thirty-second stop-go penalty for a very avoidable incident on a straight.
So, with those two teams now out of contention, third place fell into the hands of Mike Nobel in the #123 FFS Sprint Mammals Audi. However, the #992 Random Pasta Bowl Porsche of Maciej Malinowski was charging up behind and managed to draw alongside on the outside line heading into the final corner. But, as Nobel failed to give Malinowski enough room to get back onto the circuit, contact was made, resulting in a heavy spin for the Audi into the barriers. With that, their race was over, while Malinowski would go on to serve a drive-through penalty for accumulated track limits abuse elsewhere.
Penalty heartbreak for Omega G-Performance
After setting a stunning lap time for pole position, Giuseppe Montalbano used that prime grid slot to good effect in the early stages of the race, managing to eke out a comfortable lead gap as the rest of the pack fought with each other behind.
Despite the Bentley's considerable size, its ability to soak up the kerbs meant it was running well at Misano, especially with a driver as consistent as Montalbano behind the wheel. That trajectory continued when Khali Atkins took over after the pit-stop phase, with it seeming like a nailed-on victory for the #340 entry.
Sadly though, disaster struck as Atkins negotiated his way through the backmarkers, and after making an error of judgement was handed a drive-through penalty for initiating contact. Atkins rejoined immediately behind the eventual leaders after serving the penalty, such was the extent of the gap that he and Montalbano had built up. But in the end, it wasn't meant to be, and the team crossed the line in third place.
Atkins was evidently distraught after the race, saying: "It was a bit frustrating really, having that massive gap. Blue flags were shown and I thought he'd just move out the way and he just didn't so I got that drive-through which really messed it up.
"It should have been a dominant win. Giuseppe [Montalbano] drove an amazing Stint One and quali, and yeah, just need to move on."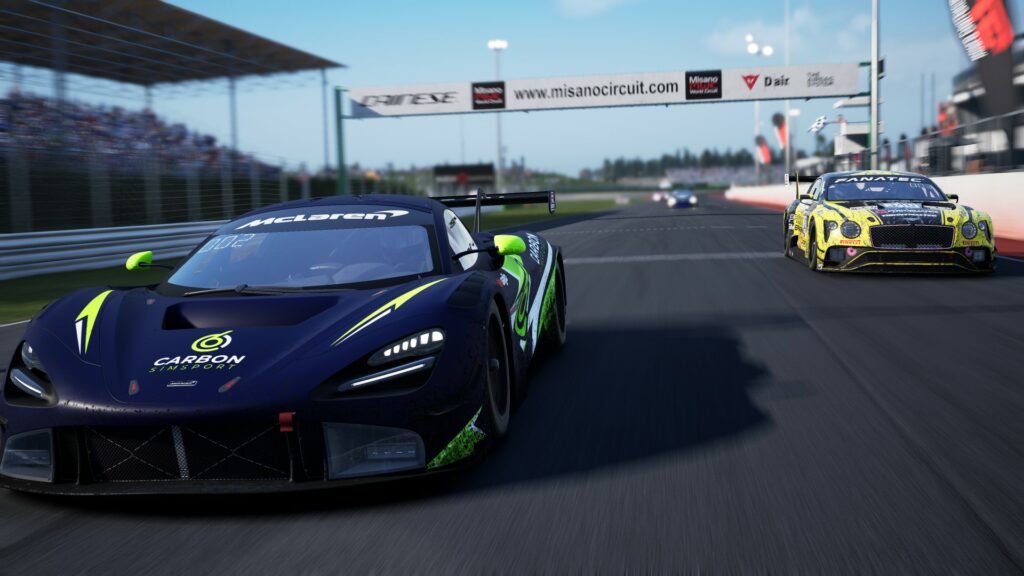 Pandemonium for the podium places
It wasn't all doom and gloom though. In fact, besides the carnage, this race provided some spectacular wheel-to-wheel racing, particularly in the battles towards the front of the field.
Luke Whitehead and Joonas Savolainen had made great progress to quietly work their way up to fourth and fifth place respectively, having started down in thirteenth and twelfth. With George Boothby rapidly falling into their clutches for third, Whitehead attempted an overtake around the outside of Curva del Rio. This slowed Whitehead down too, however, meaning that Savolainen could afford to attempt a pass on the inside of Curva Queria. In the end, the status quo would remain though, thanks to some great firm-but-fair racing.
The battle between the three teams raged on even after the pit-stop phase. After the demise of Nobel and Malinowski, Hamada Erquizi (who had taken over from Whitehead) was released to catch back up with Niels van de Koekelt (who had subbed in for Boothby). The two McLaren entries would once again put on a great show, but sadly like so many other battles in this race, it would have an unfortunate ending. In the turn ten braking zone, Erquizi made slight contact with the rear of van de Koekelt's #47 UKOG47 car. This resulted in a spin for van de Koekelt, and as Erquizi slammed on the brakes so as to not gain an advantage, he too was spun by Jesse Kauppinen (who had taken over from Savolainen).
With that, the UKOG47 car would come home in fifth place, while Erquizi's #27 SDL Esports by Logitech G McLaren would drop further down to eleventh after serving a time penalty.
This, plus, the drive-through for Atkins in the Omega G-Performance Bentley meant that there was now a four-way battle for the win in the final few laps of the race. In a bid to at least reclaim second, Atkins took to the inside of Danila Cherepenin in the #889 Race Field Team Aston Martin at the penultimate corner. However, Cherepenin wouldn't concede without a fight, and so contact was made at the following bend. As a result, Mariusz Tworzydlo was able to breeze past the pair of them to claim second position for the #7 Carbon Simsport entry.
Most importantly though, all of this meant that Jesse Kauppinen was able to scamper away in the lead, taking victory for the #11 Griphax Engineering team in their first-ever race with the Ferrari.
Thoughts from the Winners' Circle
After one of the most topsy-turvy endings to a race that we've seen here at SimGrid, the Griphax Engineering team were left in awe at the final result.
"I'm kinda speechless at the moment, it's the weirdest race that I've ever done," Kauppinen said. "I was happy to get top six or top five, but then people started disappearing from in front, so [it was] a lucky win."
Savolainen was particularly pleased, after what was a hectic first stint for him at the start of the race:
"It was a good pay-off for all the effort I had to do on the first stint," he said. "Because that was hectic – constantly avoiding people, defending, attacking and everything at the same time.
"I was pretty heated at some points during the race, shouting to Jesse [Kauppinen], 'what is happening here?!'. But yeah, it was a good win!"
Looking ahead to round two, Griphax Engineering will obviously lead the points standings, and after finishing as runners-up in Season 3, they will be keen to keep this winning mentality into round two at Kyalami. However, there is still much for the team to learn about their new car.
"I personally really like the Ferrari," Savolainen said. "It's a really nimble car and it turns well. But we still need to learn how to set it up properly and how to conserve the tyres and all this kind of stuff, because this was literally the first week we drove the Ferrari ever, for both of us."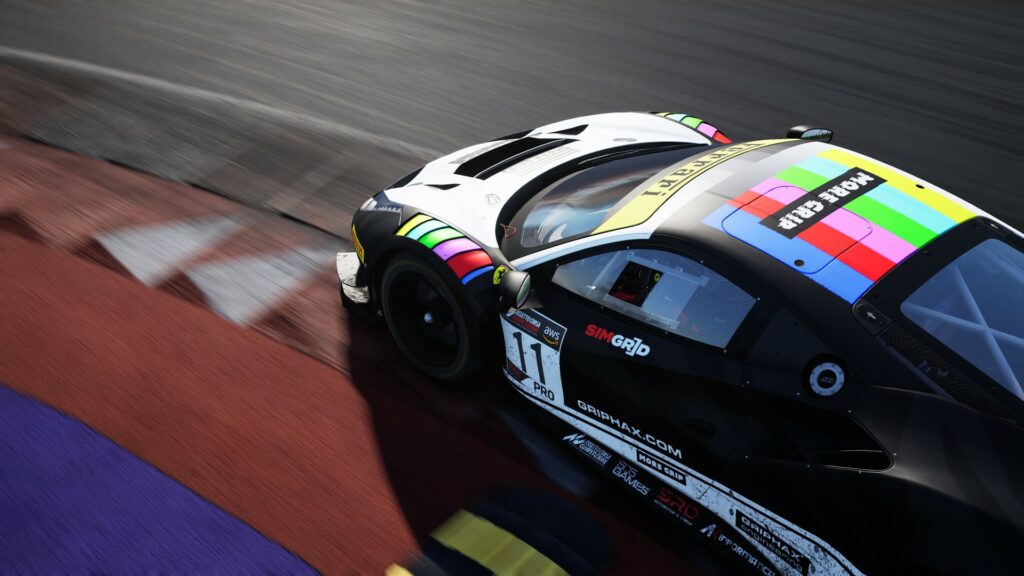 Join us again for round two of the SimGrid Sprint Cup which is set to take place at South Africa's wonderful Kyalami circuit on Thursday 22nd July.