The Kyalami Series has been one of SimGrid's most successful mini series' yet, as drivers took to the legendary Kyalami Circuit across five races in three weeks. To tie up the championship, it was time for a 75-minute sprint in GT3's of the drivers' choice with SimGrid's latest custom BoP to keep drivers as close as can be.
Heading into the race, Excel Racing by RennWelten driver, Felix Ruppert, was at the head of the championship; just six points would separate him and Kristiyan Lozanov. So, it was game on.
Ruppert claims championship as disaster strikes for Lozanov
Ruppert and Lozanov would be the two to keep an eye on, as the final round of the Kyalami Series was set to be a showdown between the two. After qualifying, Lozanov was the one with work to do, as he qualified fifth, whilst Ruppert would line up with a car between them, in third. Crucially, the pressure was on Lozanov to make moves, but would he crack?
Ruppert has a solid start, taking second place starting Josh Inman into turn one, but at the same time, being overtaken by Alexander Novikov, so he would leave the first lap right where he started. Behind him, Lozanov was in trouble, as he collided with Inman after being squeezed out at The Crocodiles – but this was just the start of a chain of incidents. Lozanov collided with Errol Verwey a corner later, which was deemed Verwey's fault by the stewards, but it lost a flustered Lozanov yet more time, and a couple of laps later, he was hit at Barbecue by Scott Ticehurst, sending him all the way down to P27.
From there, the championship fight was likely done, as Lozanov had an immense amount of ground to gain if he wanted to even keep second in the championship. Miraculously, he fought his way back to tenth – an incredible feat that allowed him to secure his second place. Meanwhile, Ruppert continued to fight away at the top with Reegan Mitchell and Alexander Novikov – taking the flag in second and claiming the Kyalami Series championship victory.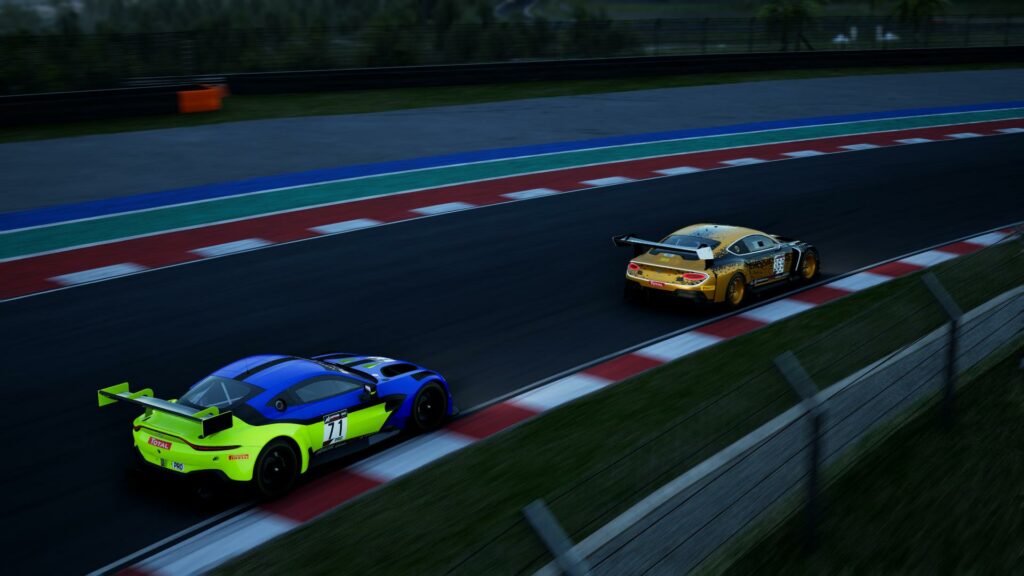 Alexander Novikov wins from Ruppert and Mitchell
There may have been a championship fight to steal the headlines, but the battles raged on as ever, as the Kyalami Series saw Alexander Novikov take to the top step of the podium after a race of enthralling strategic fighting.
Taking his first pole position of the series was Reegan Mitchell, who took to the track in Intercontinental GT track specilist, the Honda NSX GT3 Evo. He would claim pole by under a tenth from Josh Inman, as Ruppert and Novikov lined up behind them. Mitchell retained his lead as Inman was passed by Novikov and Ruppert, but it was Novikov who seemed to have the pace over the Briton. By the time we were ten minutes in, Novikov has taken first, whilst Ruppert breathed down the neck of both.
However, Mitchell wasn't done. He continued to pressure Novikov, trying to pass him at every opportunity, but just couldn't make a move stick. After laps of back and forth, Novikov cracked, going wide at Barbecue and allowing Mitchell through. This put Ruppert on the front foot, but with the championship likely in mind, he knew he didn't need to push.
At this point, all eyes turned to strategy, as the 75-minute race had a mandatory stop in place. Mitchell opted to take the undercut, whilst Novikov and Ruppert stayed out. Ruppert blinked next, coming out ahead of Mitchell, but crucially, behind yet to pit Error Verwey, who would hold him up and cost him crucial time to Novikov. As Novikov pushed in clean air, he managed to overcut both Mitchell and Ruppert, coming home to take the flag first.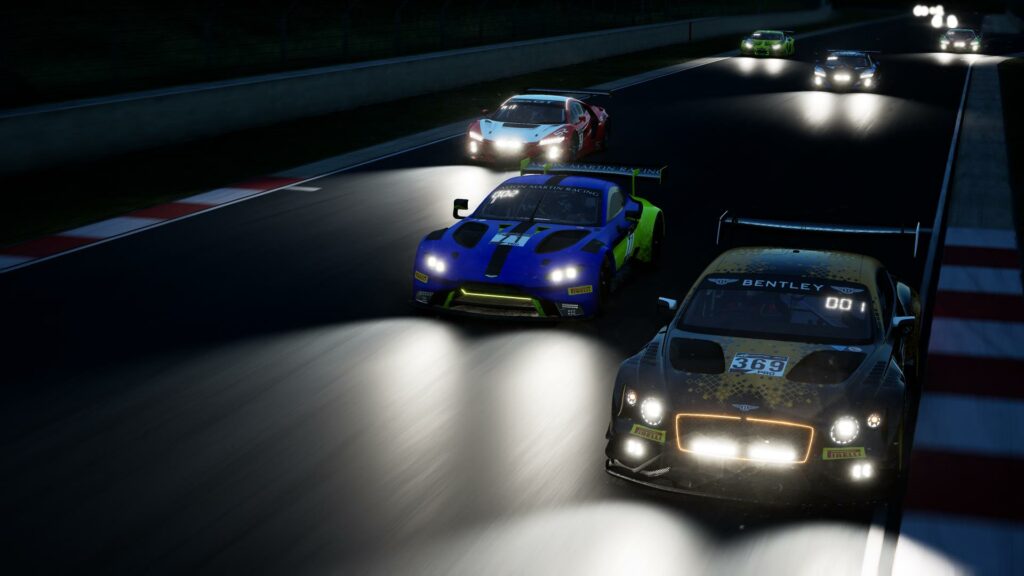 Josh Inman and Errol Verwey fight through the pack
After contact in the first few laps with Lozanov, fast-qualifying Inman had work to do, as he was left in ninth place, with damage and a hindered set of tyres. Meanwhile, Errol Verwey was another driver who wanted to gain ground, as he was in the fight for third in the championship but had qualified only tenth.
Inman showed great pace after qualifying in, as he started in second place in his Aston Martin V8 Vantage GT3. As the lower top ten fought tooth and nail, Josh was chucked right back into the action after his prior-mentioned incident with Lozanov dumped him down in ninth. Lozanov, Dominik Fekete and Phillip Baboolal all had incidents, falling away and promoting Inman. However, he would need pace to keep moving. He passed Ticehurst for sixth and was hunting down redemption seeking Verwey.
Verwey had a great start to the race, as he made moves on David Danser and Baboolal to move up to eighth. As the Inman-Lozanov carnage begun, he was there to pick up the pieces. Verwey, however, picked up a two-for-one offer, as he passed Inman and Lozanov, but found his way to the penalty aisle, taking five seconds from the stewards as he nudged Lozanov into the final corner amidst the carnage.
As the race continued, Inman passed Verwey for fifth, but lost out in the pits, hurting his chances of catching Patrick Nagy for fifth. Verwey's penalty made no difference in the end, as he came home sixth. With Mitchell and Novikov finishing highly, he had just missed out on third in the championship, but both he and Inman had shown great driving to move through the pack so efficiently.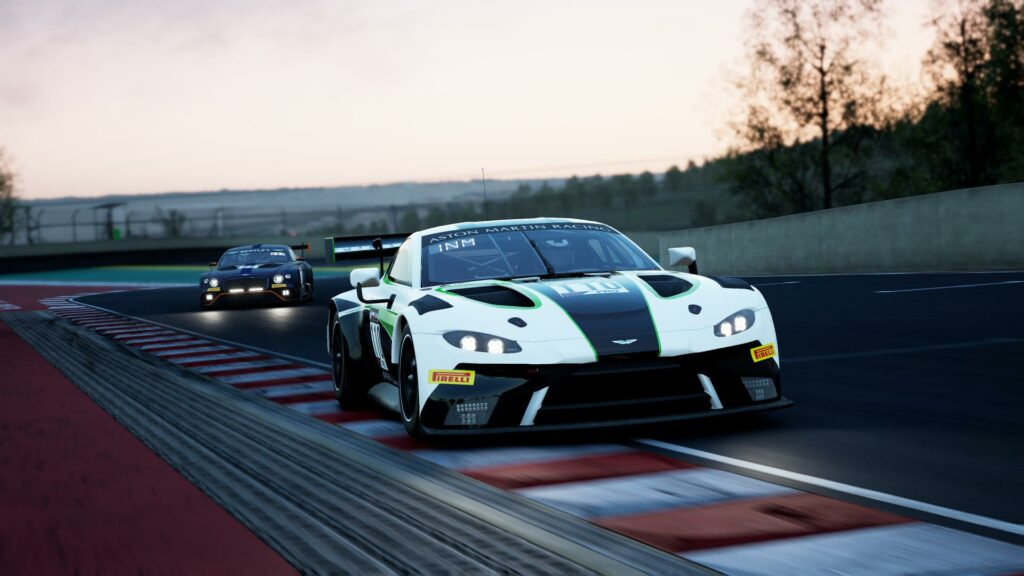 The midfield fight rages on
In a race of open GT3's and SimGrid's custom BoP at work, the ever-feisty midfield was sure to deliver. A range of cars compiled the lower top-ten and upper teens, as Porsches, a Lamborghini, an Aston Martin and a BMW fought it out.
At the centre of midfield, attention was on David Fong, Chad Smith, Simon Wilks and Ian Harvey, as they fought it out for tenth position. After qualifying seventh but dropping back in the early part of the race, Simon Wilks was looking to push back through the field. However, in his way was Ian Harvey's bright as can be BMW M6 GT3. Wilks seemed to have the pace but was getting impatient, as Smith and Fong closed in whilst battling between themselves. He made a few attempts, with none resulting in success, until finally, he slipped past in the esses.
Wilks is finally released and Harvey is allowed to pick up the pace, as he isn't needing to defend any longer. This means they would both get away from Fong and Smith, but the racey Porsches would continue their civil war. After a few attempts, Fong made his way through. Interestingly, he too seemed to have pace up his sleeve, as he caught Harvey to take the fight to him for eleventh place. Sadly, this would all end in tears, as a failed pass left both facing the wrong way at the top of the hill, allowing Greg van Niekerk to slip through in his Lamborghini – bringing an end to the fight.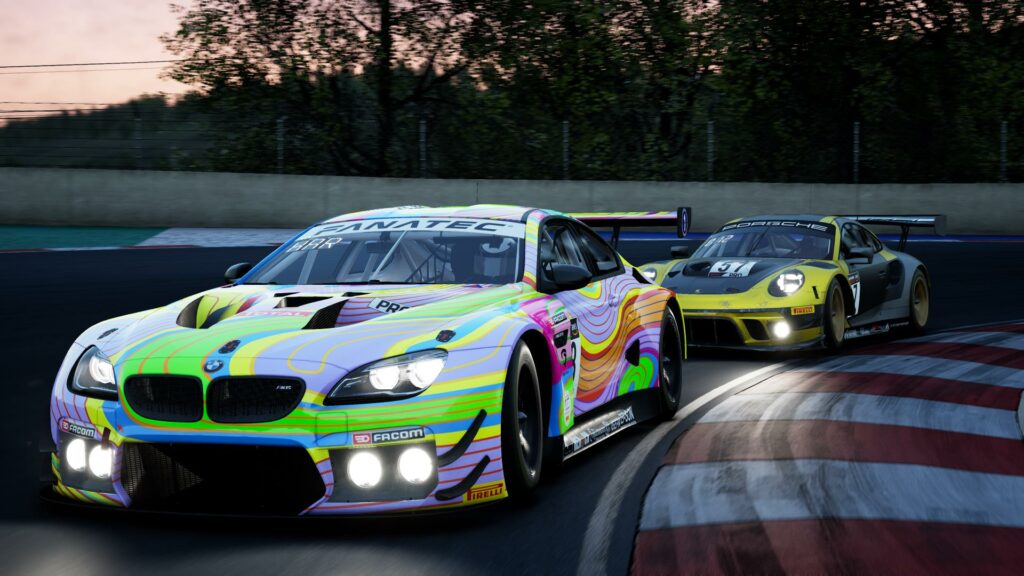 The Kyalami Series in summary
The Kyalami Series has been full of action, producing great racing in all types of cars from Cup cars, GT4's and the native GT3's. However, one thing didn't change – Felix Ruppert's pace. Ruppert picked up two wins from the five races and three-second places, making it a 100% podium rate for him. Lozanov put up a great series-wide fight, but with no fall in results, Ruppert proved the most consistent scorer. Behind the top two, battles were equally as tight, as we saw action up and down the field every single race. For future events, keep your eyes on SimGrid's YouTube Channel to see all the races live and uninterrupted.