One of the best aspects of Assetto Corsa Competizione is the ease of access to Endurance Racing; it is a completely different beast compared to sprint races, but we know you love it. Last season saw the grid elevated to a new level, with precision racing and incredible competition across every one of our splits. So, the Endurance Cup is back, and you've never seen it better.
Take a look back at Season 3
Season 3 of the Endurance Cup was arguably the best we've seen so far – the championship went right down to the wire as the best of the best all fought it out for victory honours. Seven, teams leapt onto the podium across the five rounds, but, one stood out. With three wins under their belt and a 100% podium rate, Simware.Pro would ultimately emerge with the crown – beating reigning champions YAS HEAT by 70 points.
With a new race length format for the season, we saw the most racing ever before from the Endurance Cup, as teams took on three three-hour races, a six-hour, and a nine-hour. However, for season four, you are in for even more action.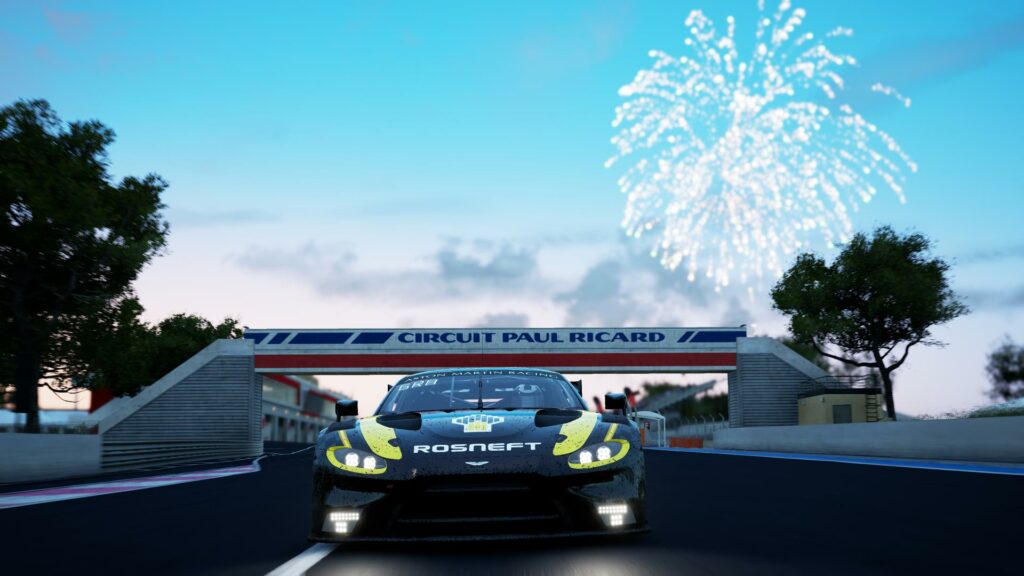 The Endurance Cup Season 4 Calendar
Season 3 saw five thrilling rounds of racing, as drivers took to some of the most famous tracks in ACC. This season will be no different, but, with the most Endurance Cup racing seen before. The five-round calendar will consist of five, six-hour events, amounting to a total of 30 hours of action – six more than Season 3 and Season 2. The calendar is just as exciting, as, across three months, we take to Spa, Kyalami and Bathurst for the first time ever, whilst keeping two series staples alongside them. Let's take a look:
Round 1 – 6 Hours of Spa – 9th October
Round 2 – 6 Hours of Monza – 6th November
Round 3 – 6 Hours of Paul Ricard – 27th November
Round 4 – 6 Hours of Kyalami – 18th December
Round 5 – 6 Hours of Bathurst – 15th January
We are headed to five of the best tracks in the game, to put drivers to their absolute limits and put on an incredible show, once again. Every round will see lights out at 16:10 CEST, with qualifying 30 minutes earlier, the drivers' briefing at 15:30 and practice at 15:00.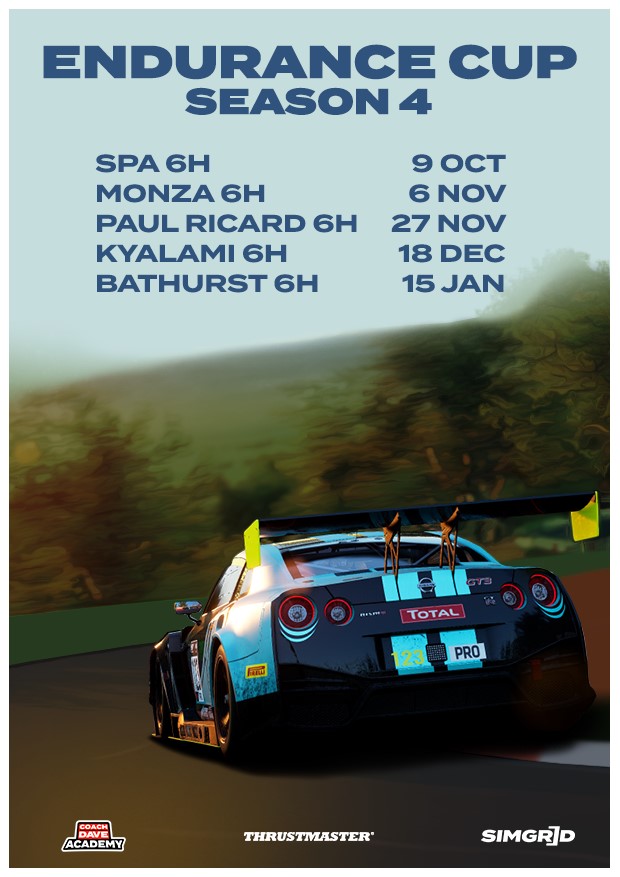 The Format
For the new season, not only will the calendar be better than ever, but so will the format. Expanding on last season, four splits will be available this season, with each holding a maximum of 44 cars – that's 176 cars that can participate in this season of the Endurance Cup. Each of these teams must have 3 drivers at every event, meaning hundreds will be taking to the track. 50 teams have also been invited back from last season, leaving you with 126 spaces to battle it out for in qualifying. Speaking of qualifying, that too has changed.
Championship qualification
Last season, all three drivers were mandated to complete some laps on the server, with the best 25% of laps taken per driver, averaged, and combined as a team. Sounds confusing? Well, that's changing for this season. Now, only two drivers need to complete the qualifying stage, with the best ten laps from each averaged and then combined to give a team average.
The qualifying event will take place at Imola and make use of our Custom Balance of Performance system that was present throughout Season 3. This means that each team can now choose to qualify in whichever car they wish, but, this car can be different to your race car that will be used throughout the season. Make sure to change it though, as there will only be a short post-qualifying window to do so.
Prizes and points
Just like the SimGrid x VCO World Cup and Sprint Cup Season 4, the fourth season of the Endurance Cup will too, have its fair share of prizes. A mandatory entry fee of $75 per team (that's only $5 per race, per driver!) will allow for a minimum prize pool of $750 per split, with it being spread across the top five like so:
P1 – 30%
P2 – 25%
P3 – 20%
P4 – 15%
P5 – 10%
Along with the money on offer, our points system is undergoing a slight revision. In the past, twenty of the finishing teams would be awarded points, however, with a bigger maximum grid, that means more point points are on offer, with the top 22 now scoring. Along with this, two points will be awarded for the fastest lap, but, to keep it as tight as possible, our heralded Custom BoP will be in place throughout each of the rounds.
How to follow the season
Just like for our other events, SimGrid will be covering the Endurance Cup closely across our Social Media accounts (Facebook, Twitter and Instagram), as well as posting extra content to keep you as close to the action, so make sure you give us a follow. Not only that, but every race will be live-streamed on our YouTube channel, so keep your diaries free and tune in.