Inclusivity, cooperation with other communities and a special passion for endurance racing. These are the founding pillars of Quantum Racing, which is dedicated to today's Community Spotlight. QRT is an incredibly young organisation willing to expand quickly, as demonstrated by their 24 Hours of Kyalami they recently launched with Rapid Drivers Club, another popular host here at The SimGrid.
QRT from the roots to the partnership with The SimGrid
Much of the history of Quantum Racing is yet to be written. The community was founded in December 2021 by Alex Roffe and Harry Bellars, two sim racing enthusiasts, who were always looking for one-off events. Finally, they decided to found their own community relying on The Sim Grid hosting platform.
At first, they just organized one-off events on Saturdays free for anyone to join, then they started to offer a weekly series championship. The community has since expanded and is growing faster and faster, as demonstrated by another side-project: QRT established its own eSports Racing Team, with the help of Ian Hall, Joost Leune and Leyton Austin.
We could easily say that QRT is the perfect environment to start your online racing career on Assetto Corsa Competizione. "We honestly feel the most important factor in a Sim Racing community is to have an all-inclusive and welcoming feel", Alex Roffe told us. "We fully understand that some communities have to mandate attendance and skill levels, but to move with our values of inclusivity we have none of that".
Present and future community projects
Fairness and driving standards are kept at the maximum possible level thanks to cooperation with other communities. "If we admins engage with others and work together that tends to filter on to the drivers within the community also". And the willingness to cooperate with other communities has pushed QRT to take a big step.
In fact, Quantum Racing is hosting a 24 Hours of Kyalami in collaboration with Rapid Drivers Club. A big task for such a young community, which does not scare the organizers. They will be able to count on the experience brought to the table by RDC's admins in terms of endurance racing.
This great event, probably the biggest QRT has ever organized, is intended to be the prologue of what the future will hold for the community. Quantum Racing is on pace to be able to offer its first ever endurance championship, which could be launched in Q4 2022. "We would like to increase our staffing team first in order to ensure our community gets what they deserve from a QRT event, but we are very much on course to do this", Alex told us.
QRT's biggest event is just around the corner
The QRT and RDC 24 Hours of Kyalami will take place on the 1st of October. The grid is filling up very quickly, but there are still some spots left in case you might be interested. While usually, communities tend to compete with each other, this is a nice example of successful cooperation.
"During the COVID-19 pandemic I was part of a team that entered a 24-hour race and loved every minute of it", Alex explained. "We kept our eye on the calendars but every long endurance race that became available seemed to be invitational. So off we went and launched our own with the Rapid Drivers Club. SimGrid has made this event possible with their simplistic user interface and their event hosting platform and we are extremely grateful to the whole team".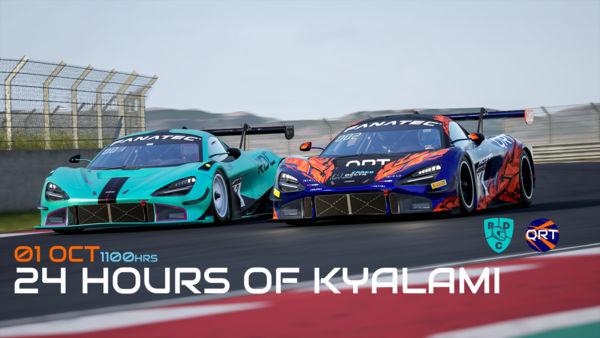 QRT and RDC together will guarantee a 24-hour race which will be live stewarded and live broadcasted. A great opportunity for any endurance teams looking to compete in the free environment of an ever-growing sim racing community. So, what are you waiting for? Check out QRT and get involved!