2 wins for McCormack and 1 for Whitehead – that's how the first 3 seasons of the Coach Dave Time Attack panned out. But, do you think you have what it takes to take the challenge to our champions? Well if you do, we've got some good news.
The Coach Dave Time Attack has become a staple of our calendar, as drivers battle across 4 circuits to see who is the qualifying master of Assetto Corsa Competizione. A new selection of tracks, new prizes and new competition; the Coach Dave Time Attack is back.
The Calendar
As we look towards the 3-week open shootout stage, we've got a new selection of tracks lined up. Last season we went for the American DLC theme, this season it's all about the Intercontinental GT Challenge DLC.
Week 1: September 5th @ Kyalami
Week 2: September 12th @ Bathurst
Week 3: September 19th @ Suzuka
Finale: September 29th @ A random track
Not a bad selection, huh? Three favourites amongst Sim Racers, they each bring their own unique challenges for our hotlappers. The technical sections of Kyalami, the sweeps and curves of Suzuka and the iconic mountain of Bathurst – 3 circuits just perfect to attack with everything you've got.
Same Format, New Season
Don't fix what aint broke.
The first 3 seasons of the Coach Dave Time Attack have delivered at every opportunity, so we're going to be sticking with the exact same format as Season 3 for both the 3-week shootout phase and knockout finale. If you're new to the series, however, here's a rundown of what to expect.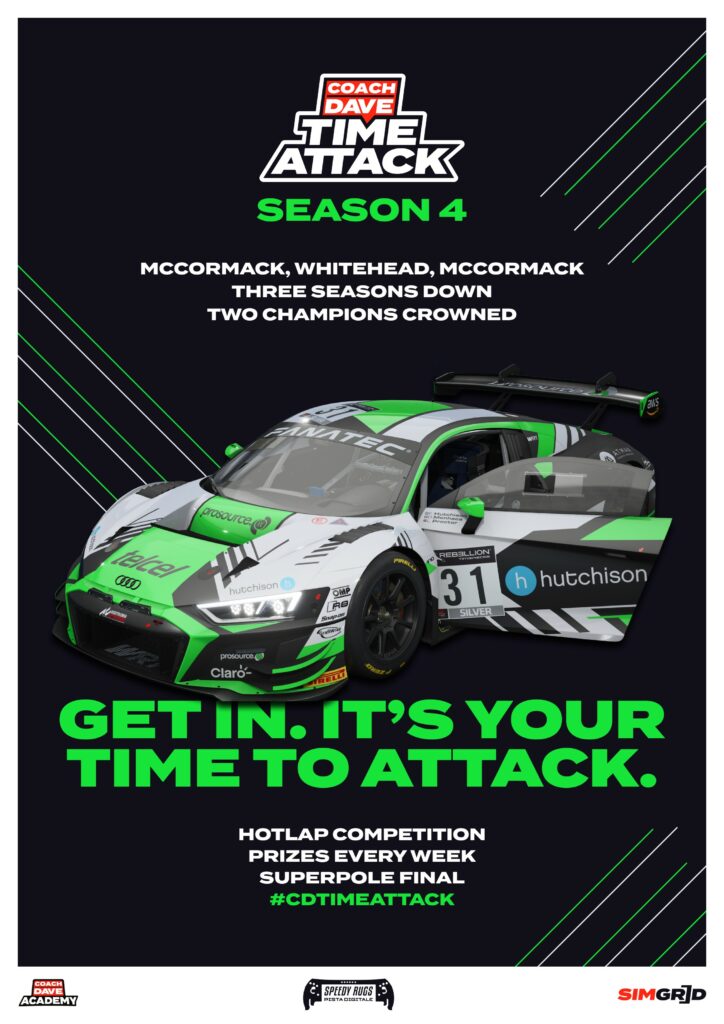 The Shootouts
The first, and longest, phase of the Coach Dave Time Attack is of course the open shootouts. Taking place across 3 weeks at the aforementioned circuits, you can complete as many laps as you like with the goal of reaching the top 10. Why exactly would that be? Well, come the end of the week and the top 10 will have their place in the finale secured – that's your ultimate goal.
If P10 isn't what you're looking for though, there's something extra you can earn every week if you finish P1 courtesy of series sponsor, Speedy Rugs. But, we can dive into that later.
If you miss out on the top 10, you've still got a last-gasp chance to have your spot in the finale secured. The fastest driver each week with the fewest laps on the board will be entered as a Wildcard – it's not an easy thing to do, but if you're lucky enough to progress because of it, you can thank us later.
With these rules in motion for all 3 weeks, we'll see 33 drivers progress on to the knockout finale, so let's see how that works.
The Knockout Finale
With the 3 shootout weeks completed, our 33 drivers will gear up for a final hotlapping session. Taking to a randomly chosen track, it's anyone's game.
Starting with a 15-minute session, all 33 drivers will head to the track for Qualifying 1, but only 15 will leave. They'll head to Qualifying 2, a 10-minute session, before the fastest 10 drivers progress on to Qualifying 3, an 8-minute session that chops the field down to 5 drivers – they'll be the ones heading to Superpole.
We're kinder than most when it comes to Superpole. Each driver will get a banker lap first, followed up by their final runs – it's usually those second laps where the drivers flex their muscles. Then when it's all done and dusted, we can crown a fourth Time Attack Champion. Do you think it'll be you?
The Prizes on Offer
Speedy Rugs make high-quality carpets designed perfectly for your Sim Racing setup. Whether you want one for your rig, one for your PC or even a doormat, the choice is yours. Partnered with the Hockenheimring and the Nurburgring, you can even get two iconic circuits for your floor. Luckily for you, they've hopped on board as series sponsors.
Do you remember earlier when we mentioned you might want to push for that P1 each week? Well, thanks to Speedy Rugs, a P1 earns you a free rug of your choice. Want three? You better top every week then.
There's more from Speedy Rugs, though, as they've kindly agreed to give a €20 voucher to each of the top 10 drivers come the final, as well as a €10 voucher to every single one of the finalists that reach the knockout finale!
We're sprinkling in a few prizes of our own, too. Each week, whoever finishes P25 will earn themselves a 6-month Coach Dave Academy ACC Setup Subscription, whilst P50 gets their hands on a 3-month ACC Setup Subscription! How do you like the sound of that?
Get signed up, we'll see you out there
With the new season starting this Monday, what are you waiting for? 3 weeks of hotlapping followed by a high-pressure finale, what more can you want? Let's see who will emerge as Champion of the Coach Dave Time Attack Season 4.
If you don't make it to the finale as a driver, don't worry, as we'll be streaming the event live on our YouTube channel, just like last season. Oh, and if you are competing but want some help, keep your eyes on the Coach Dave Academy YouTube channel – we might have some new content coming your way.