When Season 2 of the Coach Dave Time Attack saw us head to Donington Park for the finale and crown a new champion in dramatic fashion, we thought "Why not do it again?". So here we are, the Coach Dave Time Attack is back on our calendars for a third season, with new tracks and bigger prizes, but that same old format we've grown to love.
What you'll be aiming for
The Coach Dave Time Attack is all about raw, one-lap pace. You can leave behind your tyre and fuel saving habits from long endurance races and instead focus on pushing to the limit at every opportunity. That's right, all you need is a few litres of fuel and loads of sets of Pirelli rubber.
Come the end of the season and there'll be big prizes for those who place in the top three, as well as prizes from series sponsor, 3DRap, to whoever tops each week. Of course, you'll get all the pride of being King or Queen of the purple sectors as well!
The Calendar
With Assetto Corsa Competizione recently introducing three brand new circuits as part of the American Track Pack DLC, what better way is there to try them out than in the Coach Dave Time Attack? Starting on July 11th, we'll be cycling through the 3 newest additions to ACC.
Week 1: July 11th – July 17th @ Watkins Glen
Week 2: July 18th – July 24th @ Indianapolis
Break week for the Spa 24h
Week 3: August 1st – August 7th @ COTA
Finale: August 11th @ A random track
So Watkins Glen, Circuit of The Americas (COTA) and Indianapolis will play host to the three key qualifying rounds of the Coach Dave Time Attack. Despite that little interruption for the real-life 24 hours of Spa, you won't have long to prepare and get your laps in. They'll be three perfect venues for some hotlapping, each bringing their own new challenges to the table.
At Coach Dave Academy, we will of course be working hard behind the scenes to start releasing setups for the various cars in ACC – the order of which you can see here.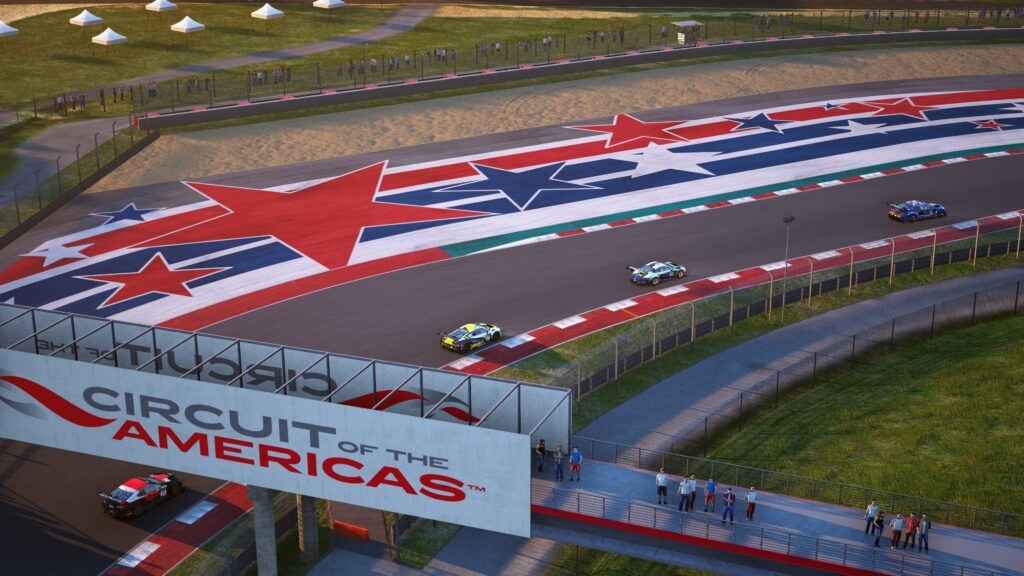 The Format – Shootouts
As we had in the first 2 Seasons of the Coach Dave Time Attack, Season 3 will retain the fundamentals, as the 3-week shootout phase and knockout finale remains. But if you're new around here, this is how it works.

The Shootout phase consists of 3 weeks, as the drivers looking to progress through the series take to a different track every 7 days, setting the fastest laps they can at each venue. Those who finish the week in the Top 10 will qualify for the Finale, meaning technically you can compete in just one week if just that suffices your hotlapping itch. This will continue for all three weeks, with the Top 10 having their spot guaranteed. You may not want to stop if you qualify as early as Week 1 though, but we'll get to that later!
If you don't make it into the Top 10 in any of the 3 weeks, you may be in with a chance of qualifying anyway – although it's not easy to do. Each week a Wildcard entry will be selected into the Finale, that entry being the driver between P11 and P20 with the least laps completed in that week.
So with the Wildcard entries on top, it means a total of the 33 drivers will progress to the Knockout Finale.
The Format – Knockout Finale
After the 3 Weeks of hotlapping and our 33 golden drivers selected, they'll battle it out for the overall title of Coach Dave Time Attack Champion.
The evening, taking place on the 11th of August, will consist of 3 knockout qualifying sessions, with a Superpole to decide the victor. These sessions will get shorter and shorter too, meaning the pressure only builds until those final laps in Superpole.
Qualifying 1 will of course consist of all 33 drivers, all given a 15-minute session to set their best lap times. However, only the Top 15 will continue – that's 5 drivers less than in Season 2. From there the drivers will take on Qualifying 2, now a 10-minute session, with only the Top 10 advancing, until finally, 8-minute Qualifying 3 will leave us with 5 drivers for Superpole. It looks like a lot of sessions, but it's not that difficult, we promise.
Superpole will take the exact same format as last season, with each driver getting first a banker lap, then one final lap, and with it one final chance, to stamp their authority on the series.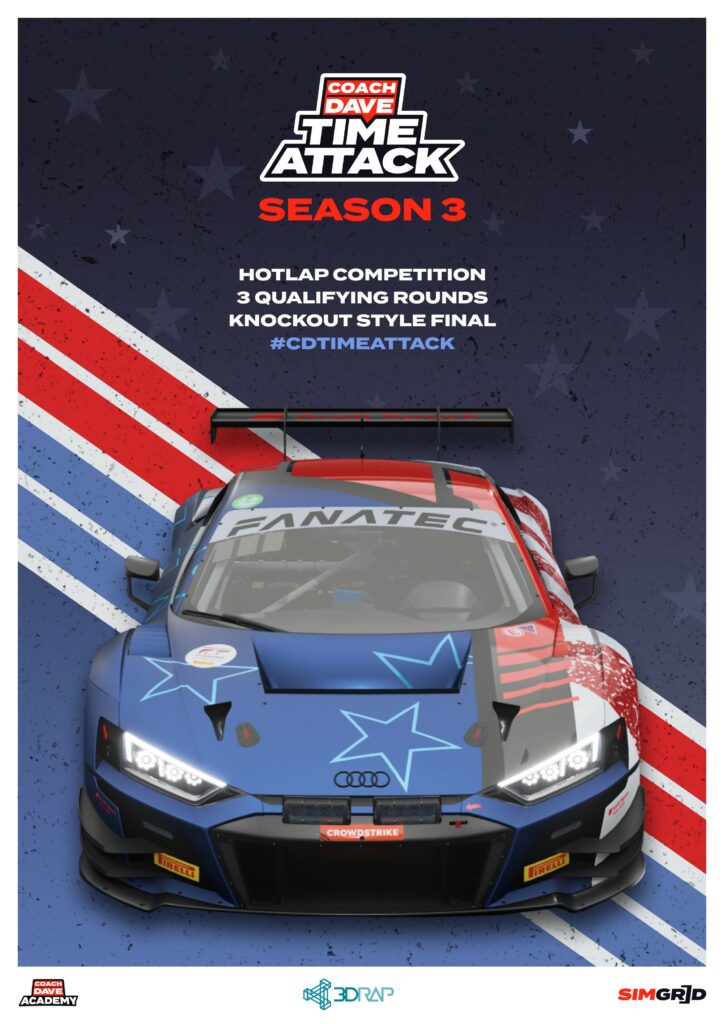 Those all-important prizes
No series can go without prizes! Despite the Coach Dave Time Attack having no entry fees whatsoever, we've got you some eye-catching rewards.
At the end of the series, a $1000 prize pool will be split between the top three – not too bad considering not a single driver will have to pay a penny to enter! Of course upping the stakes, the pressure will be higher than ever, as everyone wants their share of the prize money.
P1 – $700
P2 – $200
P3 – $100
There's more though, this time on a weekly basis from 3DRap, who are sponsoring the series. They sell a huge variety of Sim Racing gear and have been kind enough to agree to give away a special gift to whoever places highest on each of the 3 weeks.
We're not done quite yet, as whoever places P25 in each week's qualifying will win a 6-month Coach Dave Academy Setup Subscription and the driver who places P50 will earn themselves a 3-month Coach Dave Academy Setup Subscription. Not bad at all, huh?
We'll see you out there
What are you waiting for?! With new venues and bigger and better prizes, you've really got no excuse not to get yourself signed up for the Coach Dave Time Attack!
We'll be streaming that all-important finale on August 11th at 19:00 CEST too, so make sure to join us there on the SimGrid YouTube Channel and of course keep an eye on our Social Media channels to help vote for the venue of that all-important knockout session.