Everybody loves hotlaps, and Time Attack is one of the most exciting game modes any racing game has to offer. After a highly successful Season 1, Coach Dave Academy is delighted to announce the Coach Dave Time Attack Season 2!
The Coach Dave Time Attack is a thrilling competition focused on drivers completing the perfect lap to beat the grid. Spread across three weeks with multiple challenging tracks and a dynamic leaderboard, the top 33 drivers will finally come together in a nail-biting finale.
Calendar
The Coach Dave Time Attack competition will run just shy of a month, starting on June 6th, 2022 and ending in a finale on June 30th, 2022. The first three weeks are the qualifying weeks, where all drivers compete to set the fastest laps on a predetermined track. And we have some intense track selections for this season.
Week 1 will see drivers take to the Nurburgring from 6th to 12th June 2022. For Week 2, drivers will race at Spa-Francorchamps from 13th to 19th June 2022. Lastly, Week 3 will see racing action at Kyalami from 20th to 26th June 2022. Finally, the Season will culminate in a Finale on 30th June 2022 at a track to be voted on by the public.
As for where it will be held, that will only be revealed within 24 hours of the Finale! During Week 3, there will be a vote on social media between 3 tracks, and David Perel himself will choose between the top 2 votes to decide where the event will be held, with some of the potential venues being Paul Ricard, Monza, and Barcelona.
You can find the full calendar on Coach Dave Time Attack's Event Page.
Format
The available roster for car selection is restricted to GT3 cars, but the choice of the vehicles is entirely up to the participants. Week 1, 2, and 3 are open qualifying hot lap sessions where drivers will set their fastest time in a set qualifying time window.
The servers will open on Monday, June 6th at 12:00 CEST and close on Sunday at 22:00 CEST/ That will give all contestants plenty of time to give their best and get high up in the rankings. Then, each week's top 10 fastest drivers will progress to the Finale. This amounts to a total of 30 drivers that will qualify for the Finale event.
In addition, the fastest driver outside the top 10 with the least number of laps will also progress to the Finale as a "Wildcard" entry. This adds another three drivers for a total of 33 for the Finale, to be held on Thursday evening, June 30th.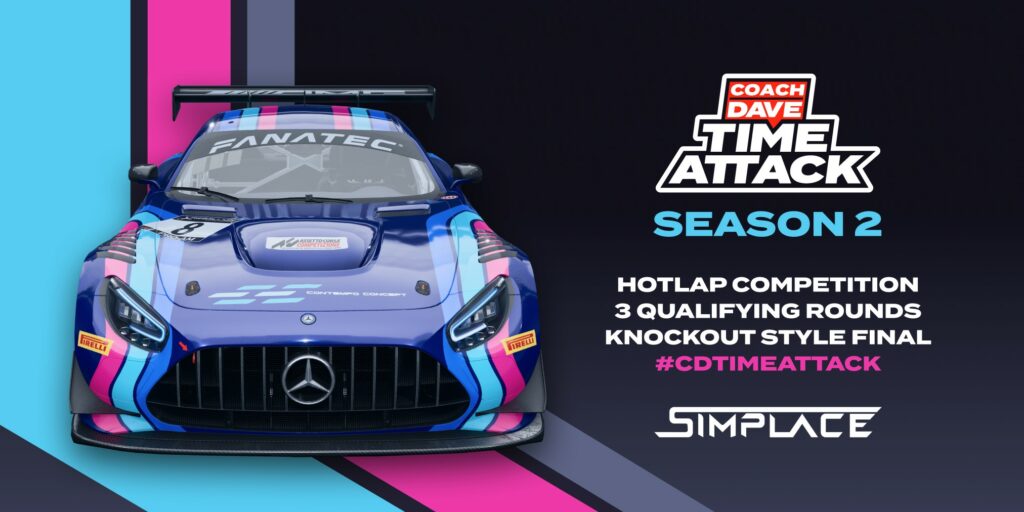 Excitement with Prizes!
If things couldn't get any more interesting, the Finale will have an "F1 style" qualifying with multiple knock-out qualifying sessions. There will be a Q1 session 15 minutes long where the top 20 will progress to Q2. The Q2 session will run for 10 minutes ending with the top 10 advancing to Q3.
Finally, the Q3 session will last for 8 minutes, with only the top 5 progressing to Super Pole in a somewhat Formula E fashion. The Super Pole will see the top 5 from Q3 set one flying lap each, with P5 going first and P1 going last. After each contestant completes one run, the drivers will then go again, in the same order, for a second run to try and improve their time. The final time leaderboard will then crown the podium places and the ultimate winner!
But that's not all as there are prizes to be won! A prize pool of $1000 will be split between the Top 3, with 1st place winning USD 700, 2nd place winning USD 200, and 3rd place winning USD 100. In addition, the fastest driver from each qualifying week will receive a €100 voucher from our series sponsor, Simplace. Lastly, P25 in each week's qualifying will win a 6-month setup subscription to Coach Dave Academy while P50 in each week's qualifying will win a 3-month setup subscription to Coach Dave Academy.
Oh and remember, the Finale will be broadcast on the SimGrid YouTube channel with live commentary and Live Timing on the SimGrid PitWall Server. So, hurry up and register and start practising. Good luck, and happy lapping!