Following the first successful endurance event on iRacing held at Le Mans, there is more to come here at The SimGrid. Coach Dave Academy will host a 6 hours event on Sunday, 26 June at another WEC traditional track, Fuji International Speedway, recently released by the popular simulator. This multiclass event can be a good occasion to try out some fresh new content, as teams of 2-6 drivers will have the chance to pick a GT3 or a GT4 car.
Cars and classes on track
Compared to the first official iRacing event, the 6H of Le Mans, GT3 will stay and become the fastest class on track. This means that LMP2 will be temporarily set aside, to give space to GT4. It will be interesting to see how this traditional combination on Assetto Corsa Competizione works out on a different simulator. The 6 Hours of Fuji will feature a big grid, as there are 54 spots up for grabs, 27 for each class.
Breaking down the full cars' list, in GT3 four different manufacturers will battle it out for the overall win: BMW M4 GT3, Lamborghini Huracan GT3, the new version of the Mercedes-AMG GT3 and the Porsche 911 GT3 R. Same number of contenders in GT4, as the class will feature Aston Martin Vantage GT4, BMW M4 GT4, Mercedes-AMG GT4 and, last but not least, the Porsche 718 Cayman GT4 Clubsport MR.
Over at Coach Dave Academy, we'll be keeping you supplied with setups for these cars throughout the new iRacing Season.
Rules and timetable
Since the Coach Dave 6 Hours of Fuji is a fun, one-off event, there will not be live stewarding. However, an admin will be available to make sure that everything runs just fine throughout the sessions and to call out the Safety Car if necessary. Here are the event rules:
Rolling Start
Single File, Maintain Restarts (after Safety Car period)
Fast Repairs: 1
Driver Fair Share rule enabled
Minimum Licence: Rookie 1.0
First Warning after 30 Incidents Points, then every 25
Race day will be Sunday, 26 June. The first official session will kick off at 14.30 CEST, quickly followed by the driver's briefing. The race will start at 16 CEST and see the chequered flag six hours later. Here is a look at the full timetable:
Practice – 14:30 CEST
Drivers Briefing – 14:35 CEST
Qualifying – 15:30 CEST
Race – 16:00 CEST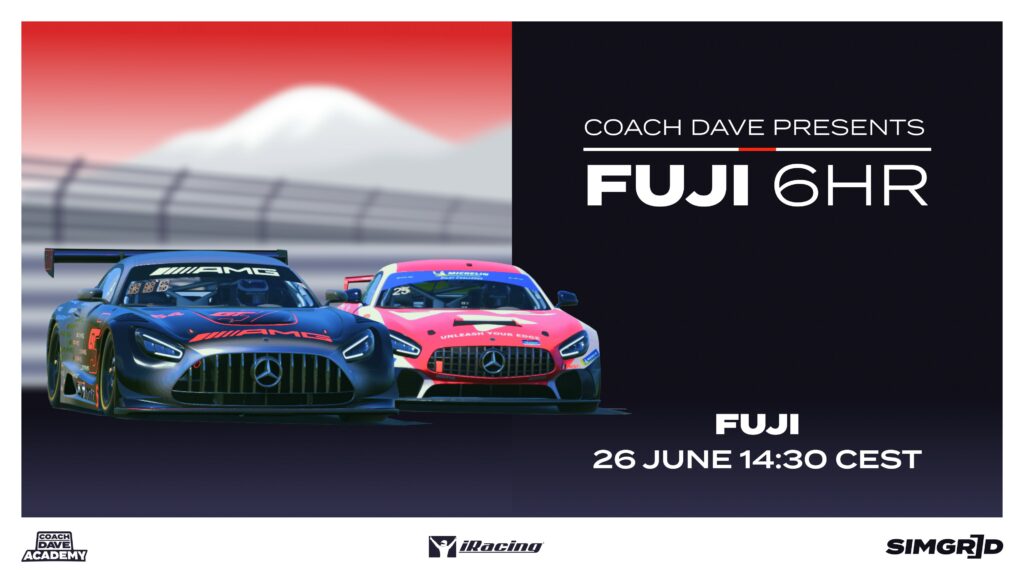 Another iRacing event, as the sim gets more and more popular at SimGrid
The 6 Hours of Fuji will be just the second official iRacing endurance event at The SimGrid, but certainly not the last one. Judging by the community response, there will be more in the future. The first race at Le Mans sparked the interest for the simulator and many hosts have already landed on iRacing with their own series and events.
With the real 24 Hours of Le Mans in the calendar, June is the perfect month for endurance racers. If you haven't had enough yet, but cannot attend the race, the Coach Dave 6 Hours of Fuji will be broadcasted live on SimGrid's YouTube channel.
On the other hand, if you and your team are interested in racing, you'd better hurry up now, as the grid is quickly filling up! GT3 class is almost complete, while there are more available spots in GT4. All details and sporting regulations can be found on the official event page for the Coach Dave 6 Hours of Fuji.