After the fourth season of our flagship endurance series, the SimGrid Endurance Cup, reached a climax at the beginning of February, we thought it would be rude to keep you waiting any longer for a new series of long-distance racing! With the Coach Dave Super Sprint conquering the sprint racing world, let us introduce you to the Coach Dave 1000, a five-round endurance series that's turning up the heat on endurance racing.
5000 kilometres of racing lies before you
The Coach Dave 1000 is avidly named – it will take teams of three across Pro, Silver and AM splits to 5 different European venues for 30 hours total of racing, with each race crossing the 1000 kilometre mark! 5000 kilometres gives you a lot of distance to leave your mark on the championship and walk away as one of the best.
Much like Season 4 of the Endurance Cup, the Coach Dave 1000 will consist of 5 six-hour events, as we travel to Spain, Italy, Germany and the UK to crown the inaugural series champion. Racing from April to August, the heat will be turning up off the track and certainly on the track.
Where are we headed?
Europe is not short of iconic racing circuits, from the history-ridden Italian marvels to the venue of the first-ever Formula 1 Grand Prix, the Coach Dave 1000 calendar will have it all. Starting at the usual 15:00 CET, here's when and where we'll be racing:
Round 1 – April 2nd – Barcelona 1000
Round 2 – April 30th – Imola 1000
Round 3 – June 4th – Nurburgring 1000
Round 4 – July 2nd – Silverstone 1000
Round 5 – August 6th – Monza 1000
6 hours of racing at each event and you'll have yourself 30 hours to pick up points and propel yourself to the top. The calendar has some true endurance staples, aimed to give you the most exciting series in Assetto Corsa Competizione. Just like our other series, you can watch every round live on the SimGrid YouTube channel, as well as keep up to date with live timings provided by PitWall.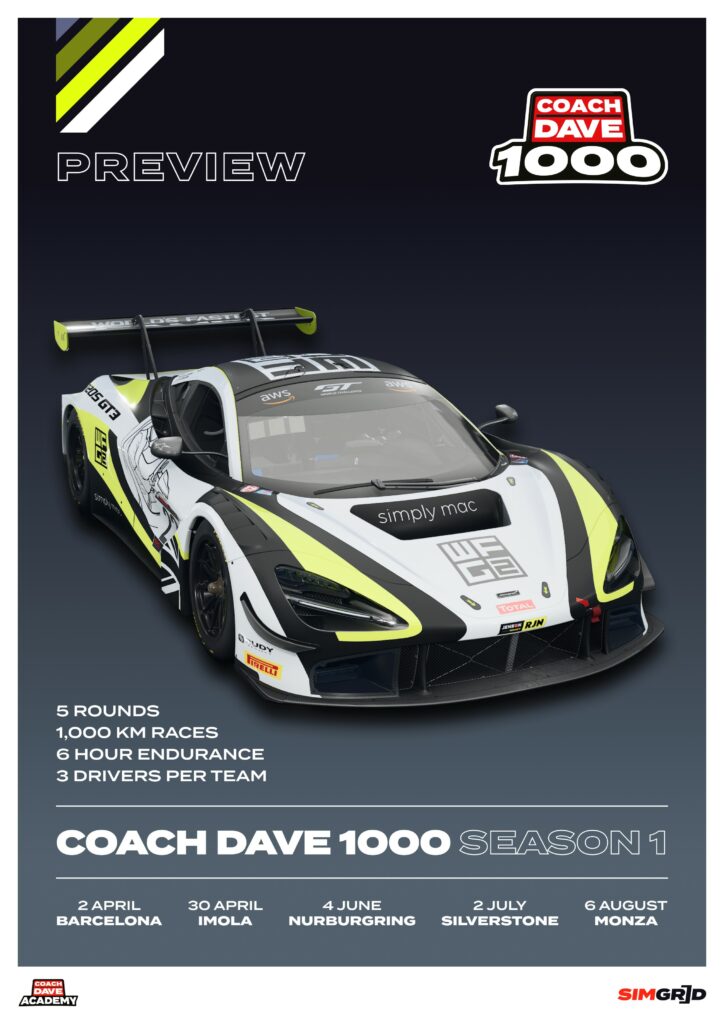 Up to $3000 in Cash Prizes
Climbing to the top of and winning an endurance series isn't easy, especially against 43 other cars. But, if you're fast enough to do so, you can earn yourself a portion of the ever-expanding prize pool. If you're entered into the Pro split, you'll be fighting it out for $2000 – $3000, even more than we saw for the Endurance Cup in Season 4.
Here's how the prize pools will look
Pro Split: $2000 – $3000
Silver Split: $1000 – $1500
AM Split – $750 – $1000
What makes this season even better in terms of prizes is not only the potentially twice as large prize pool but a wider band for which positions will earn a share of it. Unlike previous seasons where you have to finish within the top five of your respective split to earn, this time around, if you're within the top ten you'll get your hands on some sweet sweet cash.
Qualifying for the Series
Don't get too far ahead of yourself! Firstly, you need to qualify! If you've been invited to the series due to your finishing position in the Endurance Cup, then don't worry. But, if not, you've got to head out on track and prove your pace to decide which split you'll be entered into.
For series qualifying, you and your teammates will need to head to two different tracks, Monza and Barcelona, and all set lap times in the same car. Each driver's best lap time will be taken and added together for both tracks, giving us a total time somewhere around the 10-minute mark. Gone are the days of setting 10 laps in a session and averaging it out, we want to see the best lap times you've got. Oh, and remember, you don't have to use the car you complete qualifying in during the real season!
Make sure to get yourself signed up to qualify below, and we look forward to seeing you out on track!