Today, Kunos Simulazioni and 505 Games have brought us v1.7 of Assetto Corsa Competizione. Although this patch brings small tweaks and additions, the standout talking point is the brand new British GT DLC. The British GT DLC brings 3 iconic British circuits to ACC – Oulton Park, Donington Park and Snetterton, as well as 40 new liveries from the British GT; all of which are coming to The Sim Grid's Daily Racing. So today, we will talk you through the characteristics of the brand new circuits to bring you up to speed with the latest update.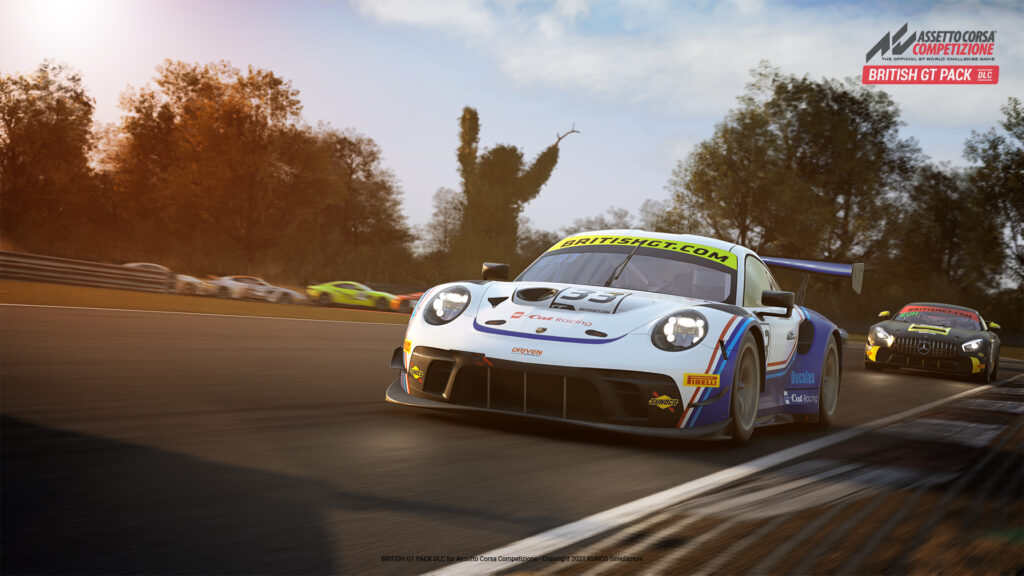 Oulton Park
A brief history
Located in Cheshire, England, Oulton Park is one of Britain top-class race tracks. It certainly isn't short of racing heritage, as its first layout was constructed in 1953. Unlike many other post-war British circuits, it was not built from the basis of an airfield, contributing to today's bumpy and undulating characteristics. Since it's inaugural race, it has played host to Formula 1 and has more recently become a popular ground for the British Touring Car Championship and British F3.
Across its almost seventy-year history, it has hosted some of the most iconic motorsports moments. British GT made its first journey to Oulton Park just last year, and it was in that race that sim racer turn real-life racer James Baldwin took his maiden victory, making it a race no-one would forget in a hurry. Now fast-forward to today, and you can write your own history with The Sim Grid's GT4's at Oulton Park event. Sign-ups open February 10th at 17:00 CET, so make sure to grab a seat!
Characteristics
Oulton Park is one of the tightest and most technical circuits that GT3 cars can race at. It is well known for being one of the more challenging circuits in British GT, as it is awash with bumps, tricky corners and punishing kerbs. This makes it enjoyable to hotlap, but not so much fun when it comes to close, or even multiclass racing.
When analysing the circuit, we can draw multiple similarities to Zandvoort. One of the key common factors is how narrow they both are. This means that the track can often act as a funnel, pushing cars together and reducing overtaking opportunities. When paired with undulation and car-rattling bumps, Oulton Park becomes one of the most challenging circuits in ACC. As well as these already difficult factors, Oulton Park is full of blind and sharp corners, meaning it will punish you in a heartbeat. Despite its challenges, in an agile and light car, it can become incredibly rewarding.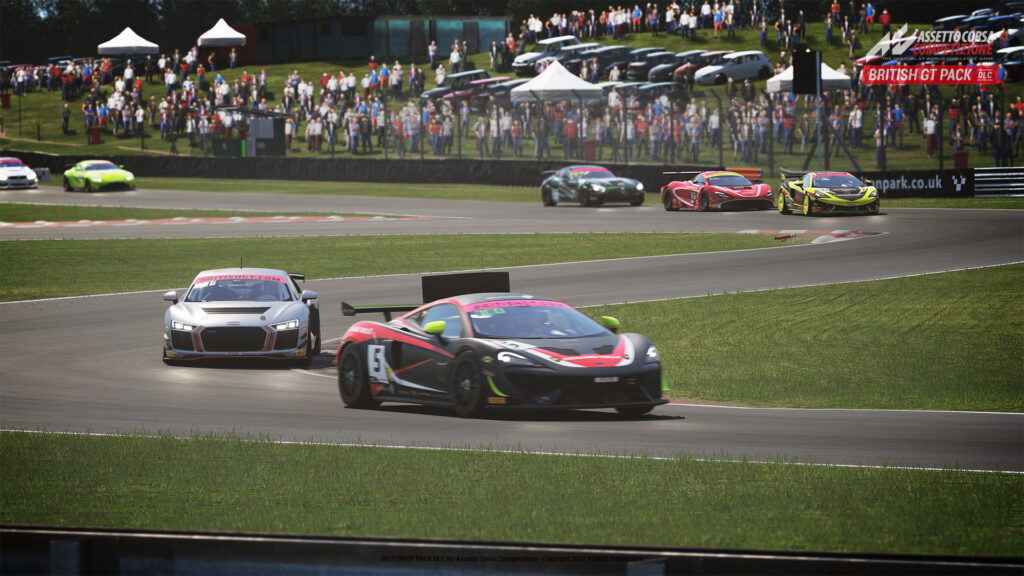 Donington Park
History
Donington Park is another of the most iconic circuits in the UK. Originally opened in 1931, it is the oldest of the three new British GT tracks coming to ACC. In its early years, its interest was much more in motorbike racing, but today, it plays host to British GT, British Touring Car Championship and British F3 as well as British Superbikes.
One of Donington's most famous moments came at the 1993 European Grand Prix, where Ayrton Senna pulled off one of his most famous drives at a rain-soaked race. Since, the circuit has suffered financially but has recently had a resurgence, hosting round three, four and six of the British GT championship and giving us some of the most entertaining few races of the season.
Characteristics
Donington Park is a favourite amongst both sim racers and real-world drivers and is arguably the most rewarding to drive out of the three new British GT DLC circuits. It has a great flow and a staple of the medium speed tracks currently available in ACC. Compared to Oulton Park, it is much more open and far smoother, making it a great track for overtaking and wheel-to-wheel battles – the exact opposite of Oulton. Despite its less punishing design, it is still great to drive on the limit and makes for one of the most enjoyable laps on ACC.
From a setup perspective, it shares characteristics of Kyalami. Kyalami is another great example of a flowing medium-speed circuit where downforce is your friend. Due to Donington's volume of on-edge corners, being able to rely on your car is important, however, it also has two hairpins, where good acceleration is crucial. Just like Oulton Park, it also has a few blind and off-camber corners, so although it is far more open, it still comes with unique challenges.
To partner the launch of Donington Park, The Sim Grid's Super Saturday is returning! On February 20th, you can sign up to drive in any of the four races that are part of the event. First, there will be a Super Trofeo race, followed by Ginetta GT4, then Porsche Cup and to round out the evening, a 2.4 hour endurance in GT3's! Not only do we have Super Saturday at Donington, but also another British classics event on the February 25th.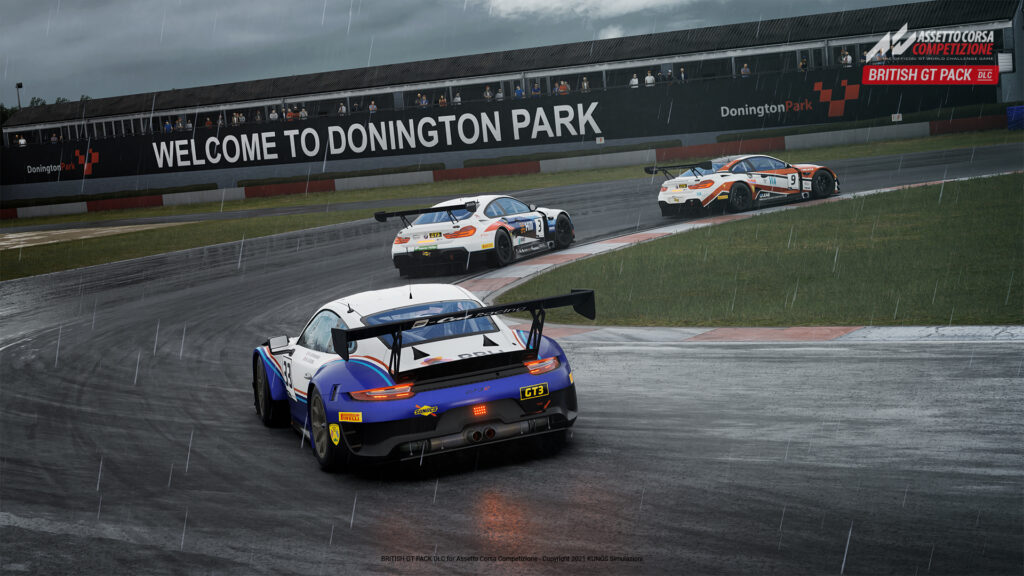 Snetterton
History of Snetterton
Snetterton circuit was opened in 1953 and was based on an old World War 2 airfield. Like Donington and Oulton, it was a very popular circuit from the outset and remains just as popular today. Its earliest layouts made it iconic for its ultra-high-speed layout and it became known for that exact reason. However, as safety regulations pressured the owners, the track endured many drastic layout changes, to bring it closer to how it looks today. Since then, it has become a hub for the British Touring Car Championship, British F3 and of course, British GT.
Characteristics
Snetterton is a great all-round track. It features some enthralling higher speed areas, paired with slower and much tighter sections, making it a real test of your setup and car. Snetterton is also a happy middle-ground when compared to its British GT DLC compatriots of Donington and Oulton Park. It shares the flow and speed of Donington at times, but can very quickly tighten up on you like Oulton. However, a key difference between Snetterton and the other two new circuits is its relatively flat surface, due to it being situated on an old airfield.
Once again, when it comes to car choice, agility is the key attribute you are looking for. Cars such as the Lamborghini GT3 Evo and Porsche 991 II GT3 R are expected to be strong, so watch out if you find yourself being hunted down by either.
Tomorrow evening, The Sim Grid is hosting the 90 minutes of Snetterton to start off a few weeks of British GT action. Sign-ups are already open, so make sure you try and pick up a seat before they are all gone! To see all of The Sim Grid's upcoming events this month, check out our schedule here and keep an eye out on Coach Dave Academy to be the first to purchase the British GT setups!