More Female Racers by Thrustmaster Rockets hit the halfway point at the world-famous Circuit de Spa-Francorchamps. As we hit this milestone in the season, the championship fight is hotting up, and this race may be crucial to how the rest of the season plays out. Spa wouldn't be famous if it was easy, and that was certainly reflected in the race, as one certain mistake has flipped the championship on its head. Let's see how round three of More Female Racers by Thrustmaster Rockets played out, and who was victorious.
Bencsik and Pinczes take their second win in a row
Heading into Monza, it was all eyes on Arnage Competition x Imperium and Jean Alesi Esports Academy, after a late incident with a lapped car gave Arnage Competition the victory at Monza. This put Mia and Aenore Rose from Jean Alesi Esports Academy on the backfoot, and left Timea Bencsik and Adam Pinczes as the ones with the positive momentum. However, Mia and Aenore aren't easy to beat, and they showed just how fast they were as the race got underway.
By the halfway mark of the race, pole sitters, Jean Alesi Esports Academy, had extended a massive lead over their rivals behind, but as we headed into the last third of the race, the previously dominant team suddenly lay behind both Arnage Competition and Map1 Racing, with no obvious reason why. It turns out, Aenore had a spin at the tricky Blanchimont swoop, sliding off the track and into the barrier. Spa is an enthralling circuit, but especially in the Lamborghini Super Trofeo, it can bite, and quickly. This left Bencsik to inherit the lead, taking her Arnage Competition x Imperium Super Trofeo to the checkered flag first, and with it, the championship lead by a mere three points.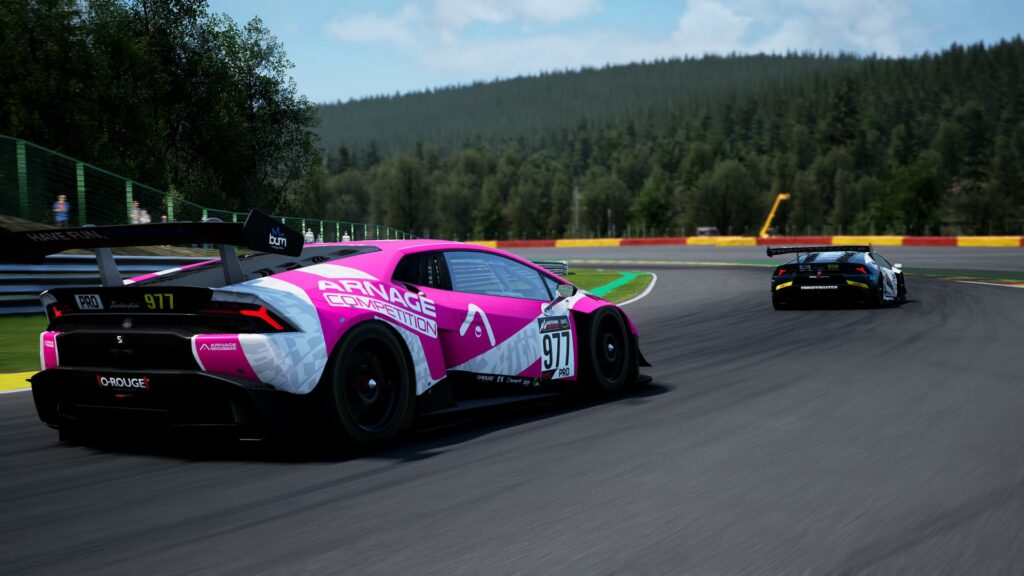 Pro class goes to battle
Whilst Jean Alesi Esports Academy disappeared into the distance during the first forty minutes of the race, behind was a brilliant battle between Map1 Racing, Arnage Competition x Imperium and GTWR R8G Female Racing 2. The trio of top-tier teams all qualified alongside each other with little separating them, giving us an insight into how the race may unfold.
First to take to the battlefield was Timea Bencsik and Aloo Gobi from Arnage Competition x Imperium and Map1 Racing respectively, as they spent a large part of the first stint fighting over second position. Unlike previous rounds, they were very evenly matched, as Gobi followed closely, but couldn't quite get alongside to make a move. However, the second stint was where a third player entered the game – GTWR R8G Female Racing 2.
In the pits, Arnage Competition was jumped by Map1 Racing and GTWR, giving Adam Pinczes work to do. However, he made an opportunistic move on Olaf Sawczuk in the GTWR Lamborghini after Olaf got a handful of oversteer at the exit of Les Combes, allowing him to set his sights firmly on closing down Kaiser. By sector three, the three were all over each other, but that wouldn't last long, as Kaiser went wide at Courbe Paul Frere, allowing Pinczes to slip by. But his pass wouldn't be the final chapter, as it was Kaiser versus Sawczuk for third. However, this would end in tears, after a risky move up the inside of Kaiser from Sawczuk at Pouhon left Sawczuk facing the wrong way and tumbling off the back of Kaiser.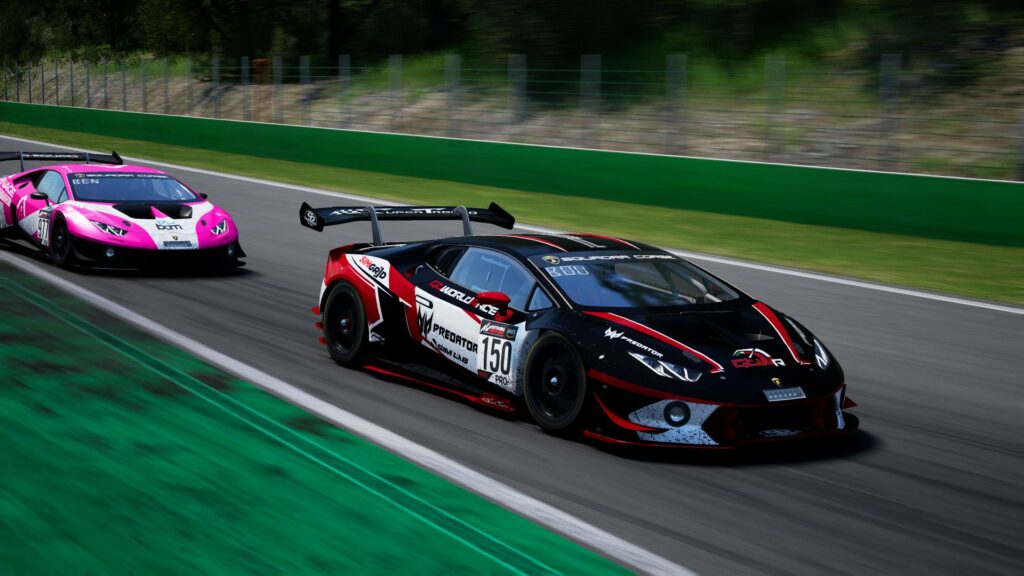 NSN x Wild Things Racing hold onto Silver class win
Silver class has proved to be just as exciting as Pro Class, with the teams throwing us an enthralling race at Zolder, and a rollercoaster ride at Monza. At Monza, it was NSN x Wild Things Racing that was left with the mammoth task of fighting back from last to claim any points they could to keep the championship lead, as Season 2 champions, Turn1 Meets BSKIT, scored a crucial second place. Spa would be no less exciting.
Taking class pole was Natalie Lee in the Turn1 Diablo car, and behind her was Jenny Camugli and Denise Pope from Turn1 Meets BSKIT and NSN x Wild Things Racing. Lee's pole position momentum carried into the race, as she led for all of the first stint. But it wasn't smooth sailing, battling closely with championship rival, Camugli, until she dropped down to nineteenth after an incident. This opened the door to NSN x Wild Things Racing, as they were on the hunt for another class win.
After the first round of pitstops, Denise Pope and Rob Taplin had managed to jump Natalie Lee and Stavros Konstantinidis for the class lead. This was vital, as it would allow Taplin free air to try and pull away from Konstantinidis. However, Taplin couldn't pull out a gap big enough to give himself any kind of buffer, as Konstantinidis continued to pile on the pressure. As the clock counted down, Pope and Lee came to blows right on the final lap, with Pope just emerging on top and Lee dropping behind GTWR driver, Sophie Aeronwen.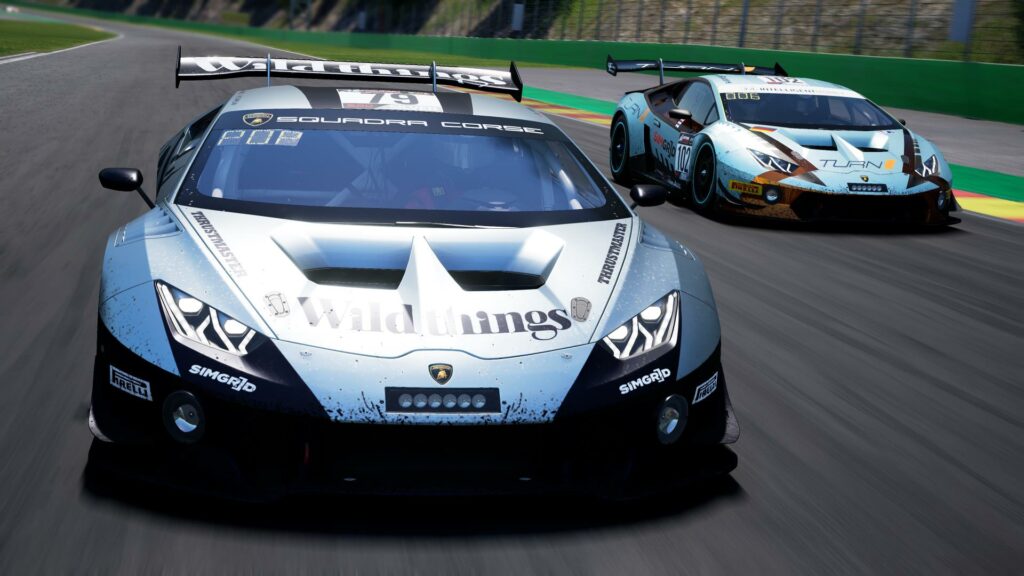 LoveFortySix Team dominate AM class
AM class saw a great drive from LoveFortySix Team, driven by Lyubov Ozeretskovskaya and Vladimir Ozeretskovskiy. The duo has had an impressive run so far in the season, claiming a class podium at both Zolder and Monza. However, after a Team Cake Angel Cake class sweep, Lyubov and Vladimir knew they had to try something new to get their way to the front of AM class.
After qualifying fifth overall, a best for any AM team so far this season, they were hot out of the gates. As they drove a tidy race up at the front, Josie Austen and Rhydian Lloyd-Davies were making progress, fighting hard with Silver class runners such as Sophie Aeronwen and briefly The Sim Grid's very own 'super sub', Michael Hamlet. However, they couldn't challenge LoveFortySix, as they took an impressive class win, closing the gap at the top of the AM championship.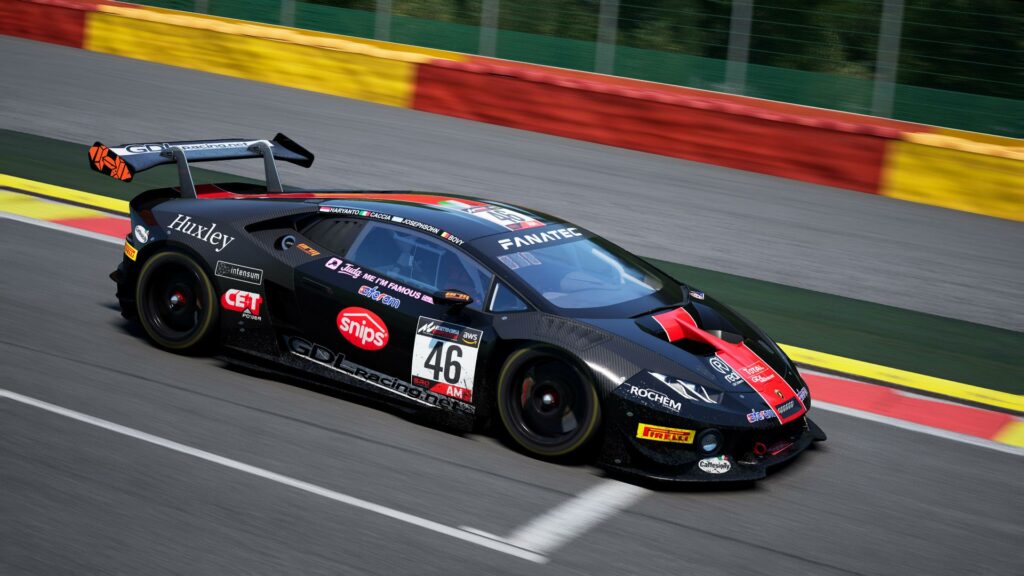 What's next on the MFR calendar?
Next up, More Female Racers by Thrustmaster Rockets is heading to Kyalami, host of the Intercontinental GT Challenge Kyalami 9 hours, and many events here at The Sim Grid. It is quite a different track from the previous venues on this season's calendar, giving the drivers a new challenge to look forward to. Round four is set to be unmissable, so make sure you head over to The Sim Grid YouTube channel to watch it live, and interrupted.