For round two of More Female Racers by Thrustmaster Rockets, the teams were heading to the famous Temple of Speed, Monza. After an exciting race two weeks ago at Zolder, everyone was looking to build on what they had learnt and push their rivals to the maximum. Although it is early in the season, getting a solid base for your championship campaign is incredibly important, and would act as an incentive to fight even harder.
Bencsik and Pinczes claim victory in dramatic fashion
Despite not leading a single lap of the race, Arnage Competition x Imperium (previously known as Triple A Esports x Imperium) drivers Timea Bencsik and Adam Pinczes halted Jean Alesi Esports Academy's chance of back-to-back victories. The duo had a very consistent and solid race, making no mistakes and keeping their nose clean, despite being forced to fight for their position early on in the race – an attribute turning out crucial.
As we headed into the last ten minutes of the race, up ahead, Jean Alesi Esports Academy driver Mia Rose, who had been leading alongside Aenore Rose, made contact with TGN Racing Ladies driver Denise Joubert whilst trying to lap her. This would grant Jean Alesi Esports Academy a thirty-second time penalty, promoting Bencsik and Pinczes to the top step of the podium due to being only fifteen seconds behind. Although a controversial outcome, Arnage Competition drove a great race, fighting to pass Mia Swensen in the #3 GTWR car for second after starting third and defending incredibly well from Sarah Dove in the sister #177 GTWR car.
This may well be an important race for the championship, as the triumph for Bencsik and Pinczes brings them closer to Jean Alesi Esports Academy and will pile the pressure onto Mia and Aenore to keep slip-ups to a minimum.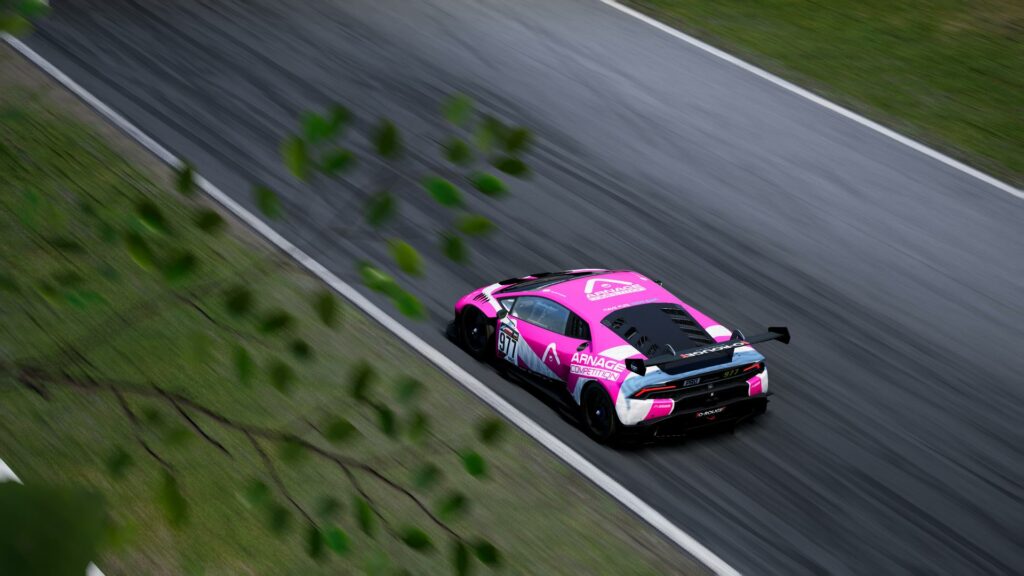 Silver class' fierce competition
Silver class showed to be incredibly competitive last time out at Zolder – something that wouldn't change for round two, as we saw the #888 GTWR team take victory from fifth in class, as the battling heated up in their mirrors.
Class victory was hotly contested this time around, as Sarah Johnson and Jyri Turkia had to fight their way to the top of the timing tower as Turn1 meets BSKIT and Turn1 Countach stood firmly in their way. However, what happened further back in the pack was also crucial, NSN x Wild Things' comeback drive meant they kept class championship lead.
From the outset, things were looking tough for GTWR R8G Female Racing 4 (#888 on track) if they wanted class victory, as they started fifth in class and would notably need to pass the very fast GTWR R8G Female Racing 6 squad of Aeronwen and Champman, who blasted off into the distance. However, as they were hit with a 30-second stop-and-go penalty, it was suddenly game on. After a strong start to the race from Jenny Camugli, this would promote her and Turn1 meets BSKIT to class lead, forcing GTWR Racing 4 into a tight battle for class lead after they fought their way through the pack. Johnson and Turkia would emerge victorious after a great move, leaving them third in the championship.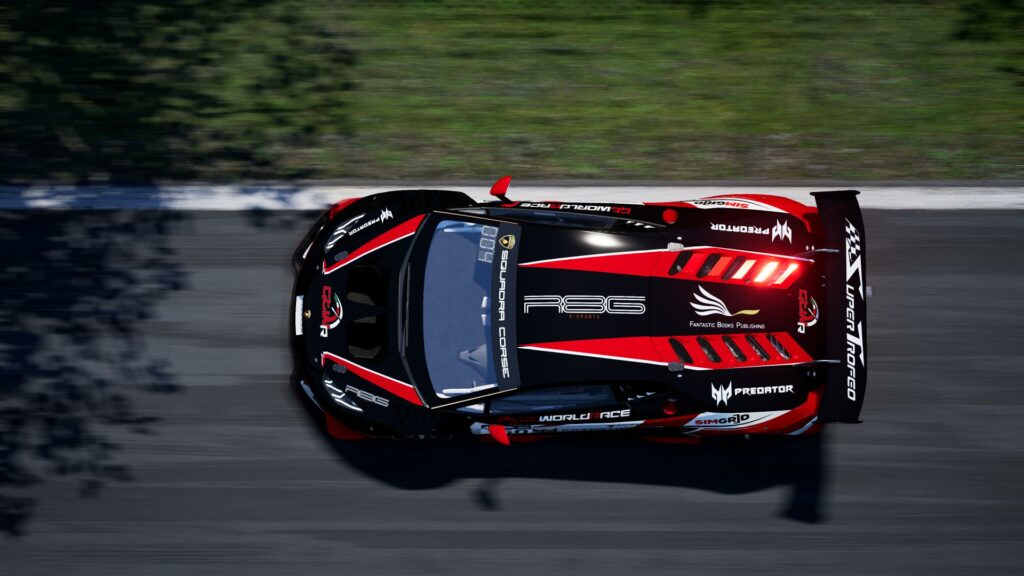 A race of comeback drives
Monza is a brilliant track for overtaking opportunities – a massive juxtaposition to Zolder. This means that if you do have a poor qualifying or start to the race, all is certainly not lost, and this rang true for a couple of our teams.
Arguably the best drive from More Female Racers round two was from Map1 Racing, driven by Aloo Gobi and Jens Kaiser. Saying they had a sub-optimal qualifying session would be an understatement, as a pairing that we would expect to see at the sharp end of the field started in twenty-eighth place.
However, twenty-eighth they didn't remain, as in the hands of Gobi during her first stint, Map1 Racing climbed all the way to eighth place – that's around two places per lap for context! Stint two was just as strong, as Kaiser moved his way up to fifth place. By the time Map1 crossed the finish line, they were fourth, after a late spin for Althea Boucq saw her drop behind Kaiser and Gobi, drawing to a close a drive that is vital to keeping Map1 Racing in the title fight.
Another team that climbed their way back through the pack was NSN x Wild Things Racing from Denise Pope and Rob Taplin. If you think back to Zolder, it was this duo that took the Silver class victory, so after an uncharacteristic early spin from Pope, they had ground to make up. From plum last, they drove all the way back to fourth in class and eleventh overall, making multiple brilliant moves along the way. This was crucial, as it meant Pope and Taplin would retain the Silver Class championship lead, but only by one point over Turn1 meets BSKIT.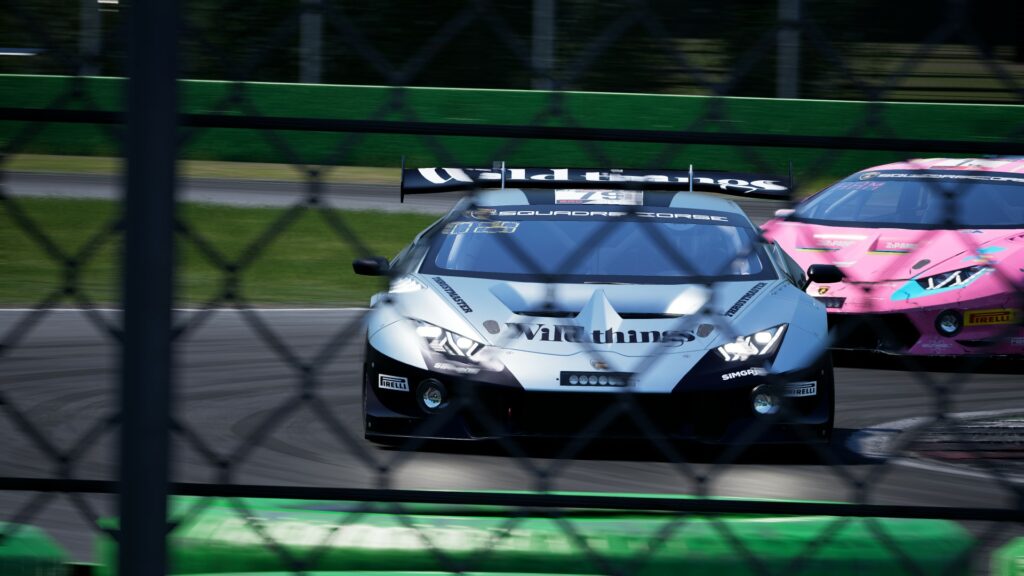 Team Cake Cupcakes win again after a wild Pro-AM race
Just like Silver class, Pro-AM also produced a brilliant race last time out. As Sarah Fair and Seb Handler took to the top step of the podium last race, they were looking to make it back-to-back wins. From pole position, it was looking likely, but things weren't quite so easily decided.
Pro-AM round one winner, Team Cake Cupcakes, had the perfect qualifying session, but after lap one, saw themselves with the ground to gain, as Sarah Fair was passed by Maryn Edwards in the CMS Pro Blue car and were under pressure from Denise Joubert in the TGN Ladies Racing Lamborghini. Fair managed to hold off Joubert, and at the same time, piled the pressure onto Edwards ahead, eventually being able to make a move to claim class lead. However, under the first round of pitstops, they lost the lead to CMS Pro Blue, and lost further ground in the second pitstops, leaving them behind TGN Ladies Racing and CMS Pro Blue. In a wild final lap, the class lead changed three times, with TGN Ladies Racing driver Joubert dropping back, and then incredibly, CMS Pro Blue driver Edwards too, allowing Fair to cross the line first and take class victory!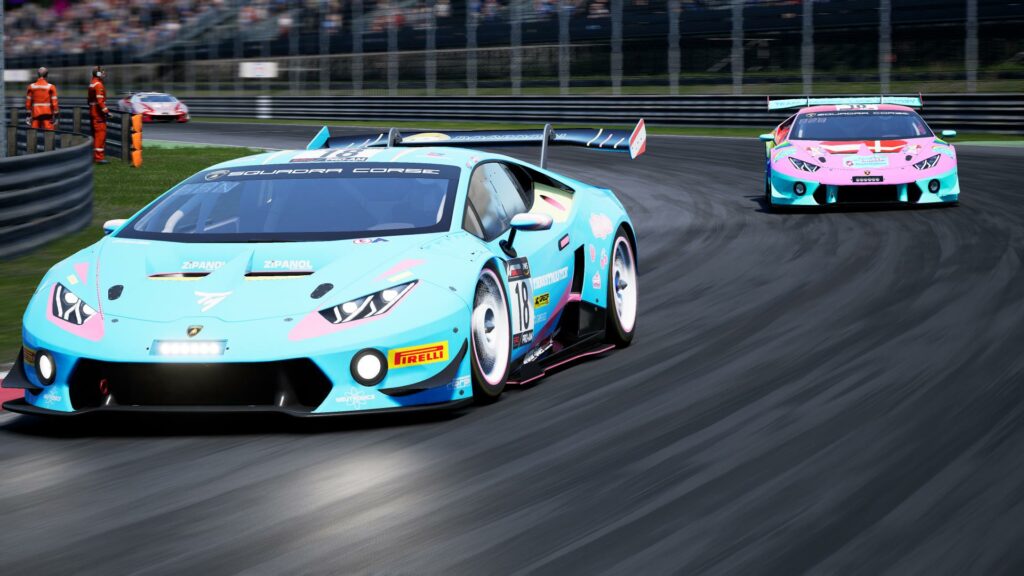 How round three is shaping up
Round three of Season 3 of More Female Racers by Thrustmaster Rockets is set to take place at another world-famous circuit – Spa Francorchamps. Spa is an absolutely brilliant race track, especially in the Lamborghini Super Trofeo, and as teams want to close gaps and extend title leads, it is set to be an equally brilliant race. Make sure you don't miss a moment of the action by tuning into our livestream on The Sim Grid YouTube channel in two weeks' time.