One of our most highly anticipated updates has finally arrived after 5 months of hard work behind the scenes. Some of you eagle-eyed viewers will have already noticed this change and may have been asking yourself some questions. We are here to give you the low down on our brand-new Grid Rating.
Grid Rating Is New But You Don't Start At Zero
When you log into your SimGrid account you will now see a Grid Rating next to your name. This is calculated into 6 categories with data collated all the way back from the very first race on the SimGrid platform.
Grid Ratings have the following levels:
Rookie: 0-2249
Seasoned Rookie: 0-2249 and 20+ races on the SimGrid platform
Intermediate: 2250-3499
Semi-Pro: 3500-4999
Pro: 5000+- Alien: 5000+ and 75+ races on the SimGrid platform
It's important to note that your GR is not a static number across all games and platforms. Instead, it is specific to each game and platform. For example, you may have a GR of 2843 on ACC, but if you switch to rF2 and complete a race, your rF2 GR will begin at 2000 – Which is the base GR for all new users on any sim. This means that your performance on one game/platform does not impact the GR you have on another.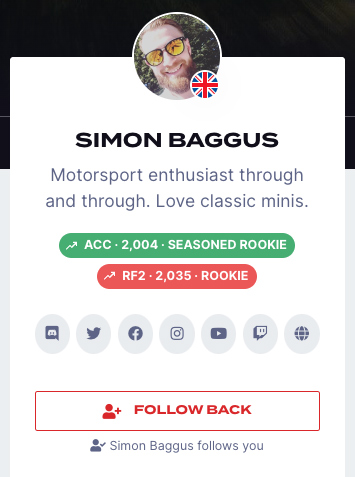 Racing Going Forward
Every championship, event or race that contains six or more cars, from every community on the SimGrid platform in which a user participates will result in a change in your GR, either positive or negative. In short, the higher you finish in the race, the more likely you are to gain GR, while finishing lower down (especially if you DNF) increases the likelihood of losing GR.
It's important to note that there are some exceptions to this rule. For instance, if your GR is significantly higher than the Strength of Field (SoF), you are expected to win. If you don't win, your GR is likely to decrease. Even if you do win, the gains you make will be minimal. This is to prevent users from exponentially increasing their GR by racing against slower drivers.
By using SoF, SimGrid can ensure that users are competing against other users of similar skill levels, making for a more fair and more enjoyable experience for everyone involved. So, the next time you sign up for an event on SimGrid, keep in mind the importance of the Strength of Field metric and how it impacts your overall experience.
In some instances, drivers may have a GR that they feel does not accurately reflect their true pace or ability. This is more common when drivers have not participated in many races. Generally speaking, the more races you participate in, the more accurate your GR will become, especially if you are racing in events with an SoF close to your GR. As a result, some users may find that their GR is higher or lower than they expected, but as they complete more races, the GR will continue to adjust accordingly.

All Events Now Count
Previously on the SimGrid platform, driver ratings only ever changed when it was a solo event, meaning all team event results never used to show next to the drivers who participated in that team. However, with Grid Ratings, all events count from the very beginning, including endurance driver swap events.

When a team participates in a driver swap event, the team's Grid Rating can either increase or decrease. This Grid Rating change is then shared between the team members.
Notably, each driver's Grid Rating change depends on the percentage of laps they completed during the race. If lap data is present, the driver who completed more laps will receive a larger portion of the team's Grid Rating change. For example, if a team gains 100 Grid Rating points and one of the drivers completes 75% of the team's laps, they will receive 75% of the Grid Rating points that the team received.
However, if no lap data is available, each team driver will be affected equally. This means that the Grid Rating change will be divided equally among all the team members.
Helping You Race Smarter
With Grid Rating, you as a driver can now make more informed decisions on whether a certain league, championship, race or split is right for you because you will now see all competitor's Grid Ratings before joining or as you are signing up.
Of course, there will be anomalous situations, such as if you are brand new to SimGrid and have a rookie GR, but are in fact of pro-level pace. In this instance, joining a pro split with cause your Grid Rating to increase quickly because of the SOF.
It is worth noting that some events may have multiple splits or classes to accommodate users of different skill levels. In such cases, each split or class will have its own SoF calculated based on the Grid Ratings of the users registered for that specific split or class. The event SoF is then calculated as the average of all the split or class SoFs.